Harvey skis to 9th place in cross-country WC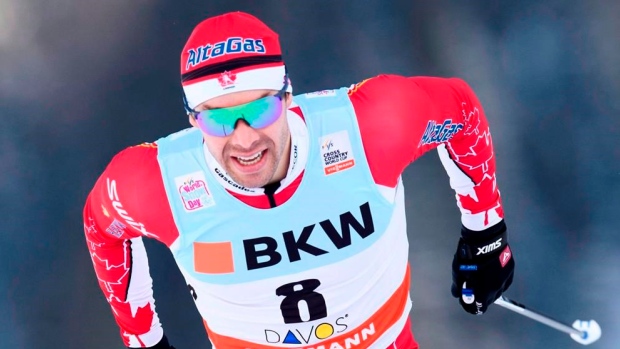 TOBLACH, Italy — Canadian Alex Harvey completed his final tune-up for Tour de Ski with a ninth-place finish in the World Cup cross-country classic-ski pursuit race.
Starting in fourth spot, 14 seconds back, the 29-year-old from St-Ferreol-les-Neiges, Que., crossed the finish line in 33 minutes 47.4 seconds.
Time behind the leaders was based on Saturday's skate-ski event.
Norway's Johannes Klaebo set a World Cup record with his seventh victory, winning the gold medal with a time of 33:31.1. Russia's Sergey Ustiugov skied to the silver medal at 33:14.1, while Alexey Poltoranin of Kazakhstan, bolted from 14th place into bronze.
Harvey was skiing with a group of four for most of the first two kilometres, which expanded to an eight-pack by the midway section of the race. Tactically working his way in the pack, Harvey took his turns in the lead until the final two kilometres when Ustiugov broke the front group.
"These other countries are fighting for spots at the Olympics so they have to be on the podium every race," Harvey said. "My goals are to be reaching my top gear by the Tour de Ski. Racing has been good training for that, and I'm exactly where I want to be at this time of the year," said Harvey.
"I have been a little bit better than last year at this time. I have a lot of confidence now knowing that I can be in the top-10 even when I'm not at my best."
Devon Kershaw of Sudbury, Ont., was 33rd and Graeme Killick of Fort McMurray, Alta., was 50th.
The Norwegians dominated the women's 10-kilometre classic-ski pursuit race. Marit Bjoergen won gold in 25:19.3, edging her teammate Ingvild Oestberg at the finish line. Oestberg settled for the silver at 25:19.6. Heidi Weng finished third.
Emily Nishikawa of Whitehorse, was 53rd and Dahria Beatty, also of Whitehorse, was 63rd.