Hawks or Bolts? Stanley Cup Final Preview
It's down to the Chicago Blackhawks and Tampa Bay Lightning for the Stanley Cup. Get primed for the Final with TSN.ca's postseason preview featuring analysis from TSN's Scott Cullen, Travis Yost and Craig Button.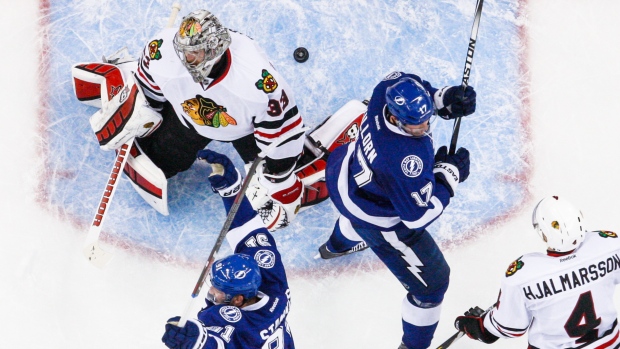 It's down to the Chicago Blackhawks and Tampa Bay Lightning for the Stanley Cup. Get primed for the Final with TSN.ca's postseason preview featuring analysis from TSN's Scott Cullen, Travis Yost and Craig Button.
Stanley Cup Final
Chicago Blackhawks vs. Tampa Bay Lightning
The Stanley Cup Final pits two teams that have similar strengths in that both the Chicago Blackhawks and Tampa Bay Lightning have top-end talent, skilled depth and the ability to generate offence. The main difference is that the Blackhawks have been here before - multiple times - in recent seasons.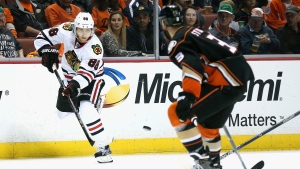 When Chicago was facing elimination in the Western Conference Final, they resorted to playing stars Patrick Kane and Jonathan Toews together on the top line. But there's no guarantee that they remain together, because that does allow Tampa's defence to focus its efforts more on that one line. When Kane and Toews are apart, it's more of a pick-your-poison situation.
Chicago's supporting forwards have been good, but it's their depth that makes them formidable. It has been standard for Marian Hossa, Patrick Sharp and Andrew Shaw to contribute, but Brad Richards and Brandon Saad were big factors against Anaheim and Teuvo Teravainen is a wild card - a young forward that can make a difference, and did at times in the Western Conference Final.
Defensively, the Blackhawks have been forced to lean on their top four, much more than other playoff teams, especially once veteran Michal Rozsival suffered a broken ankle. Duncan Keith is a contender (possibly the front-runner) for the Conn Smythe Trophy as playoff MVP, carrying 55 per cent of even-strength shot attempts while playing a league-high 31:35 per game in the playoffs and putting up 18 points in 17 games.
Brent Seabrook, who has six goals to lead all defencemen, continues in his role as a playoff stalwart, while Niklas Hjalmarsson and Johnny Oduya have both played very well in big roles for Chicago. That top four has had to be great because head coach Joel Quenneville has not been using Kyle Cumiskey, David Rundblad and Kimmo Timonen anywhere close to the same extent. Most recently, Coach Q was spotted playing Cumiskey and Rundblad just enough to give Chicago's Big Four a rest.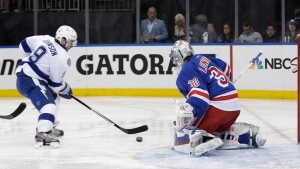 Tampa Bay's strength all season has been that they have such skill at the top of their forward depth chart that matchups are challenging. Ondrej Palat, Tyler Johnson and Nikita Kucherov have continued their brilliant regular season into the playoffs, with Johnson (21 points) leading the postseason scoring race - a point ahead of Patrick Kane and two ahead of Kucherov.
Chicago can't simply focus on the Triplets because there's the matter of Steven Stamkos skating on the right wing with Valtteri Filppula and Alex Killorn on the Lighting's "other" top line. Stamkos started his playoffs slowly, but has 14 points in his past 12 games and it's that balance between their top two lines that made the Lightning so difficult for the New York Rangers to stop in the Eastern Conference Final.
Victor Hedman and Anton Stralman have been Tampa Bay's defensive workhorses in the postseason, playing the most and generating the most favourable possession numbers, but Braydon Coburn and Jason Garrison have been getting swamped in possession terms.
Chicago has shortened their bench defensively, but the Lightning have frequently been dressing seven defencemen, giving Nikita Nesterov a depth role but including him in the power play rotation. At the very least, there isn't the same concern that Tampa Bay's defence will run into fatigue issues.
While Chicago and Tampa Bay were high-quality possession teams during the regular season - ranking second and seventh, respectively - they haven't held that same edge in the postseason, with the Blackhawks running near 52 per cent and the Lightning around 49 per cent of even-strength shot attempts. Sometimes winning the percentages is enough to win a series.
The strange thing about both of these teams is that their goaltending hasn't been exceptional in the postseason. Ben Bishop had a shutout in Game 7 of the Eastern Conference Final, but had allowed five goals in three of the previous four games. Corey Crawford stumbled early in the playoffs, losing the net to Scott Darling against Nashville, but recovered to play well against Minnesota and well enough against Anaheim.
The teams split their head-to-head matchups in the regular season, with Chicago winning in a shootout in November before Tampa Bay took a 4-0 decision at the end of February. It's been a daunting task for both clubs to reach the Stanley Cup Final - requiring overtime wins and Game 7s - so it has been an accomplishment to get this far, and Chicago has overcome a more difficult path so that, coupled with their experience, makes them favourites in the series. – By Scott Cullen

Season Series
| Date | Score | Winning Goaltender | Losing Goaltender |
| --- | --- | --- | --- |
| Nov. 11 | TB 2 @ CHI 3 (SO) | Crawford (25/27) | Bishop (37/39) |
| Feb. 27 | CHI 0 @ TB 4 | Bishop (28/28) | Darling (25/29) |
Travis Yost's Analytic Storyline
If you were pulling for high-event hockey in the Stanley Cup, you were likely cheering for a Lightning-Blackhawks match-up. The Lightning and Blackhawks averaged about 53.6 even-strength scoring chances per 60 minutes of action, which is the second highest number we have seen in the analytics era.
The only match-up featuring higher event teams? The 2010-2011 Stanley Cup Final between the Boston Bruins and Vancouver Canucks (56.9).
Craig Button's Pick
Tampa Bay challenges with speed and quickness. They're smart on the attack and use the entire offensive zone with all players interchanging to create confusion for defenders and multiple points of attack. Hedman and Stralman have performed at an elite level both defensively and offensively, while Ben Bishop has vanquished Carey Price and Henrik Lundqvist and now tries to join Corey Crawford as a doubted Stanley Cup Champion.
I was hesitant to pick against Chicago versus Anaheim, but did so anyways. What was I thinking? There certainly wasn't any doubt about Toews, Kane, Keith and the cast of others who have shown unequivocally that they're capable of winning in all manner of ways. The four core defencemen for the Hawks are an elite group and can manage any situation and play formidable minutes without any loss of productivity. And Crawford is a competitor who finds ways to make saves at the most critical of moments.
Now Bishop has shown to be a championship-calibre goalie and equals Crawford in the net. The 'Four Corners' of defence in Chicago are smart and will not be vulnerable to the Lightning's attack. Tampa is a top scoring team, but gets it mostly from their top two lines. That doesn't create enough of an offensive advantage against Chicago's top four defenders. Stamkos is an elite player, but this comes down to the 'super elite' - Toews, Keith and Kane - being better and the Hawks will raise another Stanley Cup Banner at the Madhouse on Madison.
Chicago Blackhawks
| | Projected Lineup | |
| --- | --- | --- |
| GOALTENDER | LEFT DEFENCE | RIGHT DEFENCE |
| Corey Crawford | Duncan Keith | Niklas Hjalmarsson |
| Scott Darling | Kyle Cumiskey | Brent Seabrook |
| | Johnny Oduya | David Rundblad |
| | Kimmo Timonen | |
| LEFT WING | CENTRE | RIGHT WING |
| Brandon Saad | Jonathan Toews | Patrick Kane |
| Bryan Bickell | Brad Richards | Marian Hossa |
| Patrick Sharp | Andrew Shaw | Teuvo Teravainen |
| Antoine Vermette | Marcus Kruger | Andrew Desjardins |
| Kris Versteeg | Joakim Nordstrom | |
Blackhawks' Injuries: D Michal Rozsival (Fractured left ankle, day-to-day).
Tampa Bay Lightning
| | Projected Lineup | |
| --- | --- | --- |
| GOALTENDER | LEFT DEFENCE | RIGHT DEFENCE |
| Ben Bishop | Victor Hedman | Anton Stralman |
| Andrei Vasilevskiy | Jason Garrison | Braydon Coburn |
| | Matt Carle | Andrej Sustr |
| | Nikita Nesterov | Mark Barberio |
| LEFT WING | CENTRE | RIGHT WING |
| Alex Killorn | Valtteri Filppula | Steven Stamkos |
| Ondrej Palat | Tyler Johnson | Nikita Kucherov |
| J.T. Brown | Cedric Paquette | Ryan Callahan |
| Brenden Morrow | Brian Boyle | Vladislav Namestnikov |
| Jonathan Drouin | | |
Lightning Injuries: None.