Henderson leads LPGA event after 2 rounds
Canadian Brooke Henderson fires a four-under 67 to take a two-shot lead heading into weekend play at the Diamond Resorts Tournament of Champions, Bob Weeks writes.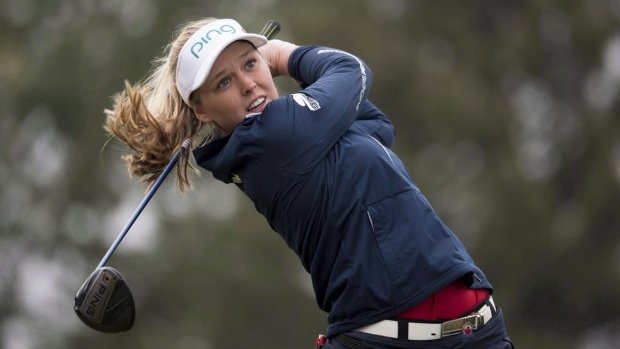 Friday's second round wasn't quite as smooth as her opener, but after 36 holes Brooke Henderson finds herself with a two-shot lead at the Diamond Resorts Tournament of Champions.
"I feel like overall I hit the ball very well. It was just a couple holes that were a little shaky," admitted Henderson. "That might be just coming out of the off-season.
"But on the whole, I was able to get up and down. The rest of the time, I was giving myself great birdie looks. They just didn't fall today, as many as I would have liked. I still shot four under, which is good. But hopefully tomorrow I can go out and make a few more putts."
The Canadian's two-round total of 10 under after Friday's 67 has her ahead of an impressive group of chasers in the winners-only opener to the LPGA Tour season that includes Ariya Jutanugarn, Lydia Ko and Eun-Hee Ji. She had a clean card with four birdies but there was definitely some scrambling needed to keep away the bogeys.
While the 21-year-old rolled in some impressive putts, she used 30 in her round, five more than on Thursday. Henderson felt she mis-stroked a few and was hoping to clean that up ahead of the weekend.
"Sometimes I was hitting really good putts, and they just didn't break at the last second," she said. "A couple, I didn't put the perfect stroke on them, so maybe I'll go hit a few putts on the practice green. Working with Britt (her caddie and sister) on the greens, I feel like overall we're reading them really well, and I think they will fall. We just have to stay patient."
Ball striking, however, remains solid. Henderson was perfect off the tee, hitting all 13 fairways and found 15 of the 18 greens in regulation.
"Overall, I'm really happy to be in double digits after two rounds," she said. "That's pretty cool, minus 10. So I feel like there's not too much wrong, but just maybe a little bit of inconsistency, just here and there. Some putts I wasn't hitting them quite as well as I would have liked."
While she cautioned that she's only half way through this event, a win would be the eighth of the Smith's Falls, Ont., native's career. That would tie her with Mike Weir, George Knudson and Sandra Post for the most wins by a Canadian professional.
"It's always fun to be in the final group and be in contention," Henderson said. "It's what we play for pretty much every single week. It's nice to be here. It's only the halfway point, but I still need to make a lot of birdies and keep hitting it to win."