Henderson learning to handle the spotlight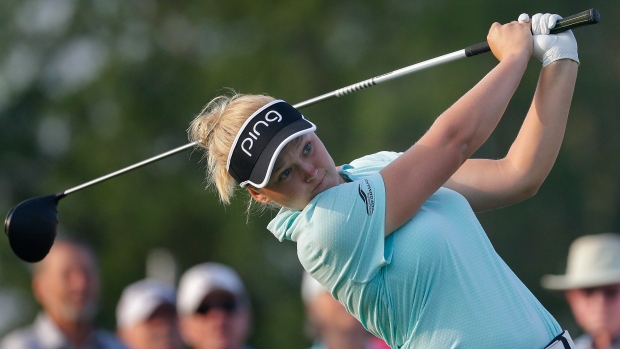 Brooke Henderson may only be 19, but she's already thinking about retirement.
Call it Freedom 25.
The pride of Smiths Falls, Ont., revealed her long-term plans during a press conference on Tuesday ahead of the CP Canadian Women's Open, a tournament where she's going to be front and centre.
"I've won four times," she said, "but if I could win a few more times this summer and continue that trend over the next few years, I would love to retire kind of early and know that I had a successful career is really important to me."
Now before LPGA commissioner Mike Whan goes into a cold sweat at the possibility of losing one of his marquee players, it's important to point out that Henderson isn't going to pack it in any time in the next few years. She's just looking down the road at what she'd like to accomplish before she puts her clubs away.
She can check off one item on that bucket list this week by winning on home soil, something no Canadian woman golfer has accomplished since Jocelyne Bourassa won the 1973 La Canadienne, the forerunner of this tournament.
Considering all the focus on Henderson this week, it would be quite the accomplishment. She's playing essentially in her backyard. Her hometown of Smiths Falls is just under an hour's drive and could be a ghost town this week with most of the population heading to see their favourite daughter.
She's also playing the Ottawa Hunt and Country Club, a course that's made her a member.
Already, the attention on her is bordering on smothering. On Monday, Henderson played in the Brooke and Friends Pro-Am, an event to raise money for the Canadian Golf Foundation as well as the new Henderson Family Foundation. A crowd of about 500 followed her every step of the way and it grew as she came closer to the clubhouse.
On most Mondays on the LPGA Tour, the fans consist of parents, volunteers and the odd squirrel.
It continued on Tuesday, when she might as well have been the only golfer on the course. The horde following her was only slightly smaller due to an earlier rain that chased some away. By contrast, Ariya Jutanugarn, the third-ranked player in the world and the defending champion of this event, strolled along the course without a single spectator in tow.
When Henderson plays the opening round, you can bet the fairways will be lined from tee to green.
But pressure? Nope.
"I'm really looking forward to four days of competition," said Henderson, "Hopefully I can get off to a fast start, and then I can use the enthusiasm and momentum from all the fans and propel me the rest of the week. I'm super excited and can't wait to get started."
It's not like this tournament snuck up on Henderson. She's known it's been coming and has been preparing for some time. She took the two previous weeks off and got some rest up at the family cottage. She also took care of some sponsor obligations, knowing that would lessen the workload this week. She and her team have also done a good job and limiting anything that doesn't have to do with hitting a golf ball.
Still, there have been scores of requests for her time already this week, from media, fans and organizers. Learning to say no has been a difficult lesson from a woman who likes to please everyone.
"It's really hard," she admitted. "I think my first priority is to definitely get the younger children to try to help inspire them. To see their little smiles and little faces, it's really hard to say no to them, and I don't want to. I want to make sure that I give them the appropriate time. It is very difficult to say no to anybody. But at the end of the day I need to play well too, and I need to understand that I need rest and I need practice and kind of hone into how my body is feeling."
Time management is something every top Canadian has had to deal with when they arrive back on home soil. Mike Weir had to learn it. So too did Lorie Kane.
Now Henderson is getting the crash course. Her past performances in Canada have been mediocre at best and some of that is due to the added attention and off-course duties.
While she's better at it, she still describes the balancing act as a work in progress, trying to find time to keep everyone happy. But she has finally figured out the best way to make that happen.
"At the end of the day, if I play really well, everybody's happy," she said. "So hopefully I can do that this week."
If she does, she'll be one step closer to that retirement plan.