Hall of Famer Bathgate passes away at 83
Hockey Hall of Famer Andy Bathgate, who played for Toronto, Detroit, New York and Pittsburgh over 17 NHL seasons, has died. The Rangers confirmed on their website Bathgate died Friday. He was 83.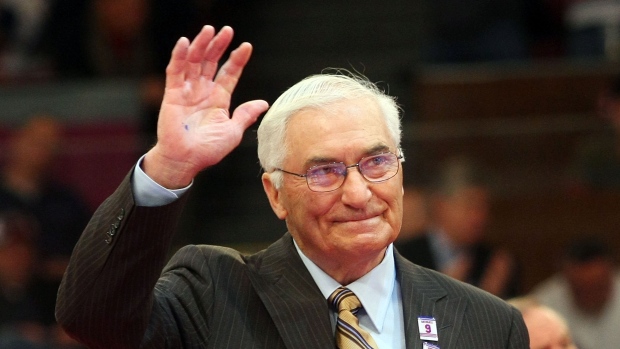 NEW YORK, N.Y. - Andy Bathgate, a Hockey Hall of Famer who starred for the New York Rangers but won his only Stanley Cup with the Toronto Maple Leafs, died Friday. He was 83.
The Rangers confirmed Bathgate's passing in a posting on their website. There was no immediate word on the cause of death.
"Andy Bathgate was a strong leader, a consistently prolific scorer and a fierce competitor," said National Hockey League commissioner Gary Bettman in a statement. "Andy was an All-Star, a Hart Trophy winner, a Stanley Cup champion and a Hall of Famer who earned the respect of the entire hockey world. The NHL family sends heartfelt condolences to his family and his many friends."
The Winnipeg native made his mark on the NHL by consistently leading a woeful Rangers team in scoring in the 1950s and early 1960s.
He won the Hart Trophy as the NHL's most valuable player after recording 88 points in 70 games with a New York squad that finished in fifth place and out of the playoffs in 1958-'59, when he became the first Ranger to score 40 goals in a season.
In 1961-62, he tied for the NHL scoring lead, but the Art Ross Trophy was given to Bobby Hull because the Chicago Blackhawks sniper had more goals — a then record-tying 50.
He is also the player who hit Jacques Plante in the face with a shot in 1959, prompting the Montreal Canadiens netminder to don facial protection and become the first goalie to wear a mask full-time.
Bathgate said it wasn't an accident. Earlier in the game, Plante had tripped him into the boards, nearly causing a serious injury.
"Later he had his stick out and I gave him a shot right on his cheek," Bathgate told the Hockey Hall of Fame. "It wasn't a slapshot.
"He went off and came back with the mask on. We thought it was a joke. But he revolutionized the game. I'm not taking credit, but it changed the game for sure."
Known for his playmaking skills and a powerful slapshot, Bathgate was signed by the Rangers as a 17-year-old free agent in 1949. He spent three years with the Guelph Biltmore Mad Hatters of the Ontario Hockey Association, winning a Memorial Cup in 1952.
That year, he got his first call-up with the Rangers.
He had 40 points in his first full season in 1954-'55 and emerged as a star the following year with a 66-point campaign. Bathgate averaged over a point a game with the Rangers over the next nine seasons.
He was named New York's captain in 1961 and wore the 'C' until his was sent to the Maple Leafs in a seven-player trade in February 1964. Bathgate had nine points in 14 playoff games for Toronto that year and scored the game-winner that gave the Maple Leafs a third straight Stanley Cup.
"We went to Game 7 in Toronto tied three games apiece," Bathgate said. "I got a clean cut breakaway in the first period against (Terry) Sawchuk.
"I put it up over Sawchuk's left shoulder. I knew he couldn't lift that arm (due to an injury)."
Two seasons later, he was dealt to Detroit in another multi-player trade.
Dogged by knee injuries for much of his career, Bathgate was left unprotected for the expansion draft in 1967 and was claimed by the Pittsburgh Penguins. He played one season there, then played two seasons of minor pro hockey in Vancouver before skating in his last NHL season in 1970-'71 with the Penguins.
Bathgate had 973 points (349-624) in 1,069 career regular-season games. He also had 35 points (21-14) in 54 career playoff games.
He was named to the Hall of Fame in 1978. In 2009, his No. 9 jersey was honoured by the Rangers along with defenceman Harry Howell's No. 3.