Hockey can help save lives
TSN Hockey Insider Bob McKenzie shares the story of James Dunn, whose love of hockey helped him get through a battle with cancer.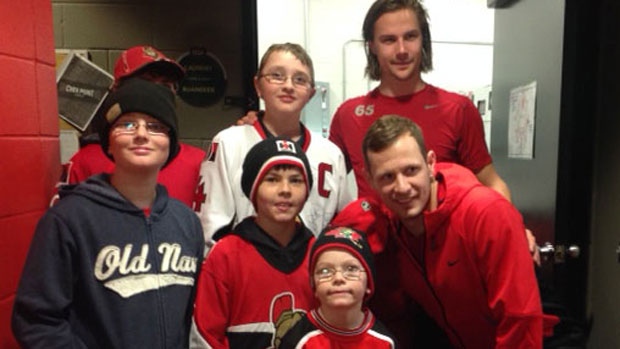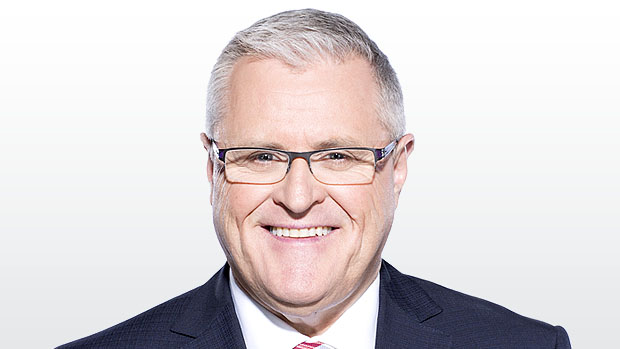 We wear our lavender ties; we applaud, and often get choked up, when an afflicted youngster comes out to drop a ceremonial puck; we most definitely reflect on all those we've lost too soon or those who continue to fight the good fight against such an insidious and a seemingly ubiquitous foe.
The NHL's Hockey Fights Cancer movement that unfolds on a daily/nightly basis at this time of year is a wonderful and worthwhile initiative.
But hockey doesn't just fight cancer, there's much more to it than a slogan or a lavender tie: hockey can actually help to save lives. Of that, there is no doubt in my mind.
It certainly did for James Dunn, who will celebrate his 15th birthday on Nov. 12 at his home in Wallacetown, Ont., a small town on the north shore of Lake Erie, about 50 kilometres southwest of London.
James is a cancer survivor whose passion for pucks helped him get through an ordeal no kid should ever have to deal with but, sadly, all too often, they cannot escape.
Last week - right around the same time I was watching an NHL game where a young cancer patient was dropping the puck and a few days before I would be putting on the Hockey Fights Cancer lavender tie during a TSN broadcast - I got an email from James' dad Jeremy.
It was very good news.
"James has had a couple of scans that have been all clear…and he's feeling great. He tried out for the provincial sledge (hockey) team and was selected as a forward. The team gets together once a month for a three-day (weekend) camp or games against other provincial teams. He's been active with working out a couple of days a week, playing golf most of the summer and now playing sledge with his regular team, too."
It was close to four years ago, right around his 11th birthday, when James found out he had cancer. He wrote about it then in his own words in his journal on the CaringBridge website:
"I came home one day and told my parents I had a sore knee. After a few days passed, the ache was still there and playing hockey was starting to become a struggle. My parents took me in for X-rays and things got really crazy. (On) Dec. 2, 2011, I had a biopsy taken on my right femur bone and was told I had a form of cancer called Osteosarcoma."
James immediately underwent chemotherapy treatments. On Feb. 7, 2012, at The Hospital for Sick Children in Toronto, James had his leg amputated. In a surgical procedure that lasted almost 16 hours, Dr. Sevan Hopyan performed rotationplasty. That is, amputating the leg above the knee but taking the lower portion of the leg and foot, rotating it and re-attaching to the thigh bone so the ankle functions as a new knee joint. The foot, pointing backwards, acts as a stabilizing platform to which a prosthetic leg can be attached.
It's really quite remarkable, isn't it? In hockey, we marvel at a team that can go on a winning streak, but imagine Dr. Hopyan's team doing a 16-hour operation of that complexity to help save the life of an 11-year-old boy. There's your champion(s); there's your medical MVP.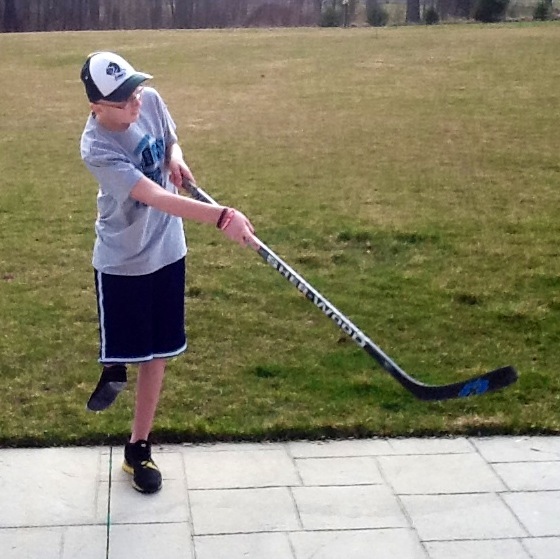 I only got to know of James' story because a (player agent) friend of mine, whose own friend is related to the Dunn family (Jeremy, his wife Coralee and James' younger brothers Morgan and Nathan), was soliciting get-well messages from hockey people for James. That was the day before James' surgery. I looked at James' profile and picture on the CaringBridge website that night of Feb. 6. I tried to imagine how frightening it must have been for that little boy and his family, knowing what was going to happen the next morning and the long, difficult and potentially life-threatening battle that lie ahead. It also struck me how much 11-year-old James, with his glasses and incredible passion for all things hockey, resembled my own son Mike at that age.
A week or so later, the day before he was to be released from Sick Kid's Hospital, I got to meet James and his parents for the first time. I saw a quiet and shy but extremely brave, young boy - he showed me his foot re-attached to his thigh that day - whose love of hockey knew no bounds. I marveled then at his courage and passion; just as I do now. I feel safe in saying that James' love of hockey was a driving force in his fight against cancer. That love of hockey equates to his love of life.
In his very first visit with the doctor after his cancer diagnosis, James was asked if he had any questions.
"Will I be able to play hockey again?" he asked the doctor.
When he was in a London hospital for chemo treatments, his hockey cards, hockey magazines and hockey books were never far away. He would watch games on TV. Players from the OHL's London Knights would come to visit to him - Bo Horvat is from nearby Rodney, Ont., not too far from Wallacetown. When James was learning how to walk again, using crutches to get around, he would go to the Knights' games. Walking up the stairs, Jeremy said, was never an issue for James. There were never any complaints.
Six weeks after having his leg amputated, James was out on the patio at home, shooting pucks while standing on one leg. It became part of his daily routine.
Prior to getting cancer, the Dunns had been on a family vacation in Ottawa. They skated on the Rideau Canal, watched a Senators' game in the hotel lobby. James became a fan not only of the Sens, but Jason Spezza, who became his favourite player. After his surgery, while still in hospital, James vowed he would, on the first anniversary of losing his leg to cancer, skate again on the Rideau Canal.
One year later, he wasn't well enough to do that, but the year after that, he made good on his vow and did skate on the canal. Along the way, thanks to the generosity of both the Toronto Maple Leafs and Senators' organizations, amongst so many others both inside and outside the game, he got to meet his heroes - Spezza, Daniel Alfredsson, Erik Karlsson to name only a few - in games in Toronto and Ottawa.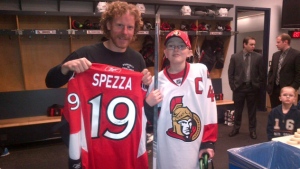 Hockey people - whether they're from the NHL or junior hockey or sledge hockey, any level, really - never disappoint when it comes to helping kids with cancer.
For a young boy from Wallacetown, there's nothing better than playing hockey. James traded his skates for a sled. Jeremy said the sledge hockey has been life-altering in the best way possible for his son.
"It has taken James to a new level," his father said. "Coping with the life-changing events in his life became easier. He was more focused on making practice and a game each week instead of coping with the effects of his chemo treatments."
James plays on the London Blizzards sledge hockey team but is going to another level with his spot on Team Ontario, allowing to him to dream, no doubt, of one day of perhaps playing for the Canadian sledge team at the Olympics.
"Hockey is a big part of James' life," Jeremy said. "Without it, many things may have been completely different. He lives and breathes hockey. Most of the conversations and events are centered on the game. Hockey has been a game-changer in James' fight against cancer. When things got tough, (hockey) was one of the best medicines James had."
The little 11-year-old boy I met in the hospital has grown up. He's still growing, too, all 5-foot-10 of him, a 15-year-old young man with a passion for hockey, a passion for life.
In the movement that is Hockey Fights Cancer, we know there are often times too many losses to count. Maybe one day, hopefully, that will be different. In the meantime, it's important to celebrate some victories, too, as well as the role the game, and the caring people in it play in helping so many battle so valiantly, inspiring us all to join the fight in any way we can.
What do we learn in the first three weeks of a season?
I have always subscribed to the following theory: Pay no attention to anything in the first two weeks of the NHL season; take note of, but don't buy all that you see after three weeks; four weeks in, you can, more or less, book it.
I've never actually known how valid that is – guessing fired Columbus coach Todd Richards might disagree – but it always sounded pretty good to me. Of course, 'book it" was never meant to be iron clad. If it were, we could just close up shop the first week of November and start the playoffs. But I've always believed that after one month, you get a general idea of which teams are good, or bad, and who's trending which way.
That said, let's have a look back to last season, three weeks in versus end of season. (Season began Oct. 8, following standings were through games of Oct. 28, 2014).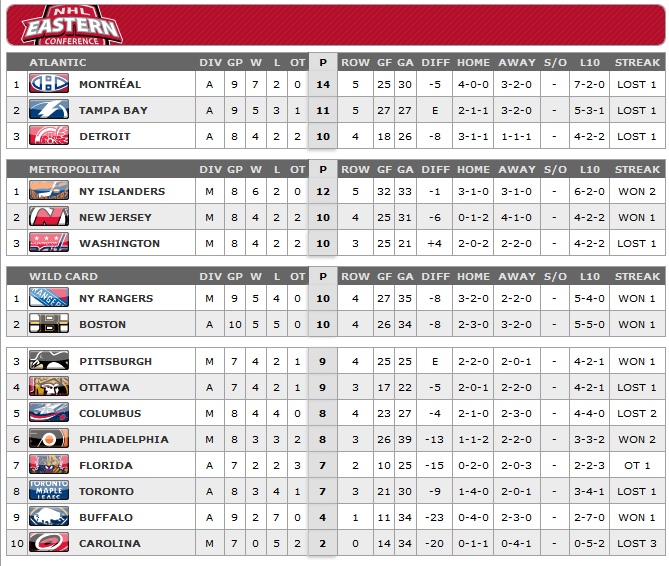 Six of the eight teams in Eastern playoff spots after three weeks last season made the playoffs.
New Jersey was the only team holding down a divisional playoff berth on Oct. 29 last year that didn't make the playoffs; Boston was in a wild card spot 21 days in, but didn't make the cut at season's end.
Pittsburgh and Ottawa, each a point out after three weeks, ultimately supplanted the Devils and Bruins.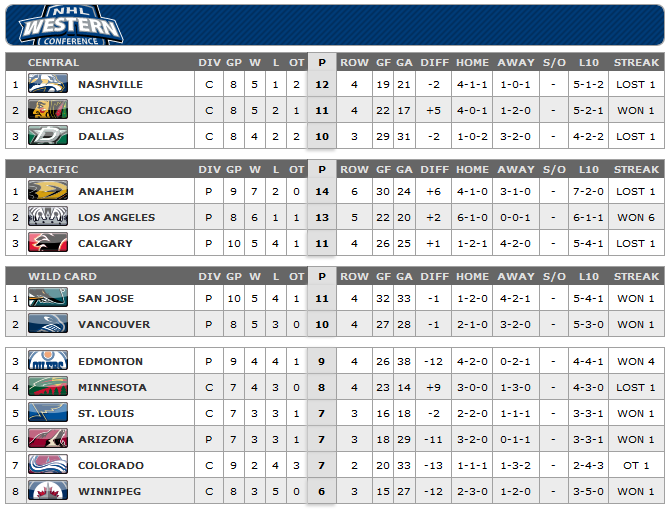 In the West, five of eight teams in a playoff spot after three weeks made it there at the end of the season.
By season's end, Dallas and Los Angeles fell out of divisional playoff berths and San Jose lost its wild card spot.
Minnesota, St. Louis and (last-place!!!) Winnipeg rallied from non-playoff positions to make it.
Okay, now let's look to see what happened after four weeks last season: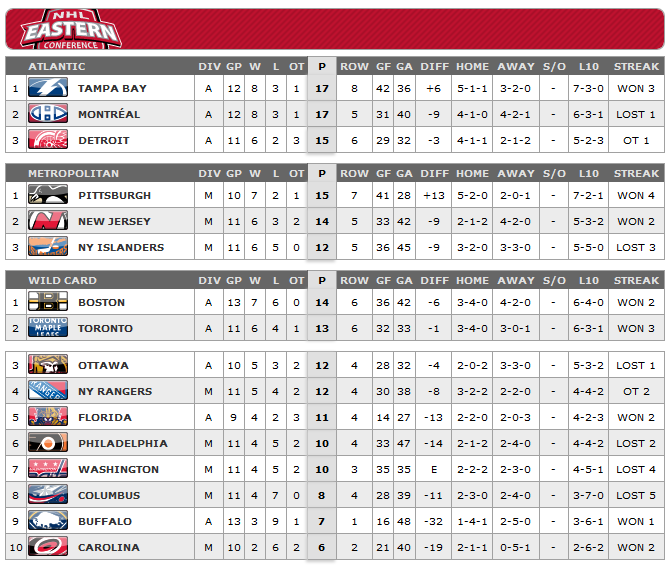 The Eastern numbers didn't change drastically from 21 days to 28. Five, not six, of eight teams in a playoff spot on Nov. 5, 2014, made the playoffs. New Jersey, Boston and Toronto fell out over the long haul; Ottawa, the Rangers and Washington jumped up.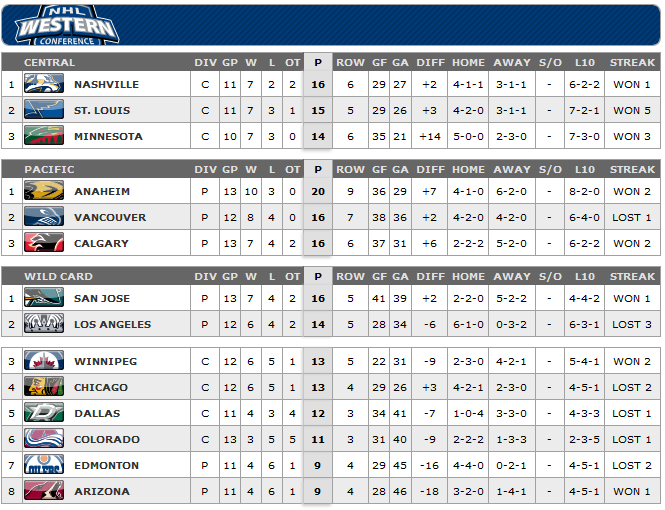 Hmmmm, interesting.
Four weeks into last season, Anaheim-Vancouver-Calgary stood atop the Pacific, same as the end of the season. In the Central it was Nashville-St. Louis-Minnesota (all three did make the playoffs) compared to end of season St. Louis-Nashville-Chicago.
Chicago, which would go on to win the Cup, and Winnipeg were, just barely, on the outside looking in after a month; San Jose and Los Angeles fell out of their playoff spots. In the space of that one week, from 21 days to 28 days, Winnipeg went from last place to being one point out.
I'm not sure what, if any, conclusions we can draw from this (especially since the Cup winner wasn't in a playoff spot after 28 days), but I'd loosely suggest this: By the time we're four weeks into the season, six of eight teams holding down playoff positions in either conference are likely to make the playoffs; two, perhaps three won't.
I'll leave it to you to determine whether your favourite team is one of the two who will fall down or vault up, but do take note of this, and maybe this is the one-month takeaway: In both the East and West, four of the five non-playoff teams (one month in) that made it by season's end were ninth and 10th in their conference. Washington, at 13th, was the lone exception.
So here are today's standings, 21 days into this season: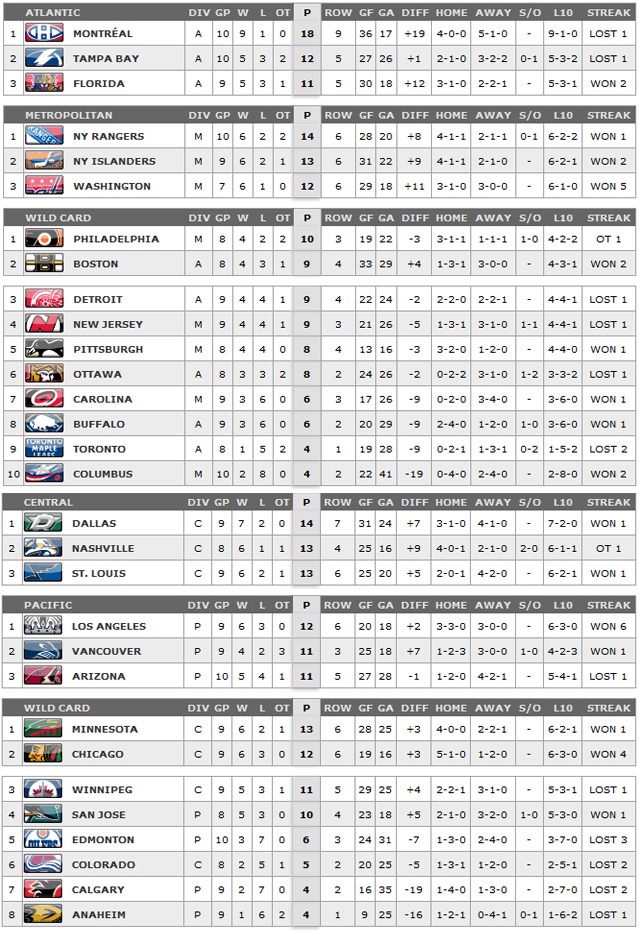 I'll be looking to see if Anaheim (1-6-2), Calgary (2-7-0) and/or Columbus (2-8-0) can make a (last year) Winnipeg-like surge from week three to week four. Next week, I'll be looking to see which teams sit outside the top 10 in their respective conferences and face the really difficult climb.