Hockey Canada unveils men's Olympic roster
In the absence of NHL stars, Canada will ice a 25-man roster long on heart at the Pyeongchang Olympics - with talent from seven different leagues and more than 5,500 NHL games under its belt.
Frank Seravalli, TSN Senior Hockey Reporter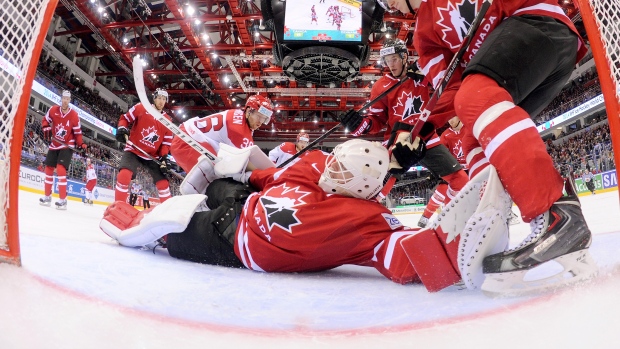 Last week, Quinton Howden stayed awake into the wee hours of the morning in Minsk, Belarus, tuning into TSN to watch his younger brother, Brett, capture gold for Team Canada at the World Junior Championship.
Next month, Brett hopes to return the favour while his brother is in South Korea.
Howden was one of 25 players named to Team Canada's Men's Olympic hockey team on Thursday, the first without NHL participation since the 1994 Winter Games in Lillehammer, Norway.
Howden, an Oakbank, Man., product, will look to complete his Hockey Canada trifecta, hoping to add gold to the silver and bronze he won at the World Juniors in 2011 and 2012.
Team Canada will face Switzerland in its first preliminary round game on Feb. 15, the culmination of 14 months' worth of scouting and preparation for general manager Sean Burke, assistant Martin Brodeur and head coach Willie Desjardins.
"When we go to these Olympics, this team will make Canada proud," Burke said. "It will be a gold-medal effort and there won't be one guy that puts that jersey on that this isn't the highlight of their hockey career and the highlight of their family's career."
Burke cast a net far and wide to find Canada's best talent playing abroad, trying out 100 players in four pre-Olympic tournaments before ultimately paring down the roster. His haul was 13 players from Russia's KHL, four from Switzerland's NLA, three from the Swedish Hockey League, one from Germany's DEL, one from Austria's EBEL and three from the AHL.
With the NHL prohibiting players under contract from participating, Team Canada was limited to inviting those on AHL-only, one-way deals: Chris Kelly (Belleville), Christian Thomas (Wilkes-Barre/Scranton) and Cody Goloubef (Stockton).
Team Canada chose not to invite major junior players from the Canadian Hockey League. Unlike Team USA, which will feature three college players in Will Borgen, Ryan Donato and Jordan Greenway, Team Canada will also not have any players from the NCAA ranks.
Defenceman Cale Makar, who starred for Canada at the World Juniors in Buffalo, declined an invitation from Hockey Canada to focus on his game at UMass-Amherst.
"The toughest part of this job for me was the phone calls," Burke said. "The phone calls we made to the guys that made the team were incredible. We had families crying. We had players crying. We had us crying. It was so emotion to hear the relief of a lot of players, but also the hard work that they've put in to reach this point, knowing now they're going to play for Canada at the Olympics."
As geographically diverse as Canada's roster is, the journey each player took to South Korea was equally unique. Team Canada's entry has a whopping 5,544 games of combined NHL experience, with most of that experience concentrated among the forwards.
In a tournament where NHL experience might not mean anything, Canada's strength might actually be on defence, even with names not as familiar in North America.
Defencemen Chris Lee and Mat Robinson are Canada's only two players who have not played in at least one NHL game.
Lee, 37, is a great story of perseverance on a roster chock full of them. The MacTier, Ont., native played NCAA Div. III hockey at SUNY-Potsdam in New York, then carved out a pro career starting in the ECHL before making his way to Europe in 2010, where he has played since.
Lee helped Team Canada to a silver medal at last year's World Championship in France and Germany as the only non-NHL player on the roster.
"All our players, somewhere along the line, they've been told no, they're not going to get a chance to continue their NHL career, or even start it in some ways," Desjardins said. "They received a no, but found a way to make a yes."
One year ago, forward Wojtek Wolski - a Toronto native who played for the Avalanche, Coyotes, Rangers, Panthers and Capitals - was lying in a hospital bed after breaking his neck and sustaining a concussion in a KHL game on Oct. 13, 2016.
"He thought his career was over," Desjardins said. "You see his picture in the hospital bed with the neck brace on. He looked at that photo last night and cried, knowing he got the chance."
Long-time NHL player Steve Thomas called his son, Christian, to let him know he made the Olympic team. Christian, 25, is Canada's youngest player.
"It was so emotional, an incredible story to see that happen," Desjardins said. "He [Steve Thomas] was probably more excited than he was in his career."
Derek Roy was a four-time 20-goal scorer in the NHL. Veteran Chris Kelly, who played all 82 games with the Ottawa Senators last season, wanted to keep playing to add a gold medal next to the Stanley Cup in his trophy case.
"Lots of players are playing just to play on this team. That says a lot about them," Desjardins said. "To be here, at this point, it just doesn't happen. It doesn't seem possible. For all these guys, they think the same."
Burke said the "disappointment" in the calls to inform them they didn't make it was gut-wrenching. Notable cuts included P.A. Parenteau, Simon Despres, Max Talbot, Matt Ellison, Nick Spaling, Teddy Purcell, Jay McClement, Zach Boychuk and Matt Frattin.
But Burke is confident in his selections, praising Hockey Canada's resources to allow him to personally see all 100 candidates multiple times, without relying on video. That meant a lot of air miles, crisscrossing the globe, getting stuck on broken down trains in Linkoping, Sweden, trying to ice Canada's best team given the unusual circumstances.
"I think Canadians across the country are going to get behind this team," Burke said. "There's some incredible stories. There's guys that have had adversity through all phases of their career that now, through all the hard work, are going to put that jersey on at the Olympics – and never dreamed that was going to happen."
Contact Frank Seravalli on Twitter: @frank_seravalli​
Canada's Men's Olympic Hockey Team
| Roster | | | | | |
| --- | --- | --- | --- | --- | --- |
| FORWARDS | | | | | |
| Player | SH | HT | WT | Hometown | 2017-18 Team |
| René Bourque | L | 6'2 | 216 | Lac La Biche, Alta. | Djurgårdens IF (SHL) |
| Gilbert Brulé | R | 5'11 | 187 | Edmonton, Alta. | Kunlun Red Star (KHL) |
| Andrew Ebbett | L | 5'9 | 176 | Vernon, B.C. | SC Bern (NLA) |
| Quinton Howden | L | 6'2 | 190 | Oakbank, Man. | Dinamo Minsk (KHL) |
| Chris Kelly | L | 6'0 | 194 | Toronto, Ont. | Belleville (AHL) |
| Rob Klinkhammer | R | 6'3 | 214 | Lethbridge, Alta. | Ak Bars Kazan (KHL) |
| Brandon Kozun | R | 5'8 | 170 | Calgary, Alta. | Lokomotiv Yaroslavl (KHL) |
| Maxim Lapierre | R | 6'0 | 216 | Brossard, Que. | HC Lugano (NLA) |
| Eric O'Dell | R | 6'1 | 201 | Ottawa, Ont. | HC Sochi (KHL) |
| Mason Raymond | L | 6'1 | 179 | Cochrane, Alta. | SC Bern (NLA) |
| Derek Roy | L | 5'9 | 187 | Rockland, Ont. | Linköping HC (SHL) |
| Christian Thomas | R | 5'9 | 174 | Toronto, Ont. | Wilkes-Barre/Scranton (AHL) |
| Linden Vey | R | 6'0 | 190 | Wakaw, Sask. | Barys Astana (KHL) |
| Wojtek Wolski | L | 6'3 | 220 | Zabrze, POL | Kunlun Red Star (KHL) |
| DEFENCE | | | | | |
| Player | SH | HT | WT | Hometown | 2017-18 Team |
| Stefan Elliott | R | 6'1 | 190 | Vancouver, B.C. | HV71 (SHL) |
| Chay Genoway | L | 5'9 | 170 | Morden, Man. | Lada Togliatti (KHL) |
| Cody Goloubef | R | 6'1 | 200 | Oakville, Ont. | Stockton (AHL) |
| Marc-Andre Gragnani | L | 6'3 | 205 | L'Ill-Bizard, Que. | HC Dinamo Minsk (KHL) |
| Chris Lee | L | 6'0 | 187 | MacTier, Ont. | Metallurg Magnitigorsk (KHL) |
| Maxim Noreau | R | 6'0 | 198 | Montreal, Que. | SC Bern (NLA) |
| Mat Robinson | R | 5'10 | 185 | Calgary, Alta. | CSKA Moscow (KHL) |
| Karl Stollery | L | 5'11 | 181 | Camrose, Alta. | Dinamo Riga (KHL) |
| GOALTENDERS | | | | | |
| Player | SH | HT | WT | Hometown | 2017-18 Team |
| Justin Peters | L | 6'1 | 210 | Blythe, Ont. | Kölner Haie (DEL) |
| Kevin Poulin | L | 6'2 | 205 | Montreal, Que. | Medvescak Zagreb (EBEL) |
| Ben Scrivens | L | 6'2 | 181 | Spruce Grove, Alta. | Salavat Yulaev Ufa (KHL) |