Hockey community praying for Craig Cunningham
Friends and former teammates praise Tucson Roadrunners captain as a battler who beat incredible odds to become a professional hockey player, Bob McKenzie writes.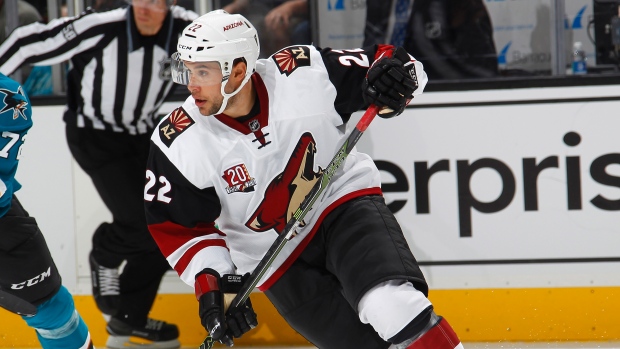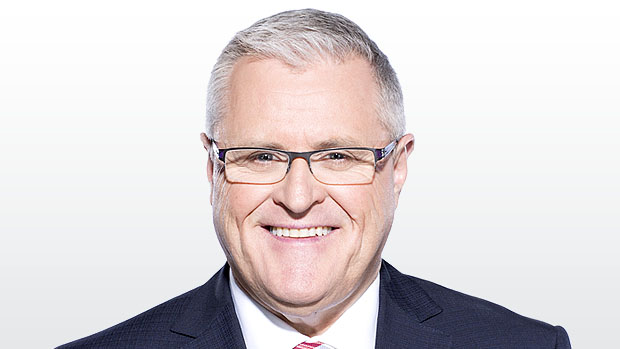 You ask yourself: How much should one woman have to endure?
In 1996, Heather Cunningham lost her husband, Alvin, when he died in a car accident in Trail, B.C., leaving her alone to fend for their three young sons aged four to seven — Mitchel, Craig and Ryan.
It wasn't easy, far from it, but with indomitable spirit, love of life and help of all kinds from so many along the way, Heather raised those three sons into young men, one of whom — middle child Craig — went on to beat an incredible set of odds to become a professional hockey player.
Then on Saturday night, some 20 years after losing her husband, Heather was there in the stands in Tucson, Ariz., to watch 26-year-old Roadrunner captain Craig start the game. He collapsed moments before puck drop.
And now Heather Cunningham, along with sons Ryan and Mitchel, is maintaining a minute-by-minute, hour-by-hour vigil over Craig, who remains in stable but critical condition and is literally battling for his life at Banner University Medical Center in Tucson.
You ask yourself again: How much should one woman have to endure?
***
In a lifetime in hockey, Claude Lemieux has never seen or experienced anything quite like what happened Saturday night at Tucson Arena. He hopes he never does again either.
"It was very painful to watch," the former NHL player turned player agent and hockey dad said. "I can't get it out of my mind. It's very upsetting."
Like Heather Cunningham, Lemieux was there to watch his son, Brendan, who plays for the visiting Manitoba Moose.
Brendan was to be the Moose's starting left winger; Craig the Roadrunners' starting right winger; they were to line up against each for the opening faceoff, but never got to centre ice.
The starters for both teams were still skating around after the anthem — Craig had picked up a piece of debris off the ice and dropped it into the penalty box — and as Craig continued to skate with his teammates, it appeared he tried to take a deep breath when he suddenly collapsed, falling backward onto the ice.
As soon as the players realized what had happened, they helped the trainers onto the ice. In-arena paramedics soon came out, too, but as fate would have it, it was a firefighters' bagpipe band that had performed the anthem, so firefighters in kilts were also on the scene, assisting with treatment.
Craig's jersey and equipment were quickly cut off. The trainers, paramedics and firefighters surrounded him during treatment while players from both teams and everyone in the arena watched in stunned silence. Craig was eventually put onto a stretcher and as he was being wheeled off the ice, paramedics continue to perform CPR.
Craig was rushed to hospital. The game, of course, was immediately suspended. There wasn't anyone on either team or in the stands who wasn't traumatized by what they had just witnessed. Tears were shed; hugs were exchanged; some became physically ill.
"My wife said to me, 'We have to go to the hospital,'" Lemieux recounted. "We knew that [Craig's mother] had flown in to see him play, that she was there watching. To be a parent, to go to the game to see your son play and then to see your child...to see what happened to him. It's unimaginable for any parent.
"There's not a lot you can say or do except to [let Craig's mother know] we love him and we're praying for him, it's all any of us can say in that situation," Lemieux said of the visit to the hospital.
***
Word spread quickly throughout the hockey community on Saturday night and early Sunday morning that Craig was in dire straits. The news hit fast and it hit hard and feelings ran deep because Craig is some kind of special.
We always say that when we talk about any young life that hangs in the balance, but Craig's story, losing his dad at such a young and age and beating so many odds to play as an undersized player in the NHL, well, there isn't anyone who has crossed paths with Craig who doesn't feel like he's a special human being who combines all the best traits this world has to offer.
"If you were trying to find the one person who least deserves this to happen to them, it would be Craig," said Montreal Canadiens winger Brendan Gallagher, who played the better part of four WHL seasons with Craig in Vancouver. "I heard about what happened [to Craig] after our game on Saturday night and I stayed up all night waiting for updates. He's a special guy. Every teammate he's had will tell you that."
And there have been a lot of them. Literally hundreds.
There were four-and-a-half seasons with the WHL's Vancouver Giants; a half season with the Portland Winterhawks; the better part of four seasons in the Boston Bruins organization, mostly with Providence but 34 NHL games as a Bruin; another 29 NHL games with Arizona over the last three seasons and a special place in the Coyote organizations as captain of their AHL team and a mentor to their young players.
The reaction on Twitter was immediate, and incredible:
*******
"Have you noticed how many people tweeting or commenting about Craig have called him their best friend or a brother or family member?" TSN analyst and former NHL player and Trail, B.C., native Ray Ferraro said.
"That's because he's an amazing kid with an amazing story. He really is special. I don't know of anyone — seriously, not one person I can think of — who would or could outwork Craig and he would always have that big smile on his face. When Craig Cunningham walks into a room, he lights it up. He has an energy about him. I can't put it into words, but it's very special. Anyone who knows him knows what I'm talking about.
"He's a member of our family. I feel like he's another son to the four I have. He's a brother to them. My wife Cammi said to me on Saturday night, 'I love Craig.' We all love Craig. Everyone loves Craig."
Ferraro's history with Craig runs deep. They share the same hometown.
Ray didn't know Alvin Cunningham but certainly knew of him when he died in the car accident in 1996, leaving behind Heather and three young children. Craig and Ray's son Landon played spring hockey together as kids. Given the tough times Heather was going through, working multiple jobs to barely make ends meet for her kids, Ray was able to help out financially with Craig's hockey equipment, among other things.
Craig's story, and that of his mother Heather, was beautifully chronicled by ESPN's John Buccigross at the beginning of the 2014-15 season.
"Craig and two friends from Trail, from the time they were 10 years old, they would on Friday take an 11-hour bus ride to Vancouver so they could practise twice on Saturday and once on Sunday morning before taking the bus back," Ferraro said. "Tyler Johnson would do the same thing coming in from Spokane. It was incredible. Can you imagine?
"Craig always had so much energy. There would only be eight kids practising, they'd be on the ice twice on Saturday, it was totally exhausting and Craig would still want to go out for a run on Saturday night. So for those of us who know him, know the energy he brings to any room he walks into, it's unfathomable on so many levels that he is now literally fighting for his life.
"All I can think of that smile of his. In [Buccigross's story on Craig], he talks about Craig shooting 300 to 400 pucks twice a day and it's all true. Craig's shot was incredible, but he was always shooting it over the net and hitting the glass. The noise was deafening and I'd tell him to try putting some on the net, not over it. Right after that, he'd shoot the next one at the glass, turn, look at me and just smile and laugh."
Landon Ferraro was so distraught by what happened to his "brother" Craig that he asked for permission from the St. Louis Blues to briefly leave the AHL farm team Chicago Wolves to travel to Tucson to see Craig and be with Heather and the Cunningham boys.
He arrived in Tucson Sunday night and will re-join his Wolves' teammates in Charlotte on Tuesday.
This "brotherly" love is not uncommon amongst Craig's former teammates and pals.
Edmonton Oiler Milan Lucic was junior teammates with Craig for half of one season. That was Lucic's final year in Vancouver with the Giants; Craig's first as a 16-year-old on what turned out to be a Memorial Cup winner.
"When he showed up as a 16-year-old partway through the year, you could see he was a fragile kid," Lucic said Monday. "We knew his Dad had passed away when he was young and he maybe didn't have that father figure in his life, so we all sort of adopted him as our little brother.
"We just really bonded. We've become the best of friends. I've had him living with me in the summers. He's my little brother. We're all hoping and praying he's going to be okay. I've been talking to his girlfriend at the hospital and getting updates. He's a battler, a really special kid."
***
There have been precious few details or any specifics of Craig's precise medical condition, what exactly may have caused him to collapse on Saturday night, what treatments or procedures have been done since then and what the prognosis or outlook is.
His network of friends and adopted families are getting bits and pieces of information from Craig's actual family members at the hospital. There have been moments when it seems discouraging and times when it seems encouraging, but everyone realizes the gravity of the situation and how it could change from moment to moment.
The Coyotes have respected the Cunningham family's right to privacy, simply listing him in stable but critical condition. Coyotes' head coach Dave Tippett said Craig is getting the best possible medical treatment.
Tucson was scheduled to play Tuesday and Wednesday at home, but the AHL has officially postponed those games. Everyone within the Coyotes organization, both in the NHL and AHL, is unbelievably distraught by what has happened.
Suffice to say, Craig is battling for his life. The strength his friends draw from that now is in the strength each and every one mentions without fail and what they know to be true about their friend:
"Cunner," as he is known to them, "is a battler."
So, too, no doubt is his mother, Heather, who has had to endure far more than any one woman ever should.
And as Claude Lemieux so aptly put it for all of us in the hockey community, "there's not a lot you can say or do except [to let her know] we love him and we're praying for him..."