Holy Helena wins 158th Queen's Plate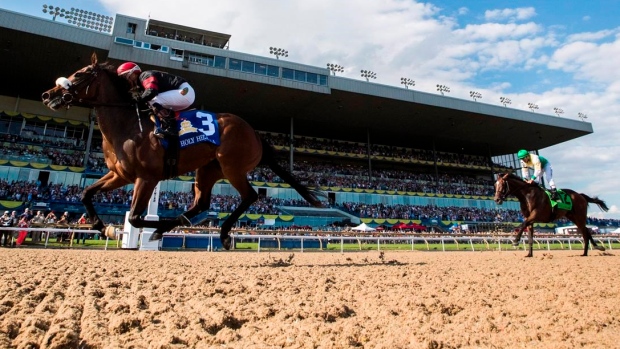 TORONTO — Holy Helena and Luis Contreras delivered a first for Frank Stronach on Sunday.
The Woodbine Oaks champion came from third to easily win the $1-million Queen's Plate at Woodbine Racetrack. The 3 1/2-length victory earned Stronach Stables its fourth win of the opening jewel of Canada's Triple Crown but first with a filly.
"Something like that (winning the Queen's Plate) doesn't get boring," Stronach said. "That's great, especially if you have a filly that wins the Plate."
However Stronach won't make a Triple Crown run with his prized filly. Stronach said it's very unlikely Holy Helena will race in the $500,000 Prince of Wales Stakes on July 25 at Fort Erie Racetrack.
"I don't think so," he said. "Normally I don't like to run fillies or any horse that quick after a big race . . . so she gets a little break now."
And Stronach doesn't anticipate changing his mind should Holy Helena come out of the Plate better than anticipated.
"You don't want to go that often to the well," he said.
So if Contreras wants to pursue a Triple Crown, he'll again have to do it with multiple horses. In 2011, the Mexican-born jockey made Canadian thoroughbred racing history by winning all three Triple Crown races aboard two horses.
Contreras won his first Queen's Plate with filly Inglorious in 2011. But when Inglorious's handlers opted against going to Fort Erie, Contreras moved aboard Pender Harbour and led him to victory in both the $500,000 Prince of Wales and $500,000 Breeders' Stakes at Woodbine.
"I did it once," Contreras said. "I hope, I keep my fingers crossed to do it again."
Contreras had Holy Helena, the 2-1 favourite, sitting comfortably in third behind Megagray and State of Honor with a quarter-mile remaining. The daughter of Ghostzapper easily took the lead down the stretch and finished the 1 1/4-mile race on Woodbine's tapeta course in 2:02.87.
"Even at the 3/8ths (pole) I had so much horse," Contreras said. "I looked back, inside, outside and I didn't see anybody coming.
"When I put her outside and asked her to go, she just continued. I had plenty of horse left at the end . . . she's something special."
Tiz a Slam finished second, leaving trainer Roger Attfield tied with Harry Giddings, Jr., for the most career Plate wins (eight). Inflexibility, another filly, was third after finishing third behind Holy Helena and Mythical Mission in the $500,000 Woodbine Oaks on June 11.
Jockey Eurico Rosa Da Silva was pleased with Tiz a Slam's finish.
"It was a good, quality race, a very competitive race and I finished second," he said. "I passed a lot of horses but I didn't pass that one (Holy Helena)."
Holy Helena also impressed Inflexibility's jockey Javier Castellano.
"She's a very nice filly," he said. "I wish there was a little more pace in the race to set it up.
"(Inflexibility) fought past the horses despite the slow pace and she still finished really strong."
The remainder of the field, in order of finish, included: Channel Maker; Megagray; Spirit of Caledon; King and His Court; State of Honor; Aurora Way; Guy Caballero; Malibu Secret; Watch Me Strut; and Vaughan.
Holy Helena's emphatic win was deja vu for Contreras.
"I kind of had the same feeling I had with Inglorious because I think we did pretty much exactly the same thing," he said. "I was just waiting at the quarter pole to make my move."
Much was expected from Holy Helena following her Oaks win June 11. She won that 1 1/8-mile race more than a second faster than 20-1 longshot Guy Caballero's winning time in the $125,000 Plate Trial, which was also run June 11.
But Contreras felt Holy Helena had a much better trip Sunday.
"(In the Oaks), I was asking a little bit the whole trip to keep her in good position," he said. "Today, she was relaxed and waiting for me to make my move."
Holy Helena earned her third win in four career starts, which have all come this year. The $600,000 winner's share boosted her earnings past $879,000.
Also on Sunday, Castellano guided Green Mask to victory in the $250,000 Grade II Highlander turf race, securing a berth in the Breeders' Cup Turf Sprint in November at Del Mar.
Rainha Da Beterio and Starship Jubilee finished the $175,000 Grade II Dance Smartly Stakes for fillies and mares in a dead heat, completing the 1 1/4-mile race in 2:02.92.
And Jesse Campbell rode 44-1 longshot Go Bro to victory in the $175,000 Grade II King Edward Stakes, finishing a neck ahead of 8-1 pick Hootenany to win the mile-long turf event in 1:34.09.