Homan, Koe to represent Canada at Olympics
Kevin Koe defeated Winnipeg's Mike McEwen 7-6 in the men's final of the Roar of the Rings. Ottawa's Rachel Homan beat Calgary's Chelsea Carey 6-5 in the women's final earlier in the day as both teams advanced to the 2018 Winter Olympics.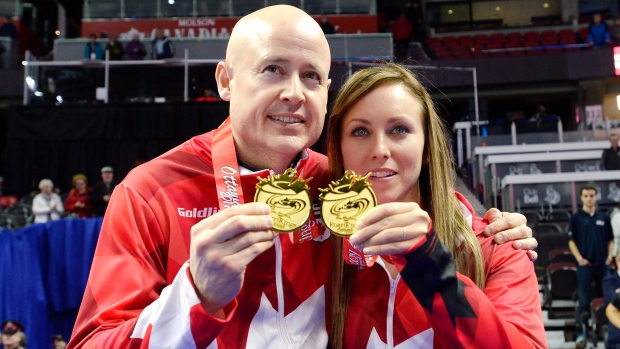 OTTAWA — A semifinal loss at the 2013 Olympic Trials left the members of Team Homan crushed. It may have been the best thing that ever happened to them.
Skip Rachel Homan and her teammates made some changes for this quadrennial. Their efforts paid off Sunday when they booked their Olympic ticket with a 6-5 win over Chelsea Carey in the final of the Tim Hortons Roar of the Rings.
"You really have to lose before you win because you sometimes don't know how to win," said former Team Homan coach Earle Morris.
Later in the evening, Calgary's Kevin Koe earned the men's Olympic berth with a 7-6 victory over Winnipeg's Mike McEwen.
"It's hard to put into words," Koe said. "Obviously it's unbelievable."
Sherry Middaugh beat Homan four years ago in Winnipeg before falling to Jennifer Jones, who went on to win gold at the Sochi Games.
This time around, Jones was dispatched by Homan in the semifinals. The Ottawa skip then topped Carey for the title in front of a boisterous home crowd.
"We just kept getting better and better as the week went on," Homan said.
Carey was down two with hammer in the 10th end. Her double takeout attempt only cleared one of Homan's stones and the celebration was on at Canadian Tire Centre.
Homan and third Emma Miskew jumped in each other's arms and were quickly joined by lead Lisa Weagle and second Joanne Courtney.
"(To win) in our hometown, we couldn't have written a better story," Homan said. "We can't wait to represent Canada in Pyeongchang."
The men's final was a back-and-forth battle that also went the distance. Koe forced McEwen to a single in the ninth end to get hammer coming home.
In the 10th, McEwen had one stone biting the top of the four-foot and one at the back. Koe's team put everything they had into the sweep and the draw gave them the winning point.
"What a game, we beat a great team," Koe said. "It came down to last shot and I'm glad we had last rock.
"I honestly wasn't sure it was going to make it but what sweeping by the boys."
This will be the first Olympic appearance for Koe and second Brent Laing. Lead Ben Hebert and third Marc Kennedy won Olympic gold in 2010 with skip Kevin Martin.
Hebert threw his broom in the air when the winning stone settled.
"We emptied the tank on that one," he said. "Thankfully we got it there and now we get to celebrate."
Koe earned a berth in the final by taking first place in round-robin play with a 7-1 record. McEwen, second Matt Wozniak, lead Denni Neufeld and third B.J. Neufeld beat Team Gushue of St. John's, N.L., in the semifinal to advance.
Homan's lone loss in round-robin play was to Carey, who posted eight straight wins to get to the final.
In the championship game, Homan was aggressive at times and kept the mistakes to a minimum. Carey made some errors, including a missed peel in the first end that gave Homan an early lead.
A second steal followed and the crowd ate it up. The momentum had shifted to Homan and she controlled the game the rest of the way.
"That game was won on inches here and there," Homan said. "I'm just really proud of my team for sticking with it and battling through."
The win caps an incredible calendar year for Homan. After taking the Ontario playdowns, she won her third national title, picked up her first world championship and is now heading to the Games for the first time.
"It gave us a lot of confidence coming into today," Weagle said.
Tears of joy ran down their cheeks as the team members were presented with Team Canada jackets and medals.
"I should stop crying some time in the next week or so," Courtney said.
In the men's final, the teams exchanged singles before McEwen came through in the fourth end with a brilliant double takeout for two.
Koe responded with a deuce and McEwen gave up a steal in the sixth end when he was a tad heavy with a tap. However, the Winnipeg skip tied the game at five in the seventh end with a hit for a pair.
McEwen put his last stone in the eighth at the top of the four-foot ring but Koe drew in behind it for a single that was confirmed with a measure.
"It sounds fake, it sounds surreal," McEwen said. "But I was prepared for the emotions of winning and losing, either way. One hundred per cent that's genuine and real. I'm OK."
Homan's team won its first Scotties Tournament of Hearts crown in 2013 with Alison Kreviazuk at second. The rink took bronze at the world championship that year.
Kreviazuk left the team the next year to move to Sweden. Courtney — one of the best sweepers in the women's game — came on as her replacement.
Adam Kingsbury came aboard as coach two years ago and strengthened their mental game. The team is embracing the big moments and Homan has become even sharper as a skip.
"She's absolutely fearless," Morris said. "She embraces the opportunities that are given. I think great athletes embrace the opportunities for greatness and that's what she does."
Carey's lone loss came at the worst time. Her final throw overcurled just a touch and it proved costly.
"I had to hit it half an inch thinner but that was kind of the story of the game," Carey said. "We were really close to lots of good stuff and it just wasn't our day."
Carey got on the board with one point in the third end. Her Calgary team of third Cathy Overton-Clapham, second Jocelyn Peterman and lead Laine Peters played a strong fourth end to force Homan to a single.
Carey drew for one in the fifth and Homan took a 5-2 lead in the sixth end with a takeout for a deuce. Carey responded with a nose hit for two in the seventh.
After a blank in the eighth, Homan's final stone hung on for a single in the ninth.
"Technically they're better now than they ever were," Morris said. "You watch them and you say, 'This is a team built to win championships.'"
Announced attendance was 7,490 in the afternoon and 7,333 in the evening for an overall total of 106,810. The venue has a capacity of about 17,000.
Brad Jacobs of Sault Ste. Marie, Ont., won the 2013 men's Trials and went on to win gold at the Sochi Games. Jacobs did not make the playoffs at this year's Trials.
Curlers who were eliminated in team events still have a chance to qualify for Pyeongchang in mixed doubles, which is making its debut on the Olympic program.
The mixed doubles Trials are set for Jan. 2-7 in Portage la Prairie, Man. Since the Homan and Koe rinks are in the team events, they cannot compete in mixed doubles at the Games.
Homan's victory means Winnipeg's Michelle Englot will replace her as Team Canada at the Jan. 27-Feb. 4 Scotties in Penticton, B.C.
Englot, a finalist at the 2017 Scotties, will also join Homan as one of the North American teams at the Continental Cup in London, Ont. Koe also gets an invite to play in the Jan. 11-14 event in London, Ont.
———
Follow @GregoryStrongCP on Twitter.