Hornets C Jefferson has MRI on groin, will miss at least one game
- The Charlotte Hornets say centre Al Jefferson will miss a minimum of four weeks with a strain of an adductor muscle in his left groin. Jefferson underwent an MRI earlier Tuesday. The injury is a huge blow to Charlotte's faint playoff hopes.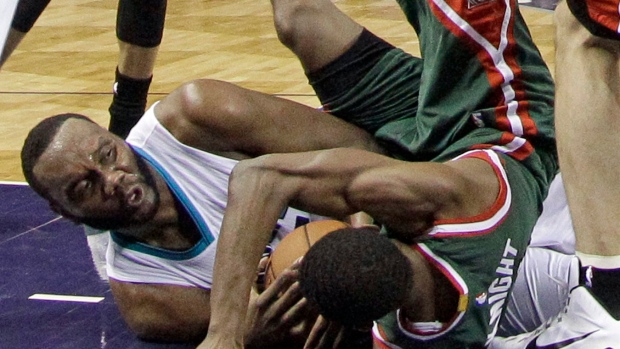 CHARLOTTE, N.C. - The Charlotte Hornets' playoff hopes took a major hit after an MRI revealed that centre Al Jefferson will miss a minimum of four weeks with a strained adductor muscle in his left groin.
The team announced the news in a press release late Tuesday night.
The injury is a huge blow to owner Michael Jordan's Hornets, who were are struggling at 10-22 but certainly not out of the race for a playoff spot in the Eastern Conference.
But losing a third-team 2013-14 All-NBA selection surely won't help their cause.
Jefferson is Charlotte's top scorer, averaging 18 points while playing 32.2 minutes per game. He grabs 8.2 rebounds a game. The 6-foot-10 centre has scored in double figures in 28 of 32 games this season.
The player teammates simply call "Big Al" has a team-leading 10 double-doubles this season and has scored at least 20 points in 14 games. His best game included a season-high 34 points against Atlanta on Nov. 7.
Bismack Biyombo will take over at centre and he's not nearly as talented on the offensive end. Biyombo is athletic, but his range is extremely limited and he doesn't have the same moves in the low post that Jefferson brings to the table.
The scoring load is expected to fall on point guard Kemba Walker, guard Gerald Henderson and forward Cody Zeller.
The Hornets plan to recall rookie Noah Vonleh from the NBA's D-League to help fill the void at centre. He was assigned to the Hornets' D-League affiliate, the Fort Wayne Mad Ants, on Sunday.
Vonleh, the ninth overall pick in this year's draft, was slowed by a groin injury this summer and has only appeared in four games for Charlotte. He is averaging 2.5 points, 2.8 rebounds in eight minutes.
He is expected to meet the team in Houston for Wednesday night's game against the Rockets.
Jefferson left Monday's home game against the Milwaukee Bucks midway through the fourth quarter after aggravating a groin strain that had been plaguing him for the past week. The Hornets lost in overtime.