Household names to join the CFL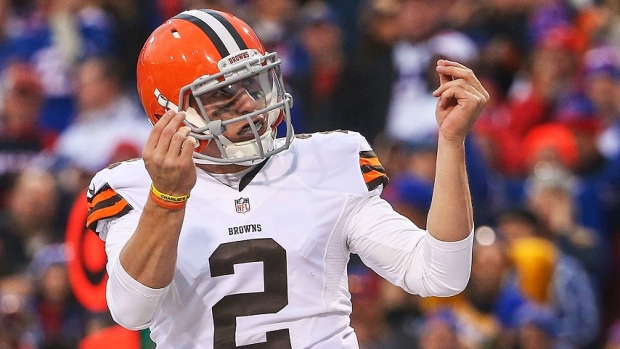 With his announcement that he is signing with the Hamilton Tiger-Cats, Johnny Manziel is the latest prominent name who built his football resume south of the border to join the CFL ranks.
Manziel's return to football was a long road back. After filling up highlight reels in college and winning the Heisman Trophy at Texas A&M in 2012, Manziel's off-field proclivities cut his NFL career with the Cleveland Browns short.
All indications suggest the 25-year-old is now on the right path and taking his football career seriously. Manziel's new head coach in Hamilton, June Jones, hasn't been shy sharing his lofty prospects for him.
Despite Jones' high praise, results have been mixed when a household name chances his luck in the CFL.
A list of prominent names and American stars that played in the CFL:
Trent Richardson (2017-Present)
A household name by virtue of his terrific collegiate career at Alabama, Trent Richardson never panned out in the NFL after being selected by the Cleveland Browns third overall in the 2012 Draft. The running back played two seasons apiece for the Browns and Indianapolis Colts, spent some time with the Oakland Raiders and Baltimore Ravens and then took a season off before joining the Saskatchewan Roughriders.
Richardson only saw limited action with the Roughriders this past season, mostly when starter Cameron Marshall was out with an injury, but impressed with 48 carries for 259 yards and two touchdowns.
Vince Young (2017)
Richardson's arrival in Saskatchewan was perhaps a little surprising considering the last time Chris Jones and the Riders dipped into the talent pool down south it didn't work out near as well with Vince Young earlier this past season. Young had a similarly impressive collegiate career to Richardson's, culminating in a Heisman Trophy in 2005, and had a more successful NFL career. He was twice named to the Pro Bowl and won Rookie of the Year in 2006 after being drafted third overall by the Tennessee Titans, but the 34-year-old's CFL career never got off the ground after battling injuries in training camp and ultimately getting released.
Michael Sam (2015)
While he was certainly a productive player at Missouri, Sam didn't have the collegiate career Young or Richardson had and wasn't drafted until the seventh round of the NFL Draft in 2014. Sam never ended up playing a regular season game in the NFL, but made history as the first openly gay football player when he suited up for the Montreal Alouettes in 2015. Sam left the team after playing just one game, and registering no stats, and later retired from football.
Chad 'Ochocinco' Johnson (2014-15)
One of the most charismatic players in recent memory, Johnson decided to give the CFL a shot two seasons after his NFL career finished. He was no longer Ochocinco when he signed a two-year deal with the Alouettes in 2014, but still brought the same excitement that made him a favourite from his time with the Cincinnati Bengals. Johnson's CFL tenure was a dud; he battled injuries and only played in four games – recording seven receptions for 151 yards and a touchdown – before failing to show up for training camp his second year.
Ricky Williams (2006)
A controversial move saw the Toronto Argonauts sign running back Ricky Williams while he was serving a year-long suspension in the NFL for multiple drug violations, a move no longer allowed in the CFL. Williams was a polarizing talent south of the border after the New Orleans Saints traded their entire draft class to select him fifth overall in 1999, but he was no doubt a talent with more than 6,000 rushing yards and an All-Pro selection to his credit by the time he came to the CFL.
Williams was decent for the Argos, finishing his sole season in Toronto with 109 carries for 526 yards and two touchdowns, despite battling injuries. He returned to the NFL and added another 3,655 rushing yards to his career totals before retiring in 2011.
Andre Rison (2004-05)
Four years after an impressive 12-season NFL career that included five Pro Bowls, one All-Pro selection, and a Super Bowl ring, "Bad Moon" Rison headed north for a final salvo of his football career with the Argonauts. Rison played just two years in the CFL, recording just 15 receptions for 178 yards, but was part of the Argos' Grey Cup winning squad in 2004, gaining him entry to the exclusive club of players that have won championships on both sides of the border.
Lawrence Phillips (2002-03)
Another collegiate star, Phillips made his way north of the border after burning all his bridges in the NFL. Selected sixth overall by the St. Louis Rams in 1996, Phillips wore out his welcome with the team in less than two seasons. Short stints with the Miami Dolphins and San Francisco 49ers followed, before Phillips signed with the Alouettes in 2002.
Phillips' first season in Montreal was impressive, rushing for more than 1,000 yards and helping the Alouettes win the Grey Cup en route to being named an East Division All-Star. But Phillips fell back to old trends his second year in Montreal that ultimately led to his release. He caught on with the Calgary Stampeders for eight games in 2003 but that would be it for him in professional football. Phillips problems landed him in jail a few years after his playing days where he remained until he committed suicide in 2016.
Doug Flutie (1990-97)
One of the most well-known CFLers of all time, Flutie was a household name before his time north of the border for his collegiate heroics. The Heisman Trophy helped, but football fans knew Flutie for his Hail Mary that won the 1984 Orange Bowl for Boston College in the dying seconds. After that he had a short and forgettable stint in the NFL before heading to the CFL and putting together one of the greatest careers in CFL history. Flutie finished his eight-year CFL career with six Most Outstanding Player awards, six CFL All-Star nods, and three Grey Cup wins. He eventually returned to the NFL and experienced some success, starting 70 games over eight seasons for the Buffalo Bills, San Diego Chargers and New England Patriots.
Dexter Manley (1992-94)
The "Secretary of Defence" came to the CFL one season after being banned from the NFL for multiple drug offences. Manley was an extremely productive player for Washington over a nine-year NFL stint, collecting 103.5 sacks, winning two Super Bowls, and being named an All-Pro in 1986, but played sparingly over two seasons with the Ottawa Rough Riders.
Raghib 'Rocket' Ismail (1991-92)
Ismail is the only player on this list to choose the CFL over the NFL to start his career, signing for big money with the Wayne Gretzky, Bruce McNall, John Candy-owned Argonauts. After an outstanding collegiate career at Notre Dame, after which he was dubbed the next megastar on a Sports Illustrated cover, Ismail travelled north to play for the Double Blue. He impressed with the Argos too, helping them win the Grey Cup in 1991 and getting named the game's MVP, but ultimately lasted only two of the four seasons he signed on for with the Argonauts before heading to the NFL.