Housley: 'We almost shot ourselves in the foot'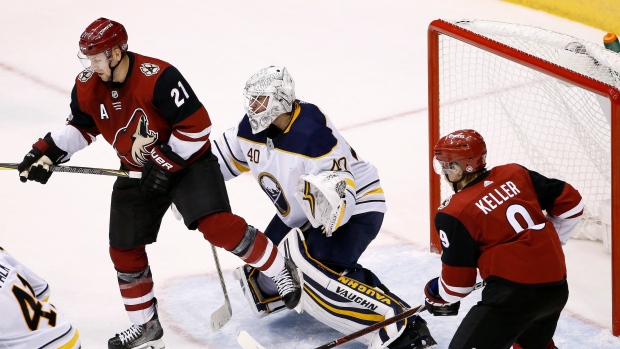 The Buffalo Sabres built up a 5-1 lead on the Arizona Coyotes Thursday night and looked poised to get just their second win by a multi-goal margin this season.
However, the Sabres then allowed four goals in the final nine minutes of the game, surviving only to earn a 5-4 win.
"We get the 5-1 lead, and I thought we just need to bear down and make the right decisions," Sabres head coach Phil Housley told the Buffalo News. "We got away from what made us successful, and we almost shot ourselves in the foot.
"Obviously, we'll take the win."
At 4-7-2, the Sabres made it clear they were happy to pick up the win, no matter how ugly it might have been.
"Maybe we just thought the game was over before it was over," forward Benoit Pouliot, who scored twice, said. "We got a little bit lazy, and they capitalized, but we came out with the two points."
"It was a big win," goaltender Robin Lehner said. "We needed this win. This is nice for us. We're going to Dallas, and we need to get a win there and slowly climb back in."
Veteran Kyle Okposo said after the narrow victory he hopes the game will serve as a teaching point for the young team moving forward.
"We've just got to keep playing," Okposo said. "You get a 5-1 lead, you just have to play smart, keep moving your feet, keep making plays. We just got on our heels.
"You know a team is going to come, make a push. If they score a goal, you've got to still get on your toes and just keep playing the right way. We'll learn that as we go."
With the loss, the Coyotes dropped to an NHL-worst 1-12-1 on the early season. Antti Raanta, making his first start since Oct. 12, stopped 26 of 31 shots in the defeat.