How a 'perfect storm' led to BioSteel game
It was a "perfect storm" that led to the creation of the BioSteel All-Canadian Basketball Game, so says its selection committee chairman, Tony McIntyre. McIntyre sat down with TSN.ca to explain the process of establishing the showcase's selection committee, the criteria in picking the 24-player roster and what he hopes can grow from the April 14th event.
Mike Beauvais, TSN.ca Staff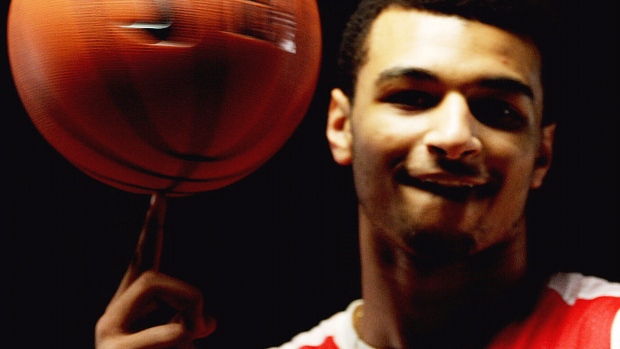 It was great timing that led to the creation of the BioSteel All-Canadian Basketball Game - so says its selection committee chairman, Tony McIntyre.
"Our whole plan was to create the game in a time where we think it's the perfect storm," McIntyre told TSN.ca on the events that gave rise to the game. "You've got the Pan-Am Games coming. You have the [NBA] All-Star Game next year. You have a lull [in the schedule] of players in the American [high school] games, so it's a time to celebrate our players here on our soil and really be able to make a huge impact in a time when it's needed."
The BioSteel All-Canadian Basketball Game takes place from Ryerson University's Mattamy Athletic Centre, the former Maple Leaf Gardens, on April 14 and features the 24 top high school basketball players from across Canada. McIntyre was instrumental in not only the game's creation, but in establishing the committee that would select the participating players. And having Canadian basketball represented in the process was paramount.
"We sat down as a board of directors and we started to look at [how] we wanted to represent basketball on multiple layers in Canada," he explained. "We felt that there was a layer that was like the club level. There was a layer that was the high school level. There was a provincial level, a national level and then there were a bunch of people who were involved in terms of throwing names out. We wanted to make sure that we captured the media, the people that report on basketball, the scouting services. So we felt that if we had each of those layers and the media aspect of it, we represented what was in [Canadian] basketball today."
The co-founder of CIA Bounce (a Toronto-area AAU program that counts 2015 NBA Rookie of the Year frontrunner Andrew Wiggins, his Minnesota Timberwolves teammate Anthony Bennett and McIntyre's son - Milwaukee Bucks point guard Tyler Ennis amongst its alumni) and the director of basketball operations at Orangeville, Ontario's Athlete Institute, McIntyre credits the help of Canada Basketball in getting the 11-person committee finalized.
"We met with Canada Basketball and we got a representative from Canada Basketball, Michael Meeks," McIntyre said. "And through Canada Basketball, we worked on getting our committee members from a provincial level, which ended up being the head of Basketball Alberta, Paul Sir, Devon Norris from Nova Scotia, and Basketball Manitoba, as well.
"Then, we looked at the media level and we wanted (HoopStars Canada's) Barry Hayes, who runs a very good recruiting service. We wanted Drew Ebanks, who runs, especially in the Toronto basketball scene, a very good organization that's basically in every gym that you see now. Mark Bairos, from Hoops Hype, who is reporting on basketball and then we had Brandon Lesovsky from the Athlete Institute, who represents the high school level. It was made up of 11 members, and we felt that we had a good representation within those 11 members from the east to the west coast, and all levels of basketball."
With the committee established, the focus was then on curating a list of 24 players representing the very best the country has to offer and McIntyre wanted to ensure that it would truly be a Canada-wide exhibition and not simply a GTA-heavy regional one.
"Ultimately, what we didn't want to have happen was for this to become a Toronto all-star game and that's why it was important from a committee-level to have people representing different provinces and different levels," McIntyre said. "We wanted to make sure that we set criteria that allowed for players from other provinces to be selected, as well as having something that people in Canada could put their hands on, meaning that not all of the talent is playing south of the border and only coming home for one day and going back out."
The 24 players were divided into three different pots and 16 of them were to be registered at a Canadian high school.
Emphasizing the importance of the potential sustainability and growth of the event, McIntyre and his committee decided upon a group of players who were still in their early years of high school and not about to jump to the collegiate level.
"We put in a rule that said we wanted four players that were from a younger age – grade 10 – so there's your sustainability," McIntyre explained. "Year after year, potentially, those guys could come back, so there's a history [with the player] that's involved, which makes us different than the McDonald's game or the Jordan game where it's only seniors. We wanted to do that because it's appealing to the general public, where you have a Connor McDavid-type scenario where you see this kid at 14, 15, 16 and see his growth and him blossom."
The final group was to be made up of American-based players, but the committee recognized that some provinces' very best players had to relocate to the US for greater exposure and didn't want to hold that against those provinces when it came time to selection.
"We didn't want to punish any provinces that may only have had their best player go to the States in order to get that competition and that exposure," McIntyre said. "We said that the four Canadians playing in the United States are limited to Ontario. If there was a kid from British Columbia down in the United States, he would simply fall into the bucket of 16 [domestic] players, so that we didn't eliminate those players."
Of the 24 players chosen, an obvious pair stands out in Orangeville Prep duo, Jamal Murray and Thon Maker. Murray, an athletic combo guard in the mold of a Jason Kidd, and Maker, a monstrous seven-footer with surprising agility and soft hands, have been highly recruited by Division I schools across the US and could be in the NCAA next year, but it's a few of the under-the-radar selections who McIntyre is looking forward to watching.
"I think a couple of the younger kids may be able to sneak in there and surprise," McIntyre said. "Simi Shittu from Burlington [Ontario] is a kid getting a lot of hype right now. I think Justin Jackson, who a lot of people haven't seen play around here for a while because he's out at Findlay Prep [in Henderson, Nevada] has the possibility. Corey Johnson from Ottawa, who's a great shooter.
"I think another young kid who has potential there is Keshawn Saunders, as well. I'm really interested in Jordy Tshimanga from Quebec, who's a 6'8 to 6'9 kid, who will be very interesting, as well as the representative from Alberta, Awak Piom, who I've heard a lot of good stuff about. With those 24, I think that we really have a great cross-representation of a lot of basketball players who are going to go on to great things."
And it is because of the potential on display that McIntyre believes the BioSteel All-Canadian Game can act as a jump-off point for the sport in Canada and something to build on for years to come.
"I really think that this is a launching pad for the future where this can be as big as the McDonald's All-American Game and the Jordan Brand Classic in the United States," McIntyre said. "Canada is due. Now's the time to do it. It's the perfect storm and this year will kind of set the tone and the following years will build on it. And I hope we're sitting here in 20 years, saying that we're at the 20th anniversary of this game and this has been the launching pad for some great careers of Canadian athletes. Hopefully, we're looking at a huge alumni list at that time."
The fact that the game will be all Canadian makes it special for McIntyre.
"When you really look at it, typically in the past, players from Canada have to essentially leave to make it and they're often celebrated once they're an NCAA superstar or they're entering the draft," he said. "This gives people in Canada the opportunity to see and relate to younger athletes that are on their way to making it.
"That's the culture shift that's been happening in Canada is that we're embracing these athletes younger and we're helping to push them through, rather than pulling them back and hoping, and then they make it and support them. I look at hockey – although, I don't like to compare it – you look at the World Junior Hockey Championship and I see this being that platform for these players and that opportunity on national TV, where some of these guys will never play on national TV until they go away to college."
Canadians often wait for a seal of approval from their neighbours to the south before fully embracing one of their own. This seemingly inexplicable trend exists everywhere from sports to music to comedy. McIntyre can't explain the reasoning, but hopes that the BioSteel All-Canadian Game can help dispel that tendency.
"We've always said with our players, it's always been, 'You're hated 'til you made it' and we're starting to change that," McIntyre said. "You look at this game and maybe it's just that we haven't done a good job of promoting our younger talent, whether that's in music or whether it's in sports, and we haven't had the avenues that are only now becoming available in terms of national TV, on the radio, talking about who's the next high school star, whereas in the States, they're always constantly digging down even to the extent of being wrong, labelling the next LeBron James while he's in Grade 8, Grade 9 and following him through."
McIntyre believes that the way the game is set up right now in this Canada, at various levels, the time for Canadian basketball to truly emerge as its own entity is now.
"I think we're on the cusp of it," McIntyre said. "I think with getting their names out on national television, on TSN, through a game like this, hopefully, now a kid goes out in his driveway and says, 'I want to be the next so-and-so. I want to be that guy.' I remember doing it with the World Juniors. You go outside and play street hockey and you want to be that guy you just watched in the game. We need to do that with basketball."
It's fitting then, that the process to kickstart the development of a generation of Canadian athletes begins in a building that the saw the rise of so many before it.
The BioSteel All-Canadian Basketball Game takes place at Toronto's Mattamy Athletic Centre on Tuesday, April 14 and will be seen on TSN following the Toronto Raptors' game against the Boston Celtics.