Hunt: 'I was in the wrong' for shoving, kicking woman
Former Kansas City Chiefs running back Kareem Hunt apologized and said he was in the wrong for kicking and shoving a woman in an interview with ESPN's Lisa Salters, the first time he's spoke since TMZ published a video of the incident.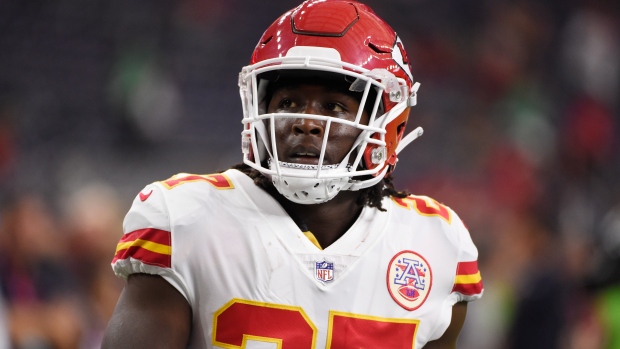 Former Kansas City Chiefs running back Kareem Hunt sat down with ESPN's Lisa Salters to speak for the first time since TMZ published a surveillance video showing him shoving and kicking a woman.
"It was just a long night, and to be exact, it doesn't really matter what happened, I was in the wrong," Hunt told Salters in an interview that aired on NFL Countdown Sunday. "I could have took responsibility and made the right decision to find a way to de-escalate the whole situation."
Hunt was released by the Chiefs shortly after the video was released and according to ESPN's Adam Schefter is not expected to be claimed by any team on waivers. NFL Network's Ian Rapoport said Hunt is expected to be suspended for more than six games for this incident and a separate incident where Hunt allegedly punched a man in the face.
"There were definitely some things that were said and done that I did not like," Hunt continued in the interview with ESPN. "That's not an excuse. That person in that video, did not deserve that. I didn't mean to hurt anybody."
Hunt said there's no hard feelings between him and the Chiefs organization and admitted he didn't tell them the whole truth when they previously questioned him about the incident.
"It's really tough. It's tough because I feel like I let a lot of people down and I just really want to apologize to everybody. The Chiefs organization, my family, and close friends."