Hurricanes edge Predators on goals by Skinner, Rask
Jeff Skinner had a goal and an assist to lead the Carolina Hurricanes to a 2-1 victory over Nashville on Tuesday night, snapping the Predators' four-game winning streak. Skinner scored his sixth goal of the season late in the first period, and he assisted Victor Rask 55 seconds into the third for a 2-0 lead.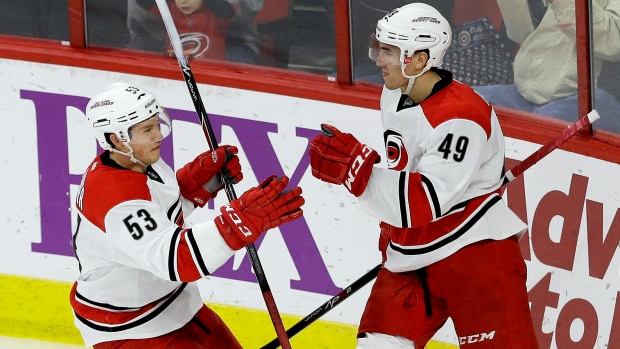 RALEIGH, N.C. - One game after the Carolina Hurricanes struggled to maintain their energy and their execution in a home loss, Jeff Skinner provided a much-needed spark.
Skinner had a goal and an assist Tuesday night against one of his favourite NHL opponents, the Nashville Predators. Carolina fended off Nashville's last-minute, two-man advantage to win 2-1 at PNC Arena.
The victory came one game after coach Bill Peters criticized his Hurricanes for Saturday's 3-2 loss to Pittsburgh.
Skinner provided the early offence with his sixth goal of the season then set up Victor Rask's goal 55 seconds into the third period. Skinner has 10 points in six career games against Nashville, including a hat trick in a 5-2 road victory last Dec. 5.
"Sometimes, that's just the way it works," Skinner said.
Nashville had its four-game winning streak snapped. Goalie Pekka Rinne had 23 saves but couldn't handle Skinner's tip-in at 18:59 of the first.
Carolina's John-Michael Liles passed ahead to Andre Nestrasil along the left boards, and Nestrasil manoeuvred away from a defender, back-handing a pass toward the crease. Skinner got a stick on the puck, beating Rinne to the far post.
"He got his stick on the puck, and he was able to deflect it over my shoulder," Rinne said. "It was a nice play by them, and obviously at the time, a big goal."
Mike Ribeiro cut the lead to 2-1 with 4:46 remaining for Nashville. Carolina failed to clear the zone, and Roman Josi sent the puck back toward the crease, where Ribeiro gathered it, then turned and beat Cam Ward.
The Predators earned their first power play of the game with a minute left, but couldn't score on a 6-on-4 opportunity. Andrej Sekera blocked a shot in the final five seconds to seal the victory.
It was the sort of gritty play the Hurricanes lacked in the loss to Pittsburgh.
"You need those types of plays," Peters said. "They've got some guys on the back end that can shoot it. You've got to find shooting lanes, and you've got to be willing to pay a price. . That's what it's all about, finding ways to win."
Nashville (16-6-2) outshot Carolina 33-25. Ward made 32 saves for the Hurricanes, who were outshot 15-6 in the third.
Carolina (8-13-3) improved to 6-3-1 when scoring first.
NOTES: Nashville coach Peter Laviolette is in his first season with the Predators. He coached the Hurricanes to the 2006 Stanley Cup. . The crowd of 9,161 was the lowest announced attendance of the season for Carolina at home.