Hutchinson standing tall for the Maple Leafs
As Frederik Andersen battles the flu, Michael Hutchinson makes his fifth straight start for the Maple Leafs as they prepare for tonight's game against the Boston Bruins, Kristen Shilton writes.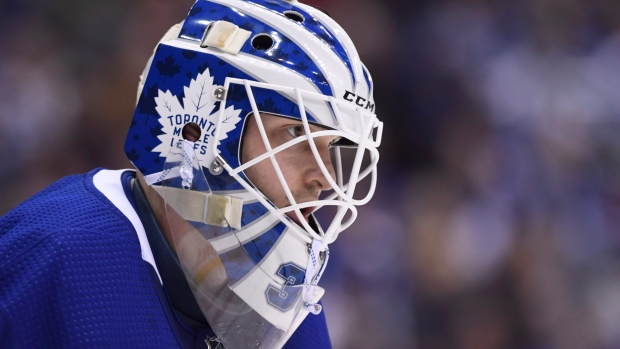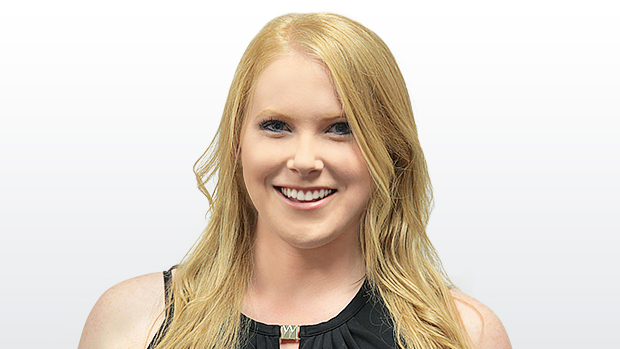 TORONTO – Just as Frederik Andersen was nearing a return from his groin injury, the Maple Leafs' goaltender has been struck down by a familiar wintertime foe, pushing his timeline for a comeback past Saturday's game against the Boston Bruins.
"Freddie is sick. He got the flu and was throwing up yesterday, so he's not going," head coach Mike Babcock said after the Leafs' optional morning skate on Saturday. "I don't know when he's going. I know he's not going today."
That leaves Michael Hutchinson to make his fifth straight start on Saturday for the Leafs, backed up by Kasimir Kaskisuo on yet another emergency recall from the American Hockey League. The Toronto Marlies' starter has been yo-yoed between the NHL and AHL while Toronto weathers this storm of injuries to both Andersen and Garret Sparks (concussion), who is also out indefinitely.
Hutchinson has been a fine replacement for the Leafs' goalie tandem though, posting a 2-2-0 record with 2.53 goals-against average and .919 save percentage in his previous four starts. On Saturday, he will be the third goalie this season to start for Toronto against Boston, in the fourth and final regular season matchup between the teams.
"He seems like a real good person, he battles real hard and he's given us an opportunity when he's played," said Babcock. "He's done a good job for us, and we're looking forward to him playing well tonight."
The Bruins own a 2-1 lead in the season-series to date, and are just four points back of the Leafs for second place in the Atlantic, only adding to the game's stakes. However, that isn't weighing on Hutchinson because he has his own motivation to play especially well on Saturday. Back in 2008, it was the Bruins drafting the Barrie, Ontario native in the third round, 77th overall. He never appeared in a game for Boston, departing as a free agent for the Winnipeg Jets in 2013, but his 2-1-1 record all-time against the Bruins suggests Hutchinson enjoys the chance to see his former team.
"It's always nice when you can play well against them," Hutchinson said, sly smile in place. "My goal is obviously to help this team win games, and I'm going to go out and keep doing what I've been doing and approach it the same way as any other game. Hopefully we'll get a good result at the end."
In just a couple short weeks, Hutchinson has already shed the yolk of pressure that comes with playing under Toronto's glaring spotlight ("Every game in the NHL there's that pressure to perform") and has come to embrace a position he never anticipated being in.
Hutchinson was only acquired from the Florida Panthers (in exchange for a fifth round pick in 2020) on Dec. 29, six days before making his Leafs' debut. He was meant to be a depth addition for the Marlies, but given Kaskisuo has never played in the NHL, Toronto turned to Hutchinson, and his 108 games of NHL experience, in its time of need.
"Without him, who knows what happens to this team right now?" said Mitch Marner. "He's standing tall in the net. It's pretty rare for the two goalies to go out. You need people to be ready, and he's ready for us and been a big part of our wins."
"In the couple games we've lost, it's been more on us than it has on him," added Auston Matthews. "He's been great. He's a great guy, been getting to know him off the ice. He works hard and he competes every night in the net."
Toronto will need every ounce of competitiveness it can glean throughout the lineup to get back on a winning streak, especially when Patrice Bergeron, David Pastrnak and Brad Marchand are on the ice. The Bruins' top line has combined for six goals and 12 assists in three previous meetings with Toronto (only one of which Bergeron played in), but Hutchinson won't key in on that trio differently than any other come puck drop.
"At the end of the day, everyone in their lineup can shoot the puck and pick a spot," he shrugged. "When one of the top-line guys is out there, you just have to be on your toes a little more with the creativity they play with and the passes they do make. But you don't play it any differently than the fourth line because my job is just to stop the puck."
The Bruins will also get Charlie McAvoy back Saturday after he missed seven games with a foot infection, bolstering Boston's backend and making a victory for the Leafs that much tougher. As it is, the Leafs are still stinging from their most recent outing in Boston last month, being dismantled 6-3 by the Bruins.
To return the favour, Toronto will need more than just good goaltending from Hutchinson. They'll need to carry out a good game plan.
"I think we should be excited for it," Matthews said. "We're playing a good team. They've gotten the better hand of us so far this year. The last time we played them they really brought it to us, so it should be a game we're all ready to play for, and bring our A-game tonight."
Maple Leafs projected lines vs. Boston:
Hyman-Tavares-Marner
Johnsson-Matthews-Kapanen
Marleau-Kadri-Nylander
Lindholm-Gauthier-Brown
Rielly-Hainsey
Gardiner-Zaitsev
Dermott-Ozhiganov
Hutchinson starts
Kaskisuo