Ice Chips: Bruins' Subban tops waiver list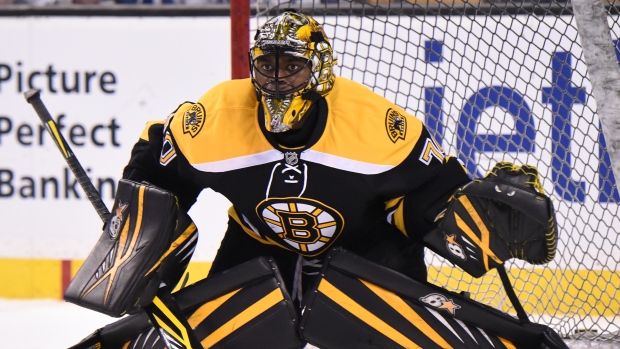 Keep updated on all the injury news and roster moves from around the NHL with daily Ice Chips.
---
As NHL teams trim their rosters before the regular season, many teams are placing their extra players on waivers.
Topping the list is Boston Bruins goaltender Malcom Subban of the Boston Bruins and forward Brooks Laich of the Los Angeles Kings.
The 23-year-old Subban made one appearance for the Bruins last season and has spent the the better part of the last four season with Boston's AHL affiliate Providence Bruins. Subban has a career 2.40 goals-against average and .918 save percentage in the AHL.
Laich signed a professional tryout with the Kings that expired on Sunday but he is still practising with the team. The 34-year-old hasn't played in ther NHL since 2015-16 where he spent the latter of the season with the Toronto Maple Leafs.
Assuming the players clear waivers, they will return to the AHL Toronto Marlies. Garrett Sparks, who was in contention for the backup job behind Curtis McElhinney will most likely see a lot of the game time for the Marlies this season.
22-year-old Kerby Rychel scored 19 goals and added 33 assists in 73 games with the Marlies last season.
Lipon spent 2016-17 season with AHL Manitoba where he notched 12 goals and 18 assists. The forward lost out to the likes of Kyle Connor, Brandon Tanev and Marko Dano on the Jets roster.
NHL teams have until Tuesday to submit their official 23-man rosters before the season starts on Wednesday.
Full waiver list:
SUBBAN, MALCOLM - BOS
DI GIUSEPPE, PHILLIP - CAR
RAMAGE, JOHN - CBJ
GAZDIC, LUKE - CGY
HATHAWAY, GARNET - CGY
BERUBE, JEAN-FRANCOIS - CHI
JURCO, TOMAS - CHI
TOOTOO, JORDIN - CHI
BOURQUE, GABRIEL - COL
MCKENZIE, CURTIS - DAL
NEMETH, PATRIK - DAL
BOOTH, DAVID - DET
SPROUL, RYAN - DET
MURPHY, RYAN - MIN
FROESE, BYRON - MTL
MARTINSEN, ANDREAS - MTL
GIBBONS, BRIAN - N.J
STRAIT, BRIAN - N.J
BERNIER, STEVE - NYI
GIONTA, STEPHEN - NYI
READ, MATT - PHI
BOLLIG, BRANDON - S.J
GROSENICK, TROY - S.J
MASHINTER, BRANDON - S.J
BINNINGTON, JORDAN - STL
CONACHER, CORY - T.B
GREENING, COLIN - TOR
LOVERDE, VINCENT - TOR
MUELLER, CHRIS - TOR
RYCHEL, KERBY - TOR
SMITH, BEN - TOR
SPARKS, GARRET - TOR
PEDAN, ANDREY - VAN
PULKKINEN, TEEMU - VGK
LIPON, JC - WPG