Ice Chips: Enstrom has surgery, out 2-3 weeks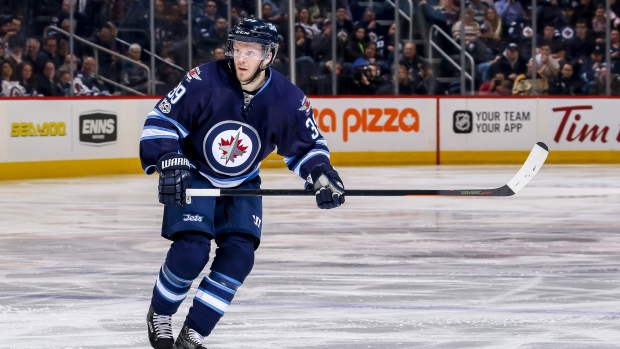 Keep updated on all the injury news and roster moves from around the NHL with daily Ice Chips.
---
Winnipeg Jets
---
Ottawa Senators
The Senators are in New Jersey tonight. Craig Andersen has started the last two games, but Mike Condon looks to get the call tonight.
Senators lines during morning skate:
Smith- Turris- Hoffman
Dzingel- Brassard - Stone
Pyatt - Pageau- Ryan
Kelly - Lazar - Wingels
Defencemen
Claesson- Karlsson
Ceci - Phaneuf
Borowiecki - Wideman
Goalies
Condon - Starting
Anderson
---
New Jersey Devils
Cory Schneider starts in goal for the Devils as they host the Senators tonight. Schneider is 12-6-3 with a 2.42 GAA at the Prudential Center this season.
---
Edmonton Oilers
The Oilers host the Flyers for the first time since Connor McDavid called Brandon Manning "classless" in December.
Cam Talbot starts in goal for the Oilers. Talbot has given up 10 goals in his last 5 outings.
---
Philadelphia Flyers
---
Vancouver Canucks
The Canucks are in St. Louis tonight. Bo Horvat hopes to play tonight. He blocked a shot in the win over the Sabres on Sunday and was not in the lineup in Tuesday's 4-0 loss to the Penguins.
---
Pittsburgh Penguins
Sidney Crosby looks for career point 1,000 tonight as the Pens host the Jets.
---
Calgary Flames
---
New York Islanders
The Islanders host the Rangers tonight and will turn to Thomas Greiss in goal.
---
New York Rangers
Henrik Lundqvist will start for the Rangers. Lundqvist has won 5 straight, and has allowed 10 goals and is sporting a .946 save percentage in that time.
---
Dallas Stars
The Stars will turn to Kari Lehtonen in goal as they are in Minnesota to face the Wild. In his last 5 outings, Lehtonen has allowed 16 goals and has a .893 save percentage during that span.
---
Minnesota Wild
The Wild will go with Darcy Kuemper in goal against the Stars.
---
Los Angeles Kings
Adrian Kempke is set to make his NHL debut on Thursday as the Kings host Arizona.
Kempe skated alongside Anze Kopitar and Tyler Toffoli during practice on Wednesday. Kempe was the 29th overall pick in the 2014 NHL draft. He has 19 points in 43 AHL games this season.
---
Colorado Avalanche
Calvin Pickard will get the start in goal against the Sabres tonight.
Pickard has lost his last three starts, while allowing 11 goals. On the season, the Avalanche netminder has nine wins, a 3.02 GAA and a .904 save percentage in 29 appearances. The Avalanche have lost 8 of their last 10 games.
---
Buffalo Sabres
Robin Lehner will get the call in goal for the Sabres. Lehner has performed well against Western teams this season. Through 13 games he's 8-4-1 with a .920 save percentage and a 2.61 GAA.
---
Arizona Coyotes
---
NHL Game Notes
Penguins Longest Current Home Win Streak vs Single Opponent
Franchise Streak Last Loss
WPG/ATL 15 Dec 27/06
BUF 5 Apr 23/13
FLA 4 Dec 20/14
ANA 4 Feb 15/12
OTT 4 Apr 13/14 (shootout)
1000th point wearing a Penguins uniform
Paul Coffey (Dec. 22, 1990)
Mario Lemieux* (March 24, 1992)
Ron Francis (Oct. 28, 1993)
Joe Mullen (Feb. 7, 1995)
Jaromir Jagr* (Dec. 30, 2000)
*All 1,000P with Pittsburgh
Crosby 999P in 756GP
Player Team GP (when reaching 1,000PTS)
Wayne Gretzky Edmonton Oilers 424
Mario Lemieux Pittsburgh Penguins 513
Mike Bossy New York Islanders 656
Peter Stastny Quebec Nordiques 682
Jari Kurri Edmonton Oilers 716
Guy Lafleur Montreal Canadiens 720
Bryan Trottier New York Islanders 726
Denis Savard Chicago Blackhawks 727
Steve Yzerman Detroit Red Wings 737
Marcel Dionne Los Angeles Kings 740
Phil Esposito Boston Bruins 745
Jaromir Jagr Pittsburgh Penguins 763
Most Points As A Penguin
Player GP G A Pts
Mario Lemieux 915 690 1033 1723
Jaromir Jagr 806 439 640 1079
Sidney Crosby 756 368 631 999
-
Jets (56P) at Penguins (77P) - 7PM
Teams split 2GP last season, PIT winning at home.PIT has won 15 straight at home vs WPG/ATL
PIT (35-13-7):
5-0-2 past 7GP, 13GA, 13/16 on PK
Crosby 1A last 3GP, he has 7G, 15A last 11GP at home vs WPG
WPG (26-29-4):
3-1-0 past 4GP on road, 16GF, 4/12 on PP
Laine (4G, 7A) last 7GP on road
Rangers (75P) at Islanders (60P) - 7PM
Teams have split 2GP this season. NYI winning at home. NYI have won 3 straight at home vs NYR
NYI (25-20-10):
1-2-0 past 3GP, 11GA, 8/9 on PK
Tavares (3A) last 6GP
NYR (37-18-1):
won 6 straight, 12GA, 13/16 on PK
Miller (2G, 9A) 7 game PT streak
Senators (64P) at Devils (58P) - 7PM
OTT is 1-0-0 vs NJ this season, winning at home. NJ has won 2 straight at home vs OTT
NJ (24-22-10):
4-1-1 past 6GP, 18GF, 6/15 on PP
Hall (2G, 4A) last 6GP
OTT (29-19-6):
1-2-0 past 3GP on road, 12GA, 6/6 on PK
Karlsson (2A) last 2GP
Avalanche (32P) at Sabres (58P) - 730PM
Teams split 2GP last season, BUF winning at home. COL has won 5 of their past 6GP in BUF
BUF (24-23-10):
lost 2 straight at home, 9GA, 8/10 on PK
Okposo (3G, 4A) 7 game PT streak
COL (15-37-2):
lost 4 straight, outscored 16-6, 10/14 on PK
Duchene (1A) last 5GP
Canucks (56P) at Blues (65P) - 8PM
VAN is 1-0-0 vs STL this season, OTW at home. VAN has won 3 of their past 4GP in STL
STL (30-22-5):
won 5 straight, all on the road, outscoring opponent 16-3, 11/11 on PK
Tarasenko (3G) on road trip
VAN (25-26-6):
2-3-0 on road trip, 12GF, 4/15 on PP
Horvat (2G, 2A) last 2GP
Stars (54P) at Wild (80P) - 8PM
MIN is 3-0-1 vs DAL this season. 1-0-0 at home
MIN (37-13-6):
2-1-1 on home stand, 10GF, 4/14 on PP
Staal (4A) last 12GP
DAL (22-26-10):
1-6-0 past 7GP, 27GA, 17/22 on PK
Seguin (1G, 4A) last 2GP
Flyers (61P) at Oilers (68P) - 9PM
PHI is 1-0-0 vs EDM this season, winning at home. EDM has won 2 straight at home vs PHI
EDM (30-19-8):
2-4-0 past 6GP, 9GF, 3/19 on PP
McDavid (3A) last 2GP
PHI (27-23-7):
1-3-1 past 5GP, 4GF, 1/16 on PP
Voracek (2A) last 6GP
Coyotes (45P) at Kings (60P) - 1030PM
LAK are 2-0-0 vs ARZ this season, both games in ARZ. ARZ has won 2 straight in LA
LAK (28-23-4):
1-2-0 past 3GP at home, 5GA, 9/10 on PK
Carter (5G, 3A) last 6GP
ARZ (19-29-7):
2-7-1 past 10GP on road, 21GF, 4/30 on PP
Vrbata (3A) last 3GP
*All times Eastern
---