Ice Chips: Gaudreau to play against Predators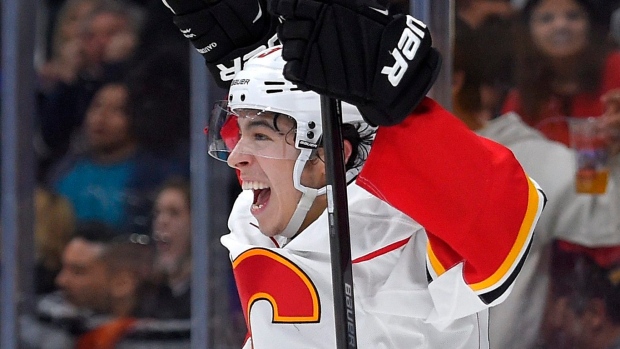 Keep updated on all the injury news and roster updates from around the NHL with daily Ice Chips.
---
New Jersey Devils
Goalie Cory Schneider has been activated from the injured non-roster list and assigned to the American Hockey League for a conditioning stint. The 32-year-old has not played this season as his continues to work his way back from the off-season hip surgery he had in May. - Amanda Stein, Team Website
---
Dallas Stars
Forward Alexander Radulov (lower-body injury) will be a game-time decision for the Stars' Friday night clash against the Minnesota Wild. If Radulov can't go, Roope Hintz will take his spot on the top line. The 32-year-old Russian has been great for Dallas so far this season, scoring four goals and six assists over six games. - Mark Stepneski. Team Website
---
Calgary Flames
Forward Johnny Gaudreau practiced with the Flames on Friday and will be in the lineup for their game against the Nashville Predators. The 25-year-old took a hard hit from Boston Bruins defenceman Charlie McAvoy on Wednesday. Dillon Dube will also play after missing Wednesday's game with a lower-body injury.
Projected Lines vs. Predators - Jermain Franklin, TSN
Forwards
Gaudreau-Monahan-Lindholm
Tkachuk-Backlund-Frolik
Bennett-Jankowski-Neal
Dube-Ryan-Hathaway
Czarnik, Peluso
Defence
Giordano-Brodie
Hanifin-Andersson
Valimaki-Stone
Prout
Goalies
Smith - starting
Rittich
---
Winnipeg Jets
Forward prospect Kristian Vesalainen has been assigned to the AHL's Manitoba Moose. The 19-year-old had an assist in his NHL debut earlier this month and has played five games with the Jets this season.
The Moose are playing two home games this weekend (Friday, Sunday) and according to TSN's Sara Orlesky, the Jets don't want a player as young as Vesalainen to sit in the press box when he could be playing. The move is being presented as a short-term scenario for the moment and then they will evaluate from there.
Friday's Practice Lines - Jamie Thomas, Jets TV
Forwards
Connor-Scheifele-Wheeler
Ehlers-Little-Laine
Copp-Lowry-Tanev
Lemieux-Roslovic-Perreault
Petan
Defence
Morrissey-Trouba
Chiarot-Byfuglien
Morrow-Myers
Kulikov
Goalies
Hellebuyck
Brossoit
---
Montreal Canadiens
Fresh off playing his 1,001 game in the NHL, Habs veteran forward Tomas Plekanec will not travel to the nation's capital for Saturday's game against the Ottawa Senators due to a lower-back injury. The 35-year-old has one goal over three games this season.
Both David Schlemko and Shea Weber will not travel with the team to Ottawa either.
Friday's Practice Lines - John Lu, TSN
Forwards
Tatar - Danault - Gallagher
Drouin - Domi - Lehkonen
Byron - Kotkaniemi - Armia
Deslauriers - Peca - Shaw
Defence
Hudon - Scherbak
Alzner - Petry
Reilly - Juulsen
Ouellet - Benn
Mete - Practicing but still nursing a hand injury.
Goalies
Price
Niemi
---
Ottawa Senators
Team called up forward Nick Paul from the Belleville Senators of the American Hockey League. The 23-year-old has three goals and three assits over 36 career games in the NHL.
Head coach Guy Boucher has yet to decide whether he will play six or defenceman against the Canadiens on Saturday. Defenceman Christián Jaroš could be questionable due to the flu while forward Ryan Dzingel is ready to return. Forward Max McCormick is questionable. - Ian Mendes, TSN
---
Toronto Maple Leafs
Friday's Practice Lines - Kristen Shilton, TSN
Forwards
Hyman-Tavares-Marner
Marleau-Matthews-Kapanen
Lindholm-Kadri-Brown
Leivo-Gauthier-Johnsson
Ennis
Defence
Rielly-Hainsey
Gardiner-Zaitsev
Dermott-Ozhiganov
Marincin-Holl
Goalies
Andersen
Sparks
---
Minnesota Wild
Forward Marcus Foligno is likely to be in the lineup on Friday against the Stars despite dealing with an illness. - Chris Hine, Star Tribune
---
Waivers
Michael Fora (CAR) - Placed on waivers
Eric Gryba (NJ) - Clears waivers
Brian Lashoff (DET) - Clears waivers
David Ullstrom (ARI) - Clears waivers
---
NHL Notes
Panthers (2P) at Capitals (7P) - 7PM (Oct 19)
FLA was 2-1-0 vs WSH in 17-18, 1-0-0 in WSH. FLA has won 2 straight in WSH
WSH: (3-2-1)
3-1-0 at home, 18GF, PP 9/17
Ovechkin (2G, 2A) last 2GP
FLA: (0-2-2)
0-0-2 on road this season, both losses in a shootout,
Dadonov (2G, 2A) last 3GP
Wild (6P) at Stars (6P) - 8PM (Oct 19)
Teams wplit 4GP in 17-18, DAL 2-0-0 at home, outscoring MIN 10-2
DAL: (3-3-0)
lost 2 straight, both on road, 1GF, PP 1/7
Radulov (4G, 6A) has a PT in 5 of 6GP
MIN: (2-2-2)
0-2-0 on road, 4GA in each game, PP 1/7
Parise (6A) last 4GP
Predators (10P) at Flames (8P) - 9PM (Oct 19)
CGY 1-0-0 vs NSH in 18-19, shutout win in NSH. NSH has won 2 straight in CGY and 3 of past 4
CGY: (4-2-0)
won 2 straight, 2GA in each game, PK 7/7
Tkachuk (2G,7A) has a PT in 5 of 6GP
NSH: (5-1-0)
only loss on season was to CGY, won 3 straight, 4GA, PK 6/7
Forsberg (3G, 1A) last 3GP
---