Ice Chips: Laine, Scheifele, Wheeler on top line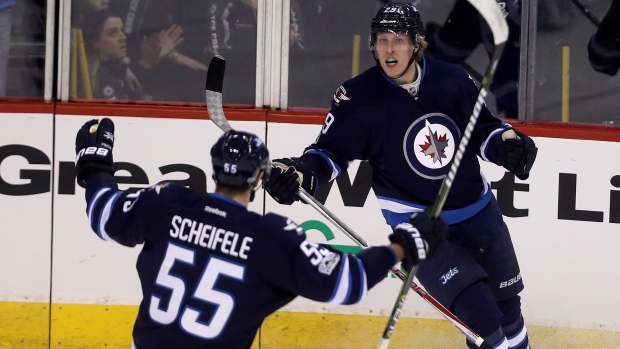 Winnipeg Jets
Patrik Laine's sophomore campaign gets off to an unofficial start Monday night as the Jets welcome in the Minnesota Wild. He will be on the top line alongside Mark Scheifele and Blake Wheeler.
The Winnipeg lines for Monday's contest are as follows:
Laine-Scheifele-Wheeler
Perreault-Little-Ehlers
Connor-Lowry-Armia
Lemieux-Sgarbossa-Dano
Stanley-Byfuglien
Enstrom-Poolman
Chiarot-Nogier
Hellebuyck
Comrie
The game can be seen on TSN3 starting at 8:00 p.m. ET.
---
Minnesota Wild
Mikko Koivu told The Athletic Minnesota's Michael Russo that he wants to remain with the Wild and hopes to get a contract extension done soon.
"Me and my family, we'd love to stay here," he told Russo. "But it's not always about us."
Koivu said he understands that general manager Chuck Fletcher's plate has been full during a busy off-season, but both sides are reportedly talking and could come to an agreement soon.
One thing Koivu said he doesn't want to do is negotiate once the regular season gets going.
"I don't think that would help my game to start talking about that during the year," Koivu said.
Koivu's seven-year, $47.25 million deal expires after the 2017-18 season and also includes a no-move clause.
Meanwhile, the Wild have signed goaltender Dereck Baribeau to an entry-level deal reports Russo.
Baribeau, undrafted in 2017, has played for the Quebeck Remparts and the Val d'Or Foreurs of the OMJHL.
---
Montreal Canadiens
The Montreal Canadiens will begin their preseason Monday night in front of fans in Quebec City but it looks like prized off-season acquisition Jonathan Drouin will be out of the lineup.
Head coach Claude Julien didn't put Drouin or fellow Quebec native Charles Hudon into the lineup at the Habs morning skate. There were six Quebecois on the ice Monday morning: Phillip Danault, Jeremy Gregoire, Daniel Audette, Antoine Waked, Eric Gelinas and Zach Fucale.
Julien will not address the media until the team arrives in Quebec City Monday afternoon.
Sunday, Drouin lined up at centre for the Canadiens' inter-squad game between Max Pacioretty and Ales Hemsky. The line did not generate any offence but got some quality scoring chances.
The Canadiens used the following lines Monday morning:
Galchenyuk - Danault - Gallagher
Byron - Mitchell - Shaw
De la Rose - McCarron - Gregoire
Froese - Audette - Waked
Morrow - Petry
Alzner - Juulsen
Gelinas - Lernout
Montoya
Fucale
---
Toronto Maple Leafs
Auston Matthews, Morgan Rielly, Connor Brown, Zach Hyman and William Nylander will all suit up as the Leafs kick off the preseason. Those five and 19 others practised Monday morning at 10 a.m. and will be on the ice as the Leafs take on the Ottawa Senators Monday night.
Meanwhile, among those practising at 11 a.m. was Frederik Andersen, Mitch Marner, Patrick Marleau, Nazem Kadri, James van Riemsdyk and Nikita Zaitsev. They will not play against the Senators.
Kadri played alongside Marleau Monday morning and seemed happy to have him on his wing.
"He's a bit of a Swiss Army knife in terms of how he can play in every situation," Kadri said.
The lines for Monday's game will be:
Hyman-Matthews-Nylander
Kapanen-Mueller-Soshnikov
Martin-Moore-Fehr
Leivo-Aaltonen-Leivo
Timashov-Lindberg
Reilly-Hainesy
Dermott-Liljegren
Rosen-Carrick
Paliotta-LoVerde
Sparks
McEilhinney
---
Ottawa Senators
Goaltender Craig Anderson is expected to play the first half of the game against the Maple Leafs Monday night while Danny Taylor is slated to play the second half.
The Senators' had the following lines at practice on Monday:
Stone-Pageau-Ryan
Burrows-Suiter-Gagne
Perron-Sexton-Randall
Smith-White-Hoffman
Oduya-Ceci
Phaneuf-Chabot
Englund-Jaros
Lajoie-Batherson
Anderson
Taylor
---
Calgary Flames
Flames head coach Glen Gulutzan said he plans to give his veterans four games during the preseason to get into game shape.
"Barring any sort of knick or anything like that, they'll all play four games. Home and away won't play into it. They'll play four games, some home and some road," he said.
The Flames will kick off their annual split-squad games against the Edmonton Oilers Monday night. One will be played at the Scotiabank Saddledome in Calgary, with the other going to Rogers Place in Edmonton.
Sticking around in Calgary will likely be:
Gaudreau-Monahan-Ferland
Versteeg-Backlund-Frolik
Maniapane-Jankowski-Brouwer
Gazdic-Dube-Hathaway
Carroll
Giordano-Hamilton
Brodie-Hamonic
Valimaki-Kylingtom
Ollas Mattsson
Gillies
Smith
The lines that will head to Edmonton are:
Poirier-Bennett-Foo
Shinkaruk-Stajan-Lazar
Glass-F. Hamilton-Camarossa
Klimchuk-Hrivik-Pollock/Lomberg
Kulak-Stone
Bartkowski-Andersson
Wotherspoon-Healey
Robak
Lack
Rittich
---
Edmonton Oilers
Home fans will get to see Connor McDavid in action as they take on the Flames at home. The lines staying in Edmonton are as follows:
Maroon-McDavid-Strome
Laleggia-Nugent Hopkins-Puljujarvi
Pakarinen-Letestu-Kassian
Hamilton-Downing-Russell
Nurse-Gryba
Jones-Bear
Laggesson-Fayne
Talbot
Pasquale
First-rounder Kailer Yamamoto should see some time on the power play reports TSN's Ryan Rishaug.
At the Scotiabank Saddledome will be:
Lucic-Draisaitl-Caggiula
Khaira-Kelly-Yamamoto
Callahan-Malone-Rattie
Polei/Christofer-Gambradella-Chase
Klefbom-Larsson
Auvitu-Simpson
Lowe-Paigin
Brossoit
Ellis
---
Buffalo Sabres
Goaltender Robin Lehner will start in net for the Sabres as they get their preseason underway Monday night against the Carolina Hurricanes according to Paul Hamilton of WGR Sports Radio 550 in Buffalo.
Last season, he had a 2.68 goals against average in 59 games for the Sabres.