Ice Chips: Subban to face Oilers tonight
Keep updated on all the injury news and roster moves from around the NHL with daily Ice Chips. Defenceman P.K. Subban was activated off injured reserve on Friday and is expected to play tonight against the Edmonton Oilers.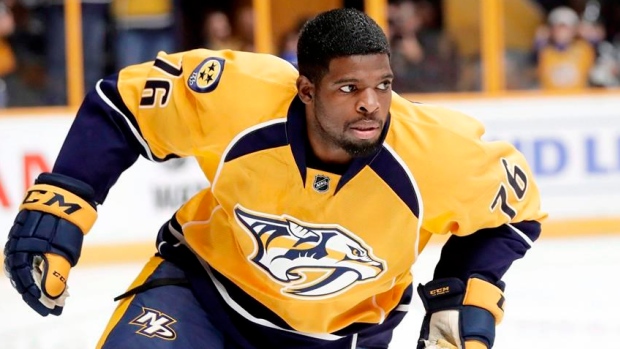 Keep updated on all the injury news and roster moves from around the NHL with daily Ice Chips.
---

Nashville Predators
The Associated Press — The Nashville Predators have activated defenceman P.K. Subban off injured reserve, and he is expected to play Friday night in Edmonton.
The Predators announced the move Friday afternoon.
Subban, 27, has missed 16 games with an upper-injury and was placed on injured reserve Jan. 1. He has seven goals and 10 assists in the 29 games he's played with Nashville.
The defenceman says the Predators, coaches, trainers and himself all came to a consensus Friday morning that he was ready to return. He tested himself a final time at Friday morning's skate.
Subban says everything was good, so they all decided he was good to go.
---
Calgary Flames
The Flames intended on having a full practice Friday morning but instead only forwards Sam Bennett, Micheal Ferland, Freddie Hamilton and defenceman Brett Kulak, and goalies Brian Elliott and Chad Johnson took the ice. The different look at practice reflects coach Glen Gulutzan frustrations with his team's effort against the Predators Thursday night.
Gulutzan reiterated Friday that he was unsatisfied with his team's performance lately, despite the fact that they currently sit in a playoff position in the Western Conference standings.
A decision hasn't been made yet, but Bennett is expected to return to the lineup on Saturday against the Oilers. Bennett was a healthy scratch Thursday. - Jermain Franklin, TSN
---
Toronto Maple Leafs
The team claimed forward Seth Griffith off waivers for the second time this season.
The Leafs claimed Griffith prior to the season when he was waived by the Boston Bruins, but waived him after three games. He was claimed by the Florida Panthers and played 21 games before being placed on waivers on Thursday.
The team assigned Griffith to the AHL's Toronto Marlies after he was claimed.
Defenceman Morgan Rielly is dealing with a right ankle injury, according to TSN Hockey Insider Darren Dreger.
Rielly missed Thursday night's loss to the New York Rangers with what is officially labelled a "lower-body injury."
The 22-year-old is considered day-to-day.
---

Winnipeg Jets
Forward Patrik Laine skated with the team on Friday, sporting a yellow non-contact jersey.
---
Dallas Stars
Defenceman Johnny Oduya is expected to miss two-to-four weeks with an ankle injury. He was placed on injured reserve Thursday.
---

Edmonton Oilers
Forward Jujhar Khaira sustained a wrist injury in Wednesday's win over the Florida Panthers. The team has recalled Anton Lander for depth. - Edmonton Sun.
Goalie Cam Talbot is expected to make his sixth consecutive start Friday versus the Predators.
---

Boston Bruins
Forward Matt Beleskey will return to the lineup for tonight's game against the Blackhawks. Beleskey has missed the Bruins' past 23 games due to a knee injury sustained against the Florida Panthers on Dec. 3.
---
Detroit Red Wings
Defenceman Niklas Kronwall could return to the lineup tonight against the Buffalo Sabres, the Detroit Free Press reports.
Kronwall has been out since Jan. 4 with a groin injury.
Darren Helm's status against the Sabres will be determined later on Friday. Helm has been out since Nov. 15 with a dislocated shoulder.
---

New Jersey Devils
Cory Schneider missed practice Friday morning due to illness.
---

Buffalo Sabres
Tyler Ennis will return to the lineup tonight against the Red Wings.
Anders Nilsson will start in net. - Team Twitter.
---

TSN Game Notes
MTL Since Starting 13-1-1
Record 14-12-5
GF/Gm 2.8
GA/Gm 2.78
PP 21.5%
PK 78.2%
(Price 11-9-4, 2.74GAA, .901sv%)
Blackhawks (61P) at Bruins (52P) - 7PM
Teams split 2GP last season, BOS winning at home. BOS has won 3 of the past 4 at home vs CHI
BOS (23-19-6):
0-1-1 past 2GP, 9GA, 8/8 on PK
Marchand (7G, 7A) last 8GP
CHI (28-14-5):
1-2-0 past 3GP, 13GA, 1/3 on PK
Kane (2G) last 3GP
Red Wings (46P) at Sabres (43P) - 7PM
BUF is 1-0-1 vs DET this season, 0-0-1 at home.
BUF (17-18-9):
won 3 straight at home, 5GA, 4/6 on PK
Okposo (1G, 1A) past 2GP, 2P shy of 400 career
DET (20-19-6):
won 3 straight, 12GF, 1/12 on PP
Vanek (5G, 5A) 7 game PT streak
Penguins (61P) at Hurricanes (49P) - 7PM
PIT is 1-0-0 vs CAR this season, winning at home. PIT has gone 5-1-1 past 7GP in CAR
CAR (21-16-7):
won 4 straight at home, 21GF, 0/7 on PP
Skinner (3G, 3A) last 3GP
PIT (28-11-5):
won 2 straight, 12GF, 1/3 on PP
Malkin (5G, 2A) 5 game PT streak
Canadiens (50P) at Devils (47P) - 730PM
MTL is 1-0-0 vs NJ this season, winning at home. MTL has gone 3-0-1 past 4GP in NJ, 3 of 4 decided in a shootout
NJ (19-18-9):
won 3 straight, all on the road, 5GA, 7/8 on PK
Hall (4A) during a 4 game PT streak
MTL (27-13-6):
lost 2 straight, 1GF, 0/2 on PP
Pacioretty (1G, 1A) last 4GP
Predators (49P) at Oilers (57P) - 9PM
NSH was 3-0-0 vs EDM last season, 3GA. NSH has won 6 straight vs EDM
EDM (25-15-7):
won 4 straight, 7GA, 9/11 on PK
McDavid (1G, 10A_ last 8GP
NSH (21-17-7):
4-1-0 past 5GP, 8GA, 13/15 on PK
Johansen (1A) last 7GP
Panthers (49P) at Canucks (48P) - 10PM
FLA is 1-0-0 vs VAN this season, winning at home. VAN has gone 1-1-1 past 3GP at home vs FLA
VAN (21-19-6):
6-0-1 past 7GP at home, 9GA, 12/14 on PK
H Sedin 999 career PTS, 1G, 2A last 3GP
FLA (20-18-9):
1-2-1 past 4GP, 17GA, 11/15 on PK
Trochek (6G, 4A) 6 game PT streak