Ice Chips: Leafs' Gardiner out vs. Caps
Keep updated on all the injury news and roster updates from around the NHL with daily Ice Chips.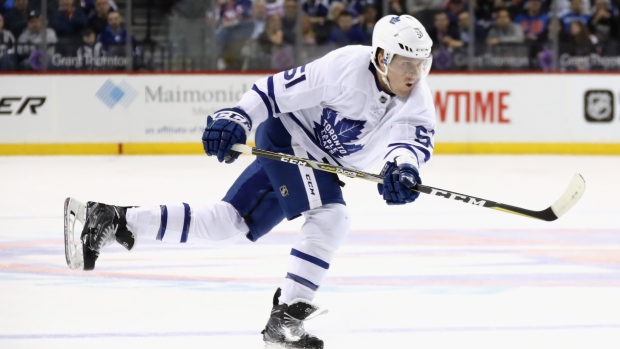 Keep updated on all the injury news and roster updates from around the NHL with daily Ice Chips.
---
Toronto Maple Leafs
Maple Leafs defenceman Jake Gardiner is out tonight against the Washington Capitals with back spasms and will miss his second straight game, reports TSN's Mark Masters.
He was on the ice for the team's skate Wednesday morning alongside Nikita Zaitsev. Martin Marincin is in the lineup in place of Gardiner.
Forward Andreas Johnsson was also on the ice but has been ruled out of Wednesday's matchup with a concussion.
In his place, the team recalled forward Trevor Moore from the AHL's Toronto Marlies.
The 23-year-old Moore has one goal and two assists in six games so far this season with the big club. He's added 19 goals and eight assists in 32 AHL contests.
Here were the lines at morning skate:
Marleau-Matthews-Marner
Hyman-Tavares-Kapanen
Brown-Kadri-Nylander
Lindholm-Gauthier-Moore
Johnsson
Rielly-Hainsey
Gardiner-Zaitsev
Dermott-Ozhiganov
Marincin Holl
Andersen starts
Sparks
Ottawa Senators
The Senators have assigned forward Rudolfs Balcers and defenceman Christian Wolanin to the AHL's Belleville Senators, the team announced Wednesday.
Balcers has two points in eight games with the Sens, while Wolanin has three goals and two assists in 12 NHL games this season.
Calgary Flames
The Flames have assigned forward Andrew Mangiapane and defenceman Juuso Valimaki to the AHL's Stockton Heat.
Mangiapane has one assist in 13 games this season with Calgary, while Valimaki has one goal and one assist in 22 games. \
New York Islanders
The Flames have assigned forward Michael Dal Colle and defenceman Devon Toews to the AHL's Bridgeport Sound Tigers.
Dal Colle has one goal and one assist in 12 games this season with New York, while Toews has three goals and two assists in 15 games.
Arizona Coyotes
The Coyotes announced that defenceman Oliver Ekman-Larsson will have tests performed on his knee on Thursday and will not play tonight against the Montreal Canadiens. He was injured when he collided into the boards during the second period of the Coyotes 3-2 victory over the Senators on Tuesday.
NHL Game Notes
Leafs Avoiding A 3 Game Losing Streak in 18-19
8th Time This Season Leafs Winless in 2 Straight
Game 3 Result
Rec 7-0-0
GF/G 5
GA/G 1
PP 1/13
PK 20/23
(3 shutouts)
Leafs Last 10GP
Rec 3-7-0
GF/G 2.4
GA/G 3.2
PP 1/18
PK 23/26
(Marner-6G, Tavares-4G, Rest of team-14G)
No Forward Progress
Nylander 0G, Last 8GP (1G in 20GP)
Matthews 1G, Last 13GP
Kadri 1G, Last 13GP
Marleau 1G, Last 12GP
Kapanen 1G, Last 11GP
Most Hat-Tricks vs Different Teams
Brett Hull 20
Mario Lemieux 19
Mike Bossy 19
Wayne Gretzky 18
Teemu Selanne 16
Bernie Nicholls 16
(Ovechkin-15 with first hat-trick vs SJ, last night)
(Ovechkin 2 career hat-tricks vs Leafs)
35G Before 50GP in a Season
Mike Bossy 8x
Mario Lemieux 8x
Wayne Gretzky 7x
Ovechkin 5x
Bobby Hull 5x
Guy Lafleur 5x
Capitals (60P) at Leafs (60P) - 730PM (Jan 23)
TOR 1-0-0 vs WSH in 18-19, 4-2 win in WSH. WSH 2 straight wins in TOR
TOR: (29-17-2)
3-7-0 last 10GP, 2.4GF/G, PP 1/18
Marner (4G, 2A) last 6GP
WSH: (27-16-6)
0-4-2 last 6GP, 30GA, PK 15/20
Ovechkin (20G, 9A) 22 career GP in TOR (2 hat-tricks)
Coyotes (50P) at Canadiens (59P) - 730PM (Jan 23)
MTL 1-0-0 vs ARZ in 18-19, 2-1 win in ARZ. ARZ won 3 of past 4GP in MTL
MTL: (27-18-5)
2-3-0 last 5GP at home, 11GA, PK 15/15
Domi (2G, 3A) 4 game PT streak
ARZ: (23-22-4)
3-0-1 last 4GP, 15GF, PP 2/13
Stepan (2G, 2A) last 3GP
Wild (53P) at Avalanche (52P) - 930PM (Jan 23)
Teams have split 2GP in 18-19, COL 1-0-0 at home. COL 3 straight wins at home vs MIN, outscoring them 18-4
COL: (22-19-8)
2-5-0 last 7GP, 28GA, PK 16/21
Rantanen (3G, 2A) last 4GP
MIN: (25-21-3)
Won 2 straight, 3GA, PK 7/9
Parise (1G, 1A) last 2GP
Predators (62P) at Knights (62P) - 10PM (Jan 23)
NSH 1-0-0 vs VGS in 18-19, 4-1 win at home. VGS 1-0-0 at home vs NSH in 17-18, 3-0 win.
VGS: (29-18-4)
2-3-0 last 5GP, 17GA, PK 10/12
Tuch (4G, 9A) last 12GP
NSH: (29-18-4)
2-3-1 last 6GP, 22GA, PK 13/19
Johansen (6A) last 5GP
Blues (47P) at Ducks (51P) - 10PM (Jan 23)
ANA 1-0-0 vs STL in 18-19, 3-2 win in STL. ANA 11-1-1 last 13GP at home vs STL
ANA: (21-20-9)
0-3-3 last 6GP at home, 12GF, PP 2/17
Getzlaf (0P) last 3GP, 4 shots on net
STL: (21-22-5)
1-2-1 last 4GP, 13GA, PK 9/11
O'Reilly (2G, 5A) 5 game PT streak
Hurricanes (52P) at Canucks (52P) - 1030PM (Jan 23)
CAR 1-0-0 vs VAN in 18-19, 5-3 win at home. VAN 10 straight home wins vs CAR. CAR last win in VAN, Oct 15/99
VAN: (23-21-6)
3-0-1 last 4GP, 14GF, PP 1/9
Pettersson (4G, 1A) last 3GP
CAR: (23-20-6)
1-2-1 last 4GP, 17GA, PK 8/12
Aho (1G, 3A) last 2GP