Ice Chips: Matthews won't play Thursday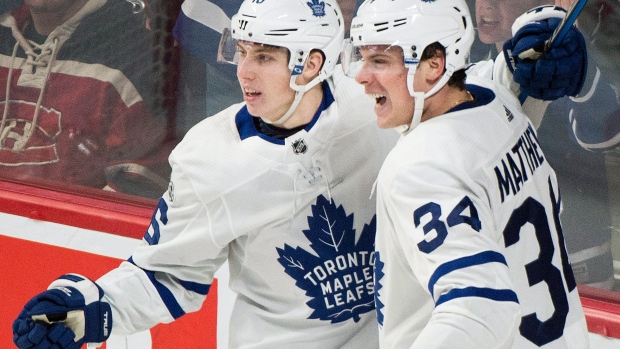 Keep updated on all the injury news and roster moves from around the NHL with daily Ice Chips.
---
Calgary Flames
RW Jaromir Jagr took part in Flames practice on Wednesday. The 45-year-old has been out since Dec. 4 with a lower-body injury.
---
Toronto Maple Leafs
Auston Matthews did not take part in the Leafs' outdoor practice at St. Paul, Minn., and won't play in Thursday's game against the Wild.
---
Montreal Canadiens
Shea Weber is back on the ice for Wednesday's practice after skipping practice on Tuesday for maintenance. He returned from a lower-body injury on Dec. 2 and hasn't taken part in a practice since then. The Habs also cancelled three morning skates since Dec. 2, so Weber was only on the ice for games those days.
Nashville Predators
Head coach Peter Laviolette has said that forward Kyle Turris, who took a puck to the face at Monday's practice, is feeling good, which perhaps could mean that Turris will be available for the team's game Wednesday night against the Vancouver Canucks.
---
New Jersey Devils
The team announced Wednesday that winger Taylor Hall (right kee contusion) will not make the road trip to Montreal for Thursday's tilt against the Habs. "Good news is that there is no damage," said head coach Jon Hynes. Forward Kyle Palmieri will make the trip, but is not yet game-ready and will not play at the Bell Centre. Cory Schneider will start in goal.
---
Columbus Blue Jackets
Blue Jackets forward Brandon Dubinsky has been placed on injured reserve, the team announced. He's expected to miss six to eight weeks due to an orbital bone fracture suffered in Tuesday's 7-2 loss to the Edmonton Oilers.
---
Game Notes
Rangers (35P) at Senators (25P) - 7PM
NYR are 1-0-0 vs OTT in 17-18, shutout win at home.OTT 2 straight wins at home vs NYR, 1GA
OTT (9-13-7):
1-10-2 last 13GP, 20GF, PP 4/46
Karlsson (2A) last 13GP
NYR (16-11-3):
1-1-1 past 3GP, 8GF, PP 0/6
Zuccarello (3G, 1A) last 4GP
---
Stars (35P) at Islanders (37P) - 7PM
DAL is 1-0-0 vs NYI this season, shutout win at home.NYI 4 straight wins at home vs DAL 23GF
NYI (17-10-3):
4-1-0 past 5GP at home, 23GF, PP 4/17
Tavares (1G) last 3GP
DAL (17-13-1):
1-3-0 last 4GP, 6GF, PP 0/10 (SOW last GP)
Seguin (1A) last 4GP
Bruins (32P) at Red Wings (28P) - 8PM
BOS 3-0-1 vs DET in 16-17, 1-0-1 in DET
DET (11-13-6):
1-5-4 last 10GP, 21GF, PP 5/31
Zetterberg (1G, 1A) last 3GP
BOS (14-9-4):
Won 2 straight, both at home, 1GA in each game, PK 4/4
Pastrnak career GP 200 tonight (4G, 6A) 8 game PT streak
Predators (39P) at Canucks (32P) - 10PM
VAN 1-0-0 in 17-18 vs NSH, winning in NSH. VAN 2 straight home wins vs NSH
VAN (14-13-4):
lost 3 straight, 4GF, PP 1/8
Boeser (3G) scored in 3 straight games
NSH (18-7-4):
3-0-1 last 4GP, 15GF, PP 4/13
Forsberg (3G, 2A) last 6GP