Ice Chips: Oilers' Sheahan out 7-10 days
Head coach Dave Tippet announced forward Riley Sheahan will miss the next 7-10 days as he's in concussion protocol. Keep updated on all the injury news and roster updates from around the NHL with daily Ice Chips.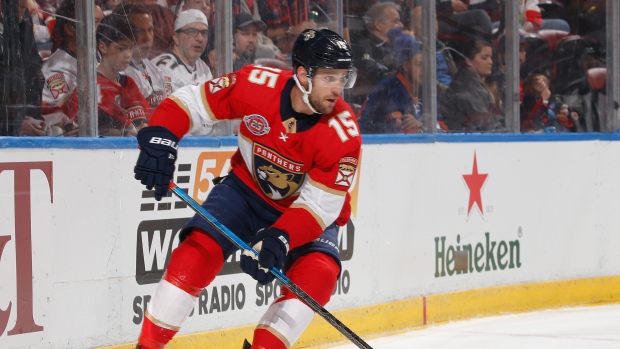 Keep updated on all the injury news and roster updates from around the NHL with daily Ice Chips.
---
Edmonton Oilers
Head coach Dave Tippett announced forward Riley Sheahan will miss the next 7-10 days as he's in concussion protocol. The Oilers signed the 27-year-old to a one-year, $900K contract earlier this month. Sheahan scored nine goals and added 10 assists over 82 games split between the Pittsburgh Penguins and Florida Panthers last season.
The Oilers placed forward Sam Gagner and defenceman Brandon Manning on waivers ahead of the team's season opener against the Vancouver Canucks on Wednesday.
Gagner, 30, scored five goals and five assists over 25 games with the Oilers last season while Manning appeared in 39 games with the Chicago Blackhawks and Oilers.
Monday's Practice Lines - Ryan Rishaug, TSN
Forwards
Jurco McDavid Neal
Nygard Draisaitl Kassian
Granlund RNH Chiasson
Khaira Cave Archibald
Haas P. Russell
Defence
Nurse Larsson
Klefbom Bear
Russell Benning
Manning
Goalies
Smith
Koskinen
---
New York Islanders
The Islanders will place forward Josh Ho-Sang, forward Tanner Fritz and defenceman Thomas Hickey on waivers later today, general manager Lou Lamoriello announced to the media.
Ho-Sang, 23, appeared in only 10 games with the Isles last season, scoring one goal and one assist. After being drafted by the Islanders 28th overall in 2014, Ho-Sang has seven goals and 17 assists over 53 games in three seasons.
Hickey, 30, has been with the Islanders for the past seven seasons, but is coming off a down year in 2018-19, recording four assists over 40 games.
Fritz, 28, had one assist over eight games last season for the Long Island club.
---
Vancouver Canucks
The Canucks finalized their opening roster by placing three players on waivers, including 26-year-old winger Sven Baertschi. The native of Switzerland scored nine goals and added five assists over 26 games with the Canucks last season, his fifth year with the club and ninth in the NHL. Vancouver also placed defenceman Alex Biega and winger Nikolay Goldobin on waivers.
General manager Jim Benning said he had trade discussions for Baertschi, but couldn't find anything that worked. Benning also mentioned Baertschi had some hesitation following his concussion and that his timing wasn't there yet. Forward Brock Boeser is 100 per cent and ready for Wednesday's opener following his concussion.
---
Toronto Maple Leafs
The Toronto Marlies have signed veteran forward Matt Read to an AHL contract following his release from Toronto Maple Leafs training camp.
The right winger scored two goals and added one assist over four preseason games with the Leafs this fall.
Read, 33, played 12 games with the Minnesota Wild last season, netting a single goal. He scored 16 goals and 21 assists in the AHL.
The Canadian has 88 goals and 100 assists over 449 career NHL games with the Philadelphia Flyers and Wild.
Monday's Practice Lines - Kristen Shilton, TSN
Forwards
Kapanen-Tavares-Marner
Johnsson-Matthews-Nylander
Mikheyev-Kerfoot-Moore
Timashov-Spezza-Gauthier
Shore
Defence
Rielly-Ceci
Muzzin-Barrie
Sandin-Marincin
Liljegren-Holl
Goalies
Andersen
Hutchinson
---
Winnipeg Jets
Winnipeg reassign Joona Luoto, C.J. Suess, Nelson Nogier, JC Lipon and Eric Comrie to the Manitoba Moose of the American Hockey League. Nogier, Lipon and Comrie will need to clear waivers before doing so.
---
Ottawa Senators
Monday's Practice Lines - Brent Wallace, TSN
Forwards
Tkachuk White Brown
Duclair Tierney Ryan
Ennis Anisimov Batherson
Chlpaik Pageau Sabourin
Boedker
Defence
Chabot Zaitsev
Brannstrom Hainsey
Borowiecki Demelo
Goloubef
Goalies
Anderson
Nilsson
---
Tampa Bay Lightning
Veteran defenceman Luke Schenn, who signed a one-year contract with the Bolts this summer, was placed on waivers Monday afternoon, according to Joe Smith of The Athletic. Tampa could also look to make a deal for the 29-year-old, says Smith.
Schenn appeared in 26 games with the Anaheim Ducks and Vancouver Cancuks last season, recording a pair of assists.
---
Waivers
Lagace, Maxime, Bos
Rinaldo, Zac, Cgy
Connauton, Kevin, Col
Greer, Anthony-John (Aj), Col
Tynan, Thomas, Col
Kempe, Mario, L.A
Ladue, Paul, L.A
Hudon, Charles, Mtl
Lindgren, Charlie, Mtl
Martel, Danick, T.B
Carrick, Sam, Ana
Sprong, Daniel, Ana
Cehlarik, Peter, Bos
Elie, Remi, Buf
Lazar, Curtis, Buf
Nelson, Casey, Buf
Wilson, Scott, Buf
Bishop, Clark, Car
Forsberg, Anton, Car
Forsling, Gustav, Car
Dano, Marko, Cbj
Quine, Alan, Cgy
Dahlstrom, Carl, Chi
Megna, Jayson, Col
Gagner, Sam, Edm
Manning, Brandon, Edm
Brown, J.T., Min
Tennyson, Matt, N.J
Salomaki, Miikka, Nsh
Santini, Steven, Nsh
Fritz, Tanner, Nyi
Hickey, Thomas, Nyi
Ho-Sang, Joshua, Nyi
Nieves, Cristoval, Nyr
Desmith, Casey, Pit
Schenn, Luke, T.B
Agostino, Kenneth, Tor
Gravel, Kevin, Tor
Petan, Nicolas, Tor
Wilson, Garrett, Tor
Baertschi, Sven, Van
Biega, Alex, Van
Goldobin, Nikolay, Van
Comrie, Eric, Wpg
Lipon, Jc, Wpg
Nogier, Nelson, Wpg
Djoos, Christian, Wsh
O'brien, Liam, Wsh
Sgarbossa, Michael, Wsh