Ice Chips: Flyers' Patrick out 7-10 days
Penguins starting goaltender Matt Murray skated at Pens practice today and took shots. Murray isnt expected to play against the Vegas Golden Knights on Thursday however coach Mike Sullivan said they would make the final decision on Murray's status for the game.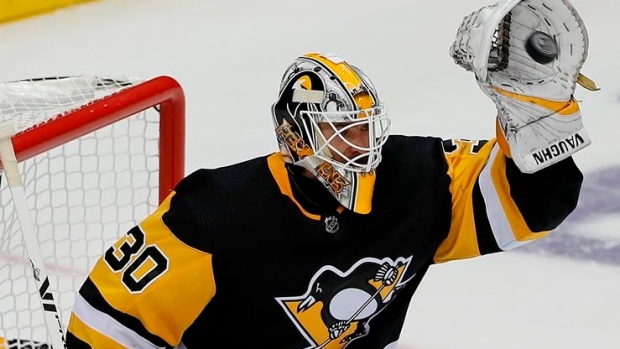 Keep updated on all the injury news and roster updates from around the NHL with daily Ice Chips.
---
Pittsburgh Penguins
Penguins starting goaltender Matt Murray skated at Pens optional practice today and took shots from teammates.
He was, however, ruled out for Thursday's game after the skate with head coach Mike Sullivan declaring the netmined "day-to-day."
Murray sustained a concussion during Monday's practice, but appears to be making a quick recovery.
"I still need to talk to the doctors, but I felt good out there," Murray said Thursday. "I wear the best helmet you can get. It's a fast game and sometimes things happen."
The 24-year-old has had three concussions in the last 30 months.
---
Toronto Maple Leafs
Mark Masters has your Maple Leafs lines at morning skate in Detroit:
Hyman-Tavares-Marner
Marleau-Matthews-Kapanen
Lindholm-Kadri-Brown
Leivo- Gauthier -Ennis
Johnsson
Rielly-Hainsey
Gardiner-Zaitsev
Dermott-Marincin
Ozhiganov-Holl
Andersen starts
Sparks
---
Detroit Red Wings
Red Wings defenceman Niklas Kronwall will make his season debut tonight as they take on the Toronto Maple Leafs. -Ted Kulfan
The 37-year-old has been battling a lower-body injury since the end of the pre-season.
Kronwall played 79 games with Detroit last season, scoring four goals and adding 23 assists.
---
Florida Panthers
James Reimer will get the start in goal for the Panthers against the Blue Jackets tonight.
Reimer is filling in for the injured Roberto Luongo who is out 2-4 weeks with a knee injury.
In the meantime the Panthers recalled goalie Michael Hutchinson from the AHL.
---
Minnesota Wild
Wild forward JT Brown will make his debut tonight.
Matt Hendricks is the odd man out as Brown takes his place. -Michael Russo
---
Nashville Predators
After spending the last two games in the press box as a healthy scratch, defenceman Dan Hamhuis will draw back into the lineup on Thursday.- Adam Vingan
The defenceman had three goals and 24 points in 80 games last season.
---
Philadelphia Flyers
The team announced that forward Nolan Patrick will be out with an upper-body injury for the next 7-10 days. Patrick suffered the injury in Wednesday's 7-4 win over Ottawa.