Ice Chips: Price hopes to play Thursday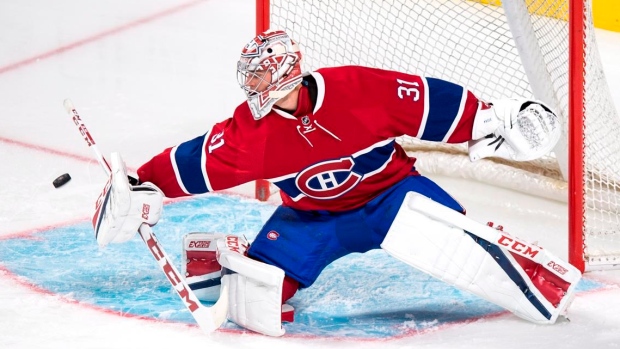 Keep updated on all the injury news and roster moves from around the NHL with daily Ice Chips.
Arizona Coyotes
Recall goalie Justin Peters from the American Hockey League on an emergency basis. They also announced forward Jamie McGinn was placed on the injured reserve Wednesday. The move is retroactive on Oct. 5. Regular goalie Mike Smith suffered a lower-body injury in the third period Tuesday night in a loss to the Ottawa Senators. He is day-to-day.
Boston Bruins
Patrice Bergeron, who's missed the first three games of the season due to a lower-body injury, returned to practice Wednesday. Head coach Claude Julien said he said could play Thursday against the New Jersey Devils if there are no setbacks. Defenceman Adam McQuaid also made an appearance at practice after missing time with an upper-body injury. - Joe Haggerty, CSNNE.com
Los Angeles Kings
Goaltender Jonathan Quick, who left the opening game of the season, won't need surgery, but remains sidelined with a lower-body injury. General manager Dean Lombardi expects Quick to be out for three months. - Lisa Dillman, Los Angeles Times
Montreal Canadiens
Carey Price took part in a full practice for the first time since Oct. 9 on Wednesday, the third day in a row he was on the ice. Price, who has yet to play this season due to the flu, told reporters after practice that he's hoping to return to action Thursday night against the Arizona Coyotes at the Bell Centre.
Canadiens' Practice Lines - John Lu, TSN
Forwards
Pacioretty- Galchenyuk - Gallagher
Lehkonen - Plekanec - Radulov
Byron - Desharnais - Shaw
Danault - Mitchell - Flynn
Carr
Defence
Beaulieu - Weber
Markov - Petry
Emelin - Sergachev
Redmond - Pateryn
Goalies
Price
Montoya
Lindgren
Carr, Pateryn, Redmond
Pittsburgh Penguins
Defenceman Kris Letang is out day-to-day with an upper-body injury while captain Sidney Crosby, who's battling back from a concussion, skated again Wednesday morning. The Pens host the San Jose Sharks Thursday in a Stanley Cup rematch. - Team Tweet
Winnipeg Jets
Jets' Projected Lines vs. Maple Leafs - Sara Orlesky, TSN
Forwards
Laine- Scheifele-Wheeler
Ehlers- Perreault-Stafford
Connor-Burmistrov-Armia
Matthias-Lowry-Tanev
Defence
Morrissey-Byfuglien
Enstrom-Myers
Chiarot-Postma
Goalies
Hutchinson
Hellebuyck
Toronto Maple Leafs
Vancouver Canucks
Game Notes
Rangers (4P) at Red Wings (2P) - 8PM
NYR were 2-0-1 vs DET last season, each decided by 1G
6 straight games between teams decided by 1G, and 10 of the past 11
DET (1-2-0):
1-0-0 at home, 1GA, 3/3 on PK
Green (3G, 2A) has a PT in 2 of 3 games
NYR (2-1-0):
0-1-0 on the road, 2GF, 0/2 on PP
Kreider (3G, 3A) has 1G, 1A in each game
Maple Leafs (3P) at Jets (2P) - 8PM
WPG was 2-0-0 vs TOR last season, outscoring them 10-3
WPG has won 4 straight at home vs TOR, at least 5GF in each game
WPG (1-2-0):
4GA in all 3GP, lost 2 straight games, 0/8 on PP
Wheeler (3G, 2A) has scored in all 3GP
TOR (1-0-1):
4GF in each game, 0/8 on PP in 2GP, last had a PT in first 3GP of a season in 13-14 (3-0-0)
Gardiner (2A) has an assist in both games