Impact acquire Edwards, Raitala from LAFC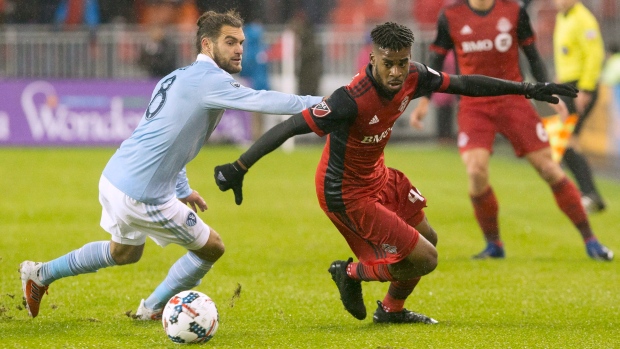 The Montreal Impact have acquired Canadian midfielder Raheem Edwards and defender Jukka Raitala from Los Angeles FC in exchange for defender Laurent Ciman.
Both players LAFC dealt were acquired during Tuesday's expansion draft.
"We have evaluated all available players in the Expansion Draft and we acquired a couple of players that will help improve the overall quality of the team," said Impact technical director Adam Braz.
"Jukka showed that he is capable of stepping into a new environment and contributing straight away. With Ambroise Oyongo's probable departure, it was important for us to add an experienced left-back.
Raheem is a young, versatile, and exciting Canadian international that will fit in nicely with our group. He is quick and crafty and poses a lot of problems for the opposition in the attacking third of the field."
Edwards was selected by LAFC from Toronto FC after appearing in 21 games this season for the MLS Cup Champions. He picked up a goal and six assists.
Raitala was selected from Columbus Crew, he played in 28 games this season contributing two assists.