Impact in must-win situation against LAFC
After two straight losses and fielding a new-look defence that has been an unmitigated disaster this season, the Montreal Impact desperately need a win Saturday against expansion club Los Angeles FC, Noel Butler writes.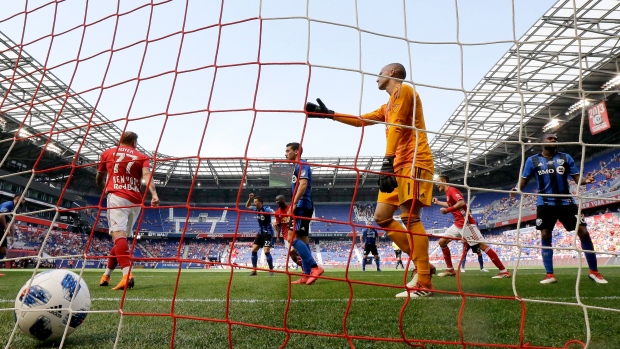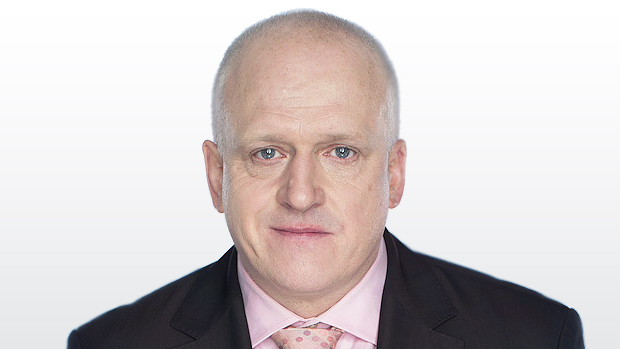 After being soundly beaten by the New England Revolution and then the New York Red Bulls in recent weeks, the Montreal Impact's back-to-back defeats (4-0, 3-1) came with the severe opportunity cost of immediately cancelling out their surprising back-to-back victories against both of last season's MLS Cup finalists – the Seattle Sounders and Toronto FC.
That new-found vigour and confidence appeared to be visibly draining from the faces of Impact players right after Michael Murillo comfortably slotted away his club's third marker at Red Bull Arena last Saturday afternoon.
How do you immediately get all of that enterprise and endeavour back, which was on full display against TFC and the Sounders, for a team and a club that was on the ropes throughout the 2017 season? It's easy. You roll out your proper home opener at Stade Saputo against expansion club Los Angeles FC this Saturday at 1 p.m.
LAFC, a club which might be best known across the football world as the brainchild of one NBA legend Magic Johnson and A-list actor Will Ferrell, comes with the added flavour for La Belle Ville of the return of Impact prodigal son Laurent Ciman. The Belgian International, who truly carved out a cult-like following during his three-season tenure marshalling the Impact's defensive corps, returns to Montreal to face his former club following his trade from Montreal last December.
Torres en route to Montreal?
Serving as the warm-up act for manager Rémi Garde's charges are the growing and possibly glowing reports that one of Madrid's favourite local football souls, Atlético Madrid's Fernando (El Niño) Torres, could well be on his way to Montreal straight after his final season with a club that Torres has supported since childhood. The team has not responded to a request from TSN 690 for confirmation on Torres. Nor has a very well-placed Impact source gotten back to a similar request from TSN.ca.
Although the now 34-year-old Torres mainly fired blanks following his much heralded 50-million pound ($89 million Cdn.) move from Liverpool to Chelsea back in January 2011, this is one of the football world's most decorated players of the modern era. Not even Ronaldo, let alone Lionel Messi, has captured world football's holy trilogy for club and country – a UEFA Champion's League title, an International Continental Championship plus a World Cup finals medal.
Additionally, and rather coincidentally, although El Niño becomes a much in demand free agent on June 1, the first bit of business for the Impact will be to work out a deal with the Chicago Fire, who maintain the Discovery Rights of the EURO 2012 Golden Boot recipient. Torres was the top goal scorer at a tournament where Spain retained its Euro crown from EURO 2008. Yes, it was Torres who scored the winner against Germany in that year's final.
New-look defence a disaster
After much public criticism, which began all the way back in the very earliest stages of training camp, Garde and his staff were fully focused on building success for his club from the back. By working towards removing numerous and highly expensive blights on the Impact's defensive setup and systems, this plan looked achievable.
But six matches into this new season is an adequate sample size to conclude that the Impact's new-look defence has been an unmitigated disaster. Garde's team has given up seven goals in its last two matches and is now averaging two goals against every game. Not even a Barcelona, Manchester City or Bayern Munich could afford nor absorb that highly expensive statistic. Defensively, the Impact are still prone to lapses in reason and are as error-prone as they were last season.
There can be no let up defensively for the Impact on Saturday, however, as Diego Rossi, one of the very hottest commodities in the league, suits up in Stade Saputo. The Uruguayan youngster has scored four goals this season and has assisted on four others. LAFC receives ample backup goal scoring from Carlos Vela, another player who has notched four goals this season.
Leadership, discipline missing
Other negatives for Montreal this season includes a leadership deficit – a commodity that's more desperately needed when confidence is very low – and a lack of discipline that needs tightening up.
A very troubling problem for Garde has been that when the Impact were missing midfielder Ignacio Piatti from the lineup for the Revs game two weeks ago, then Saphir Taïder for last Saturday's match at Red Bull Arena, it clearly showed the team's very glaring need for much higher quality squad depth.
On the plus side …
There are certainly positives in Montreal this season, led by leading light Jeisson Vargas. The diminutive 20-year-old Chilean truly possesses a rarest form of quality for his club, and his three goals so far this season are a mere indicator of so very much more to come. Each and every time he's on the ball, he lifts the supporters out of their seats.
The Impact's attacking threat is better loaded in 2018. Even though the teammates in front of Impact goalkeeper and part-time captain Evan Bush are letting him down, he is again pulling off the highly improbable each and every game. With Rossi and Vela in the LAFC lineup, Bush the miracle worker surely will be tested once more on Saturday.
Montreal is already on the outside looking in for a playoff position this season with their 2-4 record, so it's not an exaggeration to say that Saturday's match against LAFC is a must-win game. After all, we are not even two months into the gruelling eight-month-long MLS bump and grind.