Impressive Preds still searching on the power play
Nashville's strong start has papered over a power play that is struggling because defencemen have been tasked with generating a disproportionately high percentage of offence, Travis Yost writes.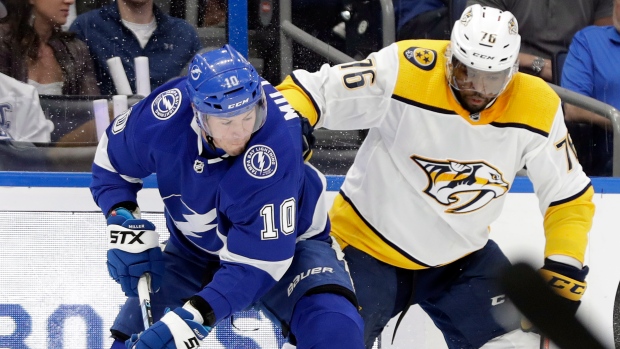 The Toronto Maple Leafs are looking strong. The Tampa Bay Lightning have been outstanding. But with roughly 20 per cent of the regular season in the books, the best team in the National Hockey League is sitting in the Western Conference.
In a year where the standings are highly competitive and 'free wins' are hard to come by, the Nashville Predators are making it look easy. Through their first 16 games, the Predators have already picked up 13 wins – all of which have come in regulation. And their average goal differential per game is +1.31, comfortably best in the league. (Tampa Bay, who has had a hard time losing in their own right, has an average per game goal differential of +0.88.)
Nashville's hot start to the season isn't too surprising. This is a team with incredible depth and arguably the league's best blueline. Add some talented playmakers in the forward ranks and you understand why sportsbooks around the world opened with Nashville as one of the preseason Stanley Cup favourites.
But Nashville isn't a team without flaws. The Predators may be an even-strength buzz saw, but they are a bit of a mess on special teams. On the penalty kill, the Predators have been successful 76.9 per cent of the time (tied for 22nd in the NHL). Not terrible, but certainly not where coach Peter Laviolette wants it.
The power play is the real problem, though. Nashville is converting just 13 per cent of the time (averaging 4.7 goals per 60 minutes), which is 30th in the league. For context on how poor this is: Nashville is averaging 4.7 goals per 60 minutes of hockey on the power play. Nine teams around the league are scoring more than double – more than double – for every 60 minutes of opportunity.
One of the issues that Nashville is still trying to figure out is what to do personnel-wise on the power play. Nashville's core strength is on their blueline – having two high-end defensive pairings (and a third that's at least reliable) is a major reason why they see extended offensive zone time and scoring chance creation in clusters at 5-on-5. Their defencemen can individually break out of the defensive third and transition the puck through the neutral zone to some of their speedier wingers, consistently putting opposing defences on their heels.
The power play is a different animal though. The league has recognized the power of a four-forward deployment on the power play in recent years. Math suggests such a mix makes power plays more threatening (about 25 per cent more, in fact.) It sure seems like Nashville is struggling with how to transition to a lineup that would seem counter-intuitive to their core strengths. The Predators have experimented with different lineups this season, but not nearly to the extent that other teams have.
If you look at forward and defencemen usage on the power play this season, you can see that Nashville gives heaps of minutes to their defencemen – namely P.K. Subban, Roman Josi, and Ryan Ellis. Relative to where the rest of the league is, it's fair to say they are in lag: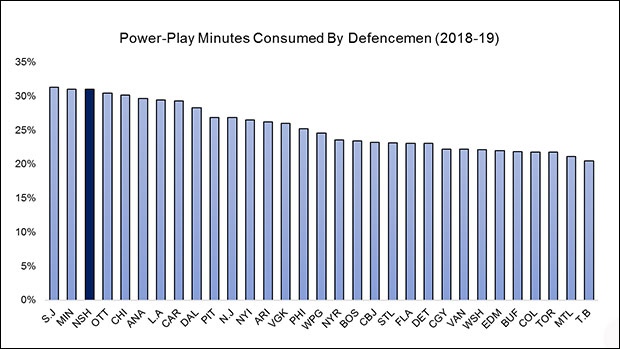 Complete dedication to a four-forward, one-defenceman setup would see defenders getting about 20 per cent of total ice time – right around where Toronto, Montreal and Tampa Bay currently sit. The other end of the spectrum is where Nashville (and San Jose, and Minnesota) sit, with their defencemen getting north of 30 per cent of total ice time.
Personnel will dictate some of this. When you have as many talented puck movers as a team like Nashville does, you might expect to see marginally more minutes for the blueline when up a man. But one of the issues with that is defencemen absorbing more of an offensive role when their power-play unit gains the zone.
Power plays are generally set up to get forwards into premier scoring opportunities. Regardless of setup, defenders are generally used as release valves and distributors. They can occasionally generate scoring chances as they work their way closer to the net, but, generally speaking, power-play shots from the point are of lesser value than shots elsewhere in the offensive zone.
This is at the heart of Nashville's power play performance issues. Whether it's Subban, Josi, or Ellis, the defencemen have been tasked with generating a disproportionately high percentage of offence. It's meant a lower percentage of scoring chances and, consequently, a struggle to score goals.
If we look at power-play shot generation around the league and segment all shots by forwards and defencemen, you can see just how substantial it is this season: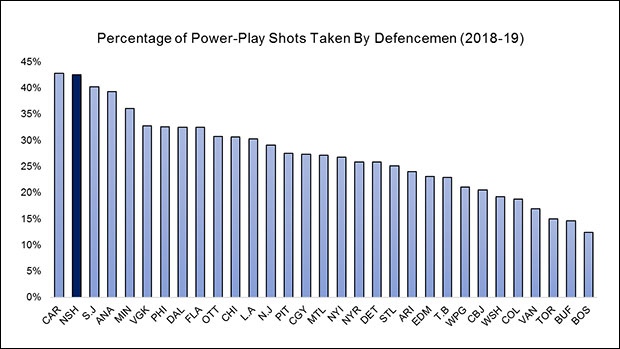 More than four of every 10 shots taken by the Predators on the power play is coming from a defender. You'll note that this is a pretty big disparity from league average (which is about 25 per cent) and a far cry from where teams like Toronto, Buffalo, and Boston currently sit.
Defencemen taking a higher percentage of shots may not be bad in a vacuum, but knowing how power plays generally set up in the offensive third, it stands to reason that a good chunk of these shots are probably coming from non-scoring chance areas.
And that's precisely what's happening. The Predators aren't creating scoring opportunities for their defencemen – rather, they are working the offence through their defencemen and hoping that lower percentage shots will find the back of the net. If we use NST's logic (which looks at shot angles and coordinates to understand the 'danger' of each shot), the Predators problems become pronounced: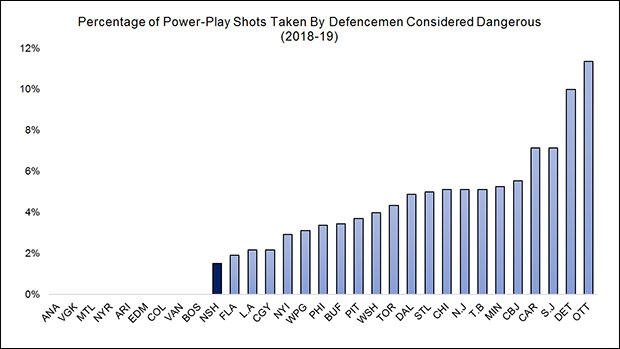 A number of teams haven't generated a single truly dangerous shot from a defenceman on the power play this season, but keep in mind that many of those teams don't funnel their attack through their blueline. Teams like Colorado, Boston, and Vancouver are setting up to get their wingers shots from the circle and rebound opportunities for their centres (along with pinching wingers in tight). The Predators are putting heavy volume through their defensive group, and aren't having much success with it.
The good news for Nashville is that their power play, obviously, isn't going to bar them from having regular-season success. But this is the sort of issue that becomes more pronounced when the competition stiffens in April and May.
I suspect this will remain a core focus area for Laviolette and company in the coming months. If not because it's a weakness, then because every other area of their game is a strength right now.