Insider Trading: Could Seattle be a landing spot for Babcock?
What will MLSE ask for from teams who wish to speak to Mike Babcock about a coaching position? Could Seattle be a landing spot for the Leafs' former bench boss? The TSN Hockey Insiders have the latest on this, the Dustin Byfuglien grievance and more.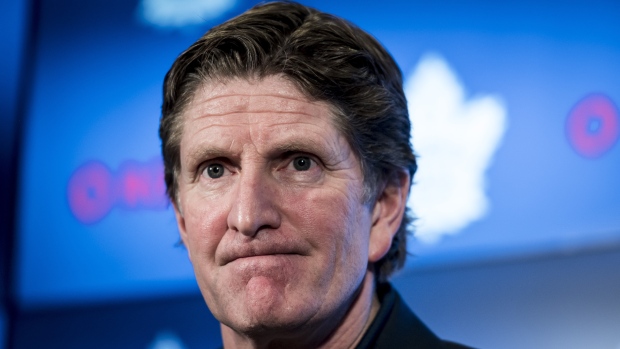 TSN Hockey Insiders Bob McKenzie, Darren Dreger and Pierre LeBrun join host Gino Reda to discuss which teams could be interested in Mike Babcock, Dustin Byfuglien's grievance, and more.
---
Gino Reda: Pierre, I want to begin with you. On the day that the Toronto Maple Leafs sign their new head coach, Sheldon Keefe, to a three-year contract, they continue paying their old head coach, Mike Babcock, for the next three-and-a-half years as well.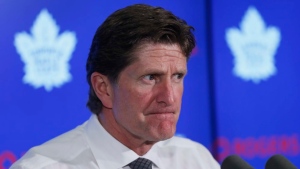 Pierre LeBrun: Yeah, that's a lot of money going out the window for two coaches. It's really an NHL record when it comes to the money owned to an NHL coach, remember we talked about that when Joel Quenneville was fired by Chicago. Well now, the new record holder is Mike Babcock. $5.875 million a year is what he is owed for the next three seasons. That is guaranteed money, not to mention what he is owed for the rest of this year, north of $20 (million) in total.
Why does this matter? Well, first of all, if you're another NHL team, approaching the Leafs about interviewing Mike Babcock for their head coaching position, it's going to be interesting to a lot of people around the league that I'm talking to, what number MLSE has in mind that they will let Babcock go. We know about the offsetting rules and you pay a coach and your old team pays the rest. Well, what if the Leafs say "you have to pick up the entire contract?" That's within their rights in terms of releasing Mike Babcock to coach another team.
Will he coach again? You know I spoke to him briefly last night. Mike Babcock right now wants to decompress. He's going to do a lot of skiing this winter, that's his focus. Certainly I think he's going to take his time. It's not a guarantee that he will coach again. I think he will. I think he's going to miss it too much. And the team that jumps to mind for me, I think there's no question, that's Seattle, if Mike Babcock is still available and interested, I think they're going to want to talk to him. Again, Seattle probably [is] looking to hire a coach between January and June 2021. So will he be available a year from now.
Reda: And Bob on the same day that Mike Babcock got fired, we got official word that the NHLPA was filing a grievance on the behalf of Dustin Byfuglien. What can you tell us about the two positions and the two sides going into this grievance?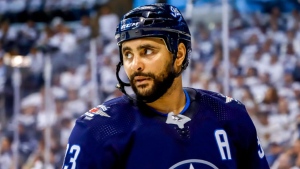 Bob McKenzie: Well Gino, the battle lines are clearly drawn on this one. What does a grievance mean? Well, it means the National Hockey League Players' Association on behalf of Dustin Byfuglien is saying "you know what?" he's got a hockey injury and he should be getting paid right now by the Winnipeg Jets. He's suspended without pay. That's the crux of the Byfuglien side of things from the NHLPA point of view.
From the National Hockey League point of view, they're saying "woah," not a chance in the world that we would ever allow this to happen. At the end of last season, Dustin Byfuglien had an exit physical with the Winnipeg Jets and he was ruled completely healthy. He did not report to the Winnipeg Jets training camp, he didn't come to them and say: "My ankle is really screwed up. I think it needs surgery, can we get it looked at? Can we get treatment?"
He did not report. He was pondering his future, he was suspended without pay. Just because Dustin Byfuglien unilaterally went out and got surgery on that ankle in the last little while, in the view of the NHL, it doesn't mean that he can retroactively say: "Now I've got a hockey injury, you've got to pay me."
This one won't get settled soon because Byfuglien's out for months before he's fully healthy. The grievance will be heard at some point but not anytime soon.
Darren Dreger: It's a tough spot here for the Winnipeg Jets because the Jets aren't certain of the endgame here. This is a battle between the NHL and the NHLPA. Initially I'm told the Winnipeg Jets weren't happy when Insider Trading broke the news that Dustin Byfuglien was contemplating retirement.
They knew that, of course, but they wanted to give their star defenceman time and space to really think through his future. But that was then, and this is now. There is zero chance that anyone associated with the Winnipeg Jets expected it would go from that point to a point now where it's in grievance and awaiting arbitration.
Reda: What's going on with the Buffalo Sabres? We've been talking for weeks now, if not months that they're trying to bolster their offence on the trade front. but nothing to this point. Is there any news on that front at all?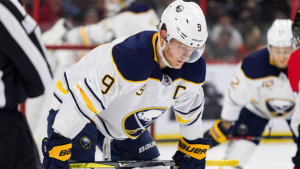 Dreger: It's a moving target. Jason Botterill, the general manager of the Buffalo Sabres, has, in fact, made offers on forwards but the system is gummed up a little bit. The financial system of the National Hockey League. There are so many teams, 10-plus teams, who are working with LTIR players and that can get very, very problematic.
There are some out there that believe that Botterill is feeling a sense of urgency and he'd like to make at least one, maybe even two, trades in the next week to two weeks. But he's got to find the right fit and the right match.
Reda: Jack Eichel would love some help. He's got 13 goals. He's the only Buffalo Sabre right now with more than 10 goals.