Insider Trading: Is a major move coming in Ottawa?
TSN Hockey Insiders Darren Dreger, Bob McKenzie and Pierre LeBrun joined host James Duthie to discuss whether the Senators are about to pull off a major move, Evander Kane's future in Buffalo and the latest from Team Canada with the WJHC only two weeks away.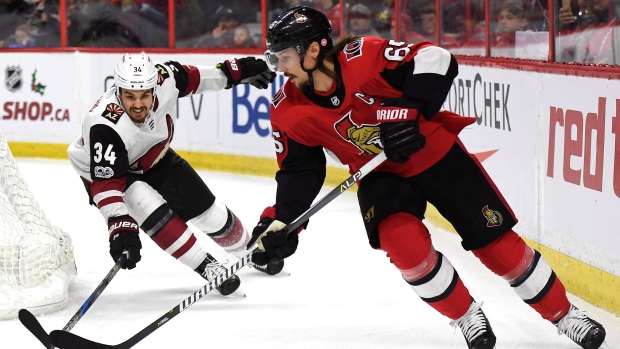 TSN Hockey Insiders Darren Dreger, Bob McKenzie and Pierre LeBrun joined host James Duthie to discuss whether the Senators are about to pull off a major move, Evander Kane's future in Buffalo and the latest from Team Canada with the WJHC only two weeks away.
---
Will something major happen in Ottawa?
After only one win in their last 10 games, could there be a head coaching change or a major trade possibly involving Erik Karlsson on the horizon for the Sens?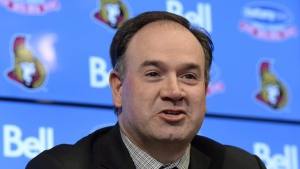 Darren Dreger: Well it's very unlikely that Erik Karlsson is traded. It feels almost impossible, but it's not impossible. It depends on what is thrown his way. Pierre Dorian's job as general manager of the Ottawa Senators is to listen to everything. So if he gets an offer on Erik Karlsson between now and perhaps the trade deadline, or in the off-season or next year that he can't refuse, he's got to take that to owner Eugene Melnyk even though it sounds unlikely. Head coach Guy Boucher isn't going anywhere at least for the time being, so what is more likely is a trade involving one of the core players outside of Erik Karlsson and that's where you look at Mike Hoffman, you look at Jean-Gabriel Pageau, you look at Zack Smith or you look at Cody Ceci because those are the players that other general managers call on most often.
Pierre LeBrun: To make matters worse right now, if that's even possible for the Ottawa Senators, is the fact that we take a peek at the June entry draft and they don't have a pick until the third round right now. That's because their first-round pick went to Colorado in the Matt Duchene deal and their second-rounder went in the Derick Brassard deal with the New York Rangers. Now, that first-round pick is top-10 protected which means that if they can't salvage the season and it is indeed a top-10 pick then it becomes a 2019 first-round pick. Either way, even for a team that has drafted well and they've got a lot of good youngsters in the organization and in the pipeline, that's of concern I think moving forward and if they bottom out, they have to try and recoup some high picks before June.
What's the market like for Karlsson?
If Pierre Dorion does decide to explore a deal for Erik Karlsson, what teams may have an interest in the two-time Norris Trophy winner?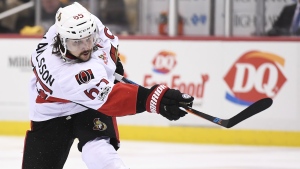 Darren Dreger: It could be posturing among teams that we believe should be interested in Erik Karlsson, but there are reservations, even with a player of his magnitude. You're talking about the health concerns they may have, you're talking about the cost of such a deal, so it's going to be enormous for Ottawa to consider it. Plus, there's the contract, the negotiating of the term and the big money that would go along with that.
What does Kane's future in Buffalo look like?
With the Buffalo Sabres sitting at the bottom of the Eastern Conference, are Evander Kane's days in Buffalo numbered?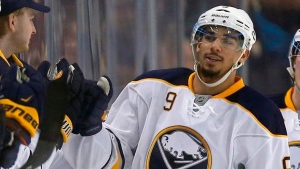 Bob McKenzie: As everybody knows, the Buffalo Sabres are open for business and the talks on Evander Kane that have been going on virtually all season are intensifying and picking up. I don't believe necessarily that there will be a deal before the trade freeze at Christmas, but there's no question there are more teams talking to the Sabres. Buffalo is trying to drive up the price on this pending UFA rental to see if they can get more than a first-round pick, a prospect and a conditional pick. Sort of like the Andrew Ladd-type prototype that was there before. Teams that are amongst the most interested at this point would include San Jose, St. Louis, Anaheim and perhaps the Calgary Flames.
Are the Blues looking for top-six help?
With injuries to a couple key forwards, are the Blues in the market for some help as they battle for top spot in the Western Conference?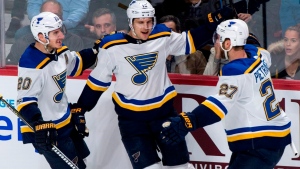 Pierre LeBrun: There's no question in my mind that at some point between now and the trade deadline that a top-six forward makes so much sense for the St. Louis Blues and they are on the lookout for that. And it's not just so much because Jaden Schwartz – who's been terrific for them – is now out long-term, but really it goes back to Robby Fabbri at the start of the year being taken out for the entire season because of an ACL injury. That's where the hole is. And in a perfect world the Blues, if they get a top-six forward, they can slide Vladimir Sobotka down to the third line and become a more imposing team.
What about the Canucks?
Pierre LeBrun: The same goes for the Vancouver Canucks now with the injuries to Bo Horvat and Sven Baertschi. I'm told general manager Jim Benning is working the phones trying to land a top-nine forward, although nothing seems imminent.
Team Canada update
With the tournament just two weeks away, TSN Hockey Insider Bob McKenzie has the latest on Team Canada's roster.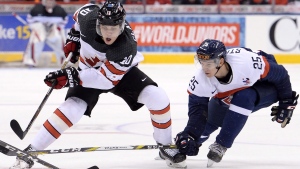 Bob McKenzie: Dante Fabbro from Boston University blocked a shot on the weekend and he's got a bone bruise. He's not skating but it's just precautionary, nobody thinks that it's too big a deal. Dillon Dube seems to be nursing what might be a tender shoulder. He skated this morning in a yellow non-contact jersey and crashed hard into the boards. He was able to come back from that and finished practice. He is not practicing Tuesday night but again, nobody is overly concerned. These two returning players are guys that are potential captains for this team. Kale Clague would be another one who would be in the mix as the captain. A guy who would have been the captain of this team if he had been released from the National Hockey League is Tyson Jost of the Colorado Avalanche. But the Avs are 99.9 per cent certain that neither Jost, nor Samuel Girard will be loaned to Team Canada. They don't need to make a final decision on that until Dec. 19 so they won't, but right now nobody is expecting any help from the Avs as far as Jost goes.