Insider Trading: Kapanen's hot start could force Leafs' hand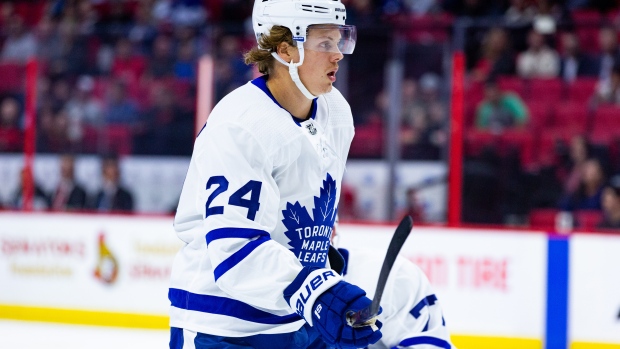 TSN Hockey Insiders Bob McKenzie, Pierre LeBrun and Darren Dreger joined host Gino Reda to discuss Nick Ritchie and his contract situation with the Anaheim Ducks, Kasperi Kapanen's hot start, the William Nylander saga, the Boston Bruins and the Senators holding preliminary talks with Matt Duchene's agent.
---
Ritchie getting Rich-y?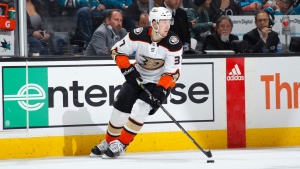 Gino Reda: Ordinarily at this point of Insider Trading we start with the obligatory 'what's the latest on the William Nylander front' but we're going to deal with the only other remaining RFA Nick Ritchie, what's the latest there?
Bob McKenzie: The situation with Nick Ritchie and the Anaheim Ducks has been really from the get go a frigid process. But it looks like it's starting to thaw. Now the deal is not done but it does look like it's warmed up considerably to the point where there is a real possibility this could be done in the next number of days, so long as there are no further hiccups. There's obviously been a breakthrough of sorts. It's expected to be a three-year deal for Nick Ritchie, assuming it gets consummated here in the next day or two.
Contract for Kapanen?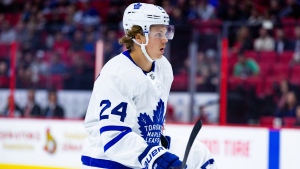 Gino Reda: Kasperi Kapanen is really on fire playing with Auston Matthews, he has four goals and eight points in the games he's played with Matthews. Has this now added an extra little twist to Kyle Dubas and company as they try to get the contracts worked out in Maple Leaf land?
Darren Dreger: Well the potential is there based on the numbers that Kasperi Kapanen is putting up on the wing with Auston Matthews, so he's looking after the opportunity that he has with the Toronto Maple Leafs and as luck would have it, he has a second contract that he's going to have to deal with at the end of the year. If he's a 40, 50 maybe a 60 point player at the end of this season, he could be looking for upwards of five million dollars, but they're not at that stage yet, what it means though is that somebody is going to have to go. If it's not William Nylander assuming that he comes in and he signs a bridge deal or otherwise, if it's not Kasperi Kapanen because they find a way to keep him, somebody has to go from a cap perspective. Good problems to have because the Maple Leafs are a good team with both those players in house.
Pierre LeBrun: In the meantime with the Leafs scoring like the 1980s' Edmonton Oilers I think at first blush people look at William Nylander in this situation and say well he's lost all leverage, they can score and win without him. On the other hand I think it's my understanding that it probably strengthens their belief that they're trade bait because in fact they can win and score goals without him and yet they still have trouble defending. So that's been a belief since the get go and a fear from the Nylander camp, that they can't get a no-trade clause of course so will they be dealt if they sign. So because of that it's become more imperative than ever for Nylander that if any when he signs a contract with the Toronto Maple Leafs, that it's a contract he can live with, not just in the Leafs puzzle but also if he ends up with that contract on another team.
Are Hurricanes a good fit for Nylander?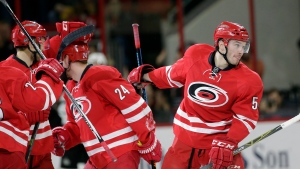 Gino Reda: Kyle Dubas has made it pretty clear though that he does not want to move William Nylander, but are teams keeping track of what's going on just in case?
Pierre LeBrun: Oh, are they ever. As of today I've had two other teams tell me that again their understanding from the Leafs is that Kyle Dubas does not want to move Nylander. But as we get closer to December 1 when Nylander if he remains unsigned can no longer play in the NHL this season, that's an asset that the Leafs have to make a decision on and maybe the Leafs change their stance and that's where teams are hoping to act. Carolina to me is a team you have to keep an eye on because of the teams that have interest in Nylander; the Hurricanes are as deep on defence as any team. They have five top-four defenceman and a guy that the Leafs would have interest in if it ever goes down this road would be Brett Pesce. He has a six-year deal at just over four million a year, a cap friendly deal and is a young top-four defenceman.
Brewing in Boston?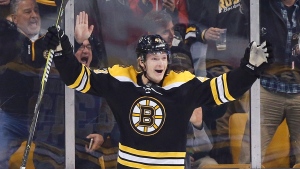 Gino Reda: I wouldn't suggest the Boston Bruins have an interest in a forward of Nylander's ilk and the kind of money he would command but are they looking for some help up front?
Darren Dreger: I would say it's a back burner surge for Don Sweeney and the Boston Bruins. The Bruins have to compete with the big boys and they should be considered one of those in the Eastern Conference alongside the Toronto Maple Leafs, Tampa Bay and the other top teams they fit that dynamic. They would like to add an experienced forward, preferably a centre and maybe dangle one of their young guys. Anders Bjork's name is potentially out there and likewise Danton Heinen. Not saying that those players are being shopped but maybe there's a team that has experienced forwards that they want to swap out with a younger more inexpensive player.
Duchene talks begin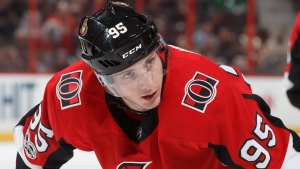 Bob McKenzie: In other news, Los Angeles based agent Pat Brisson's been in Toronto for the last number of days, not a big surprise as he represents John Tavares, Jake Gardiner amongst others on the Leafs but what is interesting is that Brisson and Ottawa Senators GM Pierre Dorion did break bread a little bit today. The obvious point of discussion there was preliminary talks about Matt Duchene's future, he's an unrestricted free agent at the end of the year and he's eligible for an extension at any time now unlike Mark Stone who can't get one until January 1. Lines of communication are open, nothing more than that at this point.