Insider Trading: Oilers narrowing GM candidate list
Insider Trading: Oilers narrowing GM candidate list
TSN Hockey Insiders Darren Dreger, Bob McKenzie and Pierre LeBrun joined TSN Oilers reporter Ryan Rishaug to discuss when Edmonton could start getting permission to speak to potential candidates for its vacant GM job, when Seattle will start looking for their first GM and give the latest from the first day of the general managers meetings.
---
Latest in Oilers' GM search?
While the Edmonton Oilers are still without a GM, they have their sights set on a number of candidates including other teams' assistant general managers. But when can the Oilers begin having discussions with people such as the Golden Knights' Kelly McCrimmon?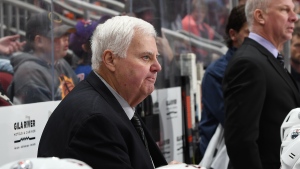 Dreger: It gets more complicated, considering the fact that we're talking about assistant general managers like Kelly McCrimmon, like Dave Nonis with the Anaheim Ducks. In a perfect world, Bob Nicholson and the Edmonton Oilers would like to start seeking permission to speak with these candidates in the next 10 to14 days. But if Vegas, perhaps Anaheim and some of the other teams involved say 'hands off until the end of our season,' that puts Nicholson and the Oilers in a tough spot. They're narrowing down the candidate list, I believe it's around 10 and it's got some interesting names on it: McCrimmon, Nonis, Keith Gretzky perhaps the incumbent doing the work on an interim basis. You've got Sean Burke, who's got a deep connection to Bob Nicholson through the Hockey Canada days in the mix, Mike Futa from the Los Angeles Kings, Mark Hunter will on that list and there will be a number of others. It's a wide net, but it sounds like it's going to be narrowed in the next 10 to 14 days.
Seattle looking at McCrimmon?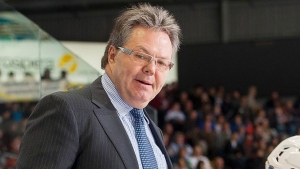 LeBrun: I can tell you who doesn't mind the fact that Kelly McCrimmon is off limits until the off-season – that would be the league's 32nd team. Kelly McCrimmon is near the top of that list for the expansion team in Seattle and while Seattle hasn't officially decided that they're going to hire their first GM this summer that's where they are leaning. They will want to talk to Kelly McCrimmon and that appointment would be two years before puck drop in 2021-22 for the Seattle team.
Day one of GM meetings in the books, no big pressing issue?
Unlike years prior, these general managers meetings don't have one giant issue hanging over them, so what is being discussed?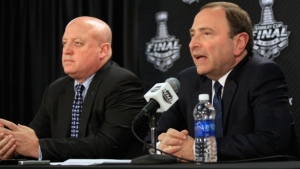 McKenzie: There is no doubt about it; this is a general managers meeting like no other that I can recall, there's no hot button topic. I [was] here at these general managers meetings right after Mark Savard got KO'd by Matt Cook and that was the advent of course of Rule 48. And there have been other controversies with video review in the past where general managers came in with loaded for bear saying 'we're going to change this, we're going to change that.' Today, the National Hockey League hockey ops department showed their goaltender interference, the offside challenges for this season. By the way, three out of four goalie interference challenges are being upheld, and one out of three offside challenges are being upheld. So, note to coaches, you have a better chance getting a reversal on an offside than a goalie interference. But nobody is upset and I think it's probably the kiss of death for the playoffs; we're sitting here saying 'there's not as much widespread controversy about these.' I know everyone has their one-offs, they don't like this or they don't like that, but generally speaking the general managers, fans, media – there's just not as much angst over video review now as there has been. So we'll see if that's the kiss of death for the playoffs, in Game 7 we'll get a toenail call on the offside.
LeBrun: And because of that we're talking about minor tweaks this week because the managers are happy with the game. One of them is being proposed by Jarmo Kekalainen of the Columbus Blue Jackets which is to go to a one-minute penalty in three-on-three overtime instead of the traditional two minutes. I think the idea here is about fairness, that it's hard to defend a four-on-three power play, it's a short overtime, and this would give the team that's killing the penalty a chance to hang in there so we'll see if the mangers support that before the end of the week.
Dreger: In speaking of penalties and the possibility of additional video review, I think there is a slim possibility that you could see a video review specific to a five-minute major penalty. What that would do is allow the referees on the ice to take a quick look to make sure that it's a major penalty. That's been discussed in a smaller breakup group, I expect it to get to the main floor here but I don't expect that it'll be introduced to the league anytime soon.