Insider Trading: Predators and Stars front runners for Nash?
TSN Hockey Insiders Darren Dreger, Pierre LeBrun and Bob McKenzie join host James Duthie to discuss where Rick Nash might prefer to land in a deal, the latest on Mike Green and if the Vegas Golden Knights will look to add prior to the trade deadline.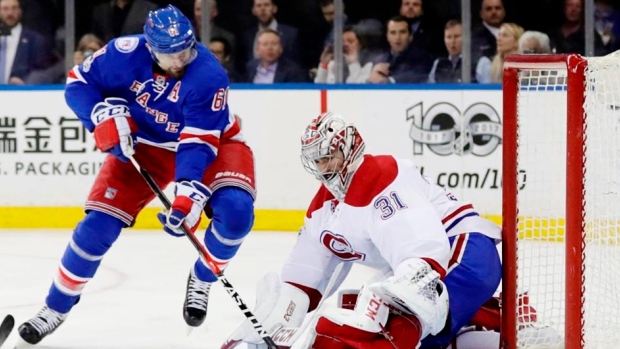 TSN Hockey Insiders Darren Dreger, Pierre LeBrun and Bob McKenzie joined host James Duthie to discuss where Rick Nash might prefer to land in a deal, the latest on Mike Green and if the Vegas Golden Knights will look to add prior to the trade deadline.
---
What's going on with the Rangers?
New York Rangers president Glen Sather and general manager Jeff Gorton sent out an open letter to the team's fans on Thursday, indicating changes will be coming to their lineup this season and for their long-term future.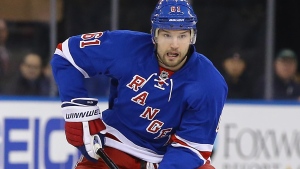 Darren Dreger: Well, Rick Nash's agent Joe Resnick is a popular agent, perhaps the most popular in the NHL right now just given the fact that Nash does have the contract and the trade protection, so I'm told that Resnick has spoken to at least eight, maybe 10 teams already who do have some interest in Nash. Now, as far as Nash and his interests, I believe that it is the Nashville Predators at number one, and perhaps the Dallas Stars at number two. For both of those clubs, it's a tricky one because they don't really want to shift the dynamics, certainly that's the case with the Predators, and you've got the history of Ken Hitchcock and Nash that dates back to the Columbus Blue Jackets, but is he a great fit in Dallas? As long as Martin Hanzal can stay healthy and they get Marc Methot back it might be a tough fit, but those two teams are high on Nash's list.
Pierre LeBrun: And it's certainly had an impact – Rick Nash being on the market – on what happens with Evander Kane. You're talking about two rental wingers, there are a lot of the same teams making calls on both guys, but I would say this: I don't think Jason Botterill, the general manager of the Buffalo Sabres, thinks that it's necessarily a bad thing in the sense that half a dozen teams are going to be bidding on Rick Nash, maybe he goes first and that sets the market. And if it is a three-asset haul for the New York Rangers, well, some of those teams will come to the Buffalo Sabres and say what do we pay for Evander Kane.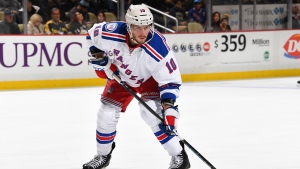 Darren Dreger: And you're looking at that fire-sale with the Rangers, 25 scouts in fact were at Wednesday night's game so the league is paying close attention to the business dealings of Jeff Gorton and the media has targeted Rick Nash and to some degree Michael Grabner but you have to look at the other pieces. I'm hearing that J.T. Miller, a very serviceable winger, is generating a bit of a buzz around the National Hockey League. And there's intrigue around Chris Kreider as well. You know he's still recovering from the blood clot in his right arm, he's expected to return perhaps in mid-March so there might be a low-level deal there.
What about head coach Alain Vigneault?
If changes are coming for the players, could the Rangers get a change in head coaching too?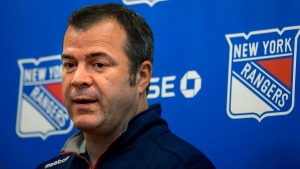 Bob McKenzie: And what now for head coach Alain Vigneault? He's very well respected by ownership and management and he's got two more years on his deal at $4 million per season. Having said that though even before the New York Rangers put this letter out and said to the whole world that we're going to get a lot younger, questions were being asked about whether the players were responding to Vigneault over the course of the season and if the Rangers do go a lot younger, Vigneault's prototype as a coach is dealing better with veteran players than young players. So there are lots of questions on Vigneault's long-term future with the Rangers.
Mike Green

in control of his future
Detroit Red Wings defenceman Mike Green is one of the most sought after blueliners on the market but he has a full no-trade clause. Is he driving the bus on his future?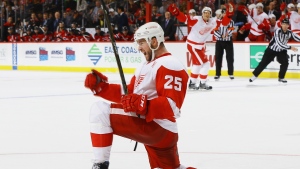 Bob McKenzie: There's not much question about that. He decides when he's traded, where he's traded, or if he's traded. There's no question the Red Wings want to get a return on Green and Green is okay with that. But I would suspect the list of teams that he's prepared to go to is relatively short. The price that the Red Wings are asking for is somewhere between what St. Louis got for Kevin Shattenkirk last year, a first-round pick and a prospect. Or between what Brendan Smith fetched last year as a rental for the Detroit Red Wings, that was a second-round pick and a third-round pick. Tampa Bay is the team that is often linked to Green. They certainly have a need for defencemen but they're considering all their options at this point. One would have to think that Tampa might be an aggregable spot for Green but we'll have to see how this one plays out.
What's the market for

Jack Johnson

?
What would the Blue Jackets be looking for if they decided to part ways with the 31-year-old?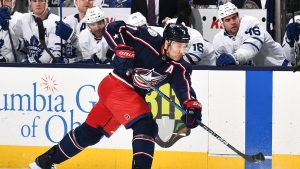 Pierre LeBrun: Well right now I think that the Columbus Blue Jackets, if they were to deal him today, I think they would feel comfortable that could go and get a low first-round draft pick but of course, as we've said before, you'd rather get a forward back in a trade. Now, if they can't get a forward back because they're in a playoff race, they could trade Johnson for that low first and then turn around and make a separate trade for a forward, so keep an eye on that.
Are the Golden Knights buyers?
Coming into the year, few imagined the NHL's newest franchise would be adding pieces at the trade deadline. But has their terrific season made them buyers?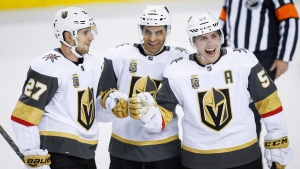 Darren Dreger: We're keeping a close watch on the Vegas Golden Knights. Now, we understand that they're not wanting to weaken their roster obviously. I mean this team could actually win the Stanley Cup. They're scouting a lot of teams, focusing on teams like the Ottawa Senators, so don't be surprised if George McPhee adds to his roster in an effort to legitimize that Stanley Cup push.