Insider Trading: What does the future hold for Duchene and Stone in Ottawa?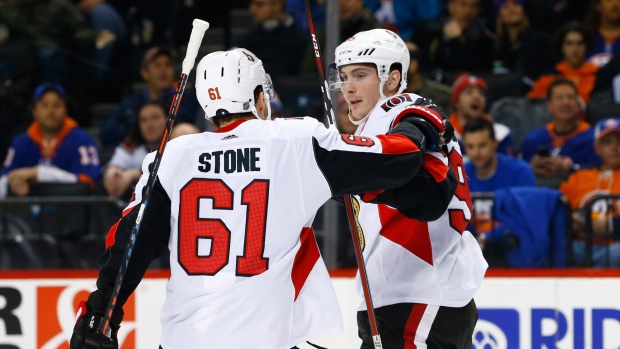 TSN Hockey Insiders Bob McKenzie and Darren Dreger joined host Gino Reda to discuss the latest on the Ottawa Senators contract talks, what the Carolina Hurricanes and the Detroit Red Wings might do at the trade deadline and the future of the CBA negotiations.
The latest on contract with
Matt Duchene

and

Mark Stone

Gino Reda: Ottawa Senators fans want to know what's going to happen with Matt Duchene. He's an unrestricted free agent at the end of the season if he doesn't get an extension. On Wednesday, Pierre Dorion, the Ottawa Senators general manager, flew all the way out to L.A. to meet with his representative Pat Brisson. So where do we go from here?

Darren Dreger: As we reported, they talked about the general parameters in term and the finances that would go into an extension to keep Matt Duchene with the Ottawa Senators. And Pat Brisson, who represents Matt Duchene, took that information to Matt Duchene, they've had a conversation, they're going to continue to talk over the next several days. The expectation is that Brisson and Dorion will reconnect next week. Now there's not going to be a conclusion next week, it's just another step in the process. Some point in the near future there's going to have to be a decision - stay or go? They're not there yet, but ultimately that is on Matt Duchene and that answer needs to come well in advance of the Feb. 25 trade deadline.

Bob McKenzie: Identical dynamic going on with Mark Stone and the Ottawa Senators and his representatives met with Pierre Dorion on preliminary talks earlier this week, but it's exactly the same sort of thing. Show me the money and decide whether or not you want to stay is basically where it's at. What a lot of people around the NHL are wondering are the Ottawa Senators going to do with defenceman Cody Ceci. Now he is not, unlike Stone and Duchene, he is not an unrestricted free agent, he's a restricted free agent, and yet there are teams out there that have been calling Ottawa to see if there's any interest in moving him, that's also a decision-making process that the Senators are going to have to go through between now and the deadline."
Trade deadline plans for Red Wings and Hurricanes
McKenzie: No question at all, the Rask for Niederreiter trade does not change what the Carolina Hurricanes have been trying to do and that is move one of their defencemen for help up front. Now Dougie Hamilton's name is out there a lot, but the reality is whether it's Brett Pesce or Justin Faulk, any right hand shooting defenceman who's not named Jaccob Slavin is available for the right price if the Carolina Hurricanes can pick up an offensive forward. Also they still have to resolve the situation with Micheal Ferland who's an unrestricted free agent at the end of the year, some questions whether they can re-sign him or not. There is a belief that owner Thomas Dundon did meet with Ferland on that and we will see where that goes from here."
Dreger: The rental market is expected to be bolstered soon and the Detroit Red Wings are likely going to add to that, when you look at some of the pending unrestricted free agents that Kenny Holland and the Red Wings could potentially wrestle with, there are some interesting commodities there. Jimmy Howard of course, an experienced goaltender, and there is a few teams that use an upgrade in that department, likely to be available. Beyond that you look at Nyquist, you look at [Luke] Glendening and then you look at the big hitting experience of Nik Kronwall on the back end. You could build the case that he could fit in the top four. There's some wonder whether or not he's mobile enough to be a quick paced, tempoed game in the National Hockey League at this stage of his career, but he's got an abundance of character. This is guy is a warrior, he's an excellent teammate, he's a proven winner, he knows how to win. So there will be a market there out of Detroit."
Optimistic or pessimistic about CBA talks?
McKenzie: Right now I would say the glass is more half full than half empty. You're right the 2020 World Cup was sacrificed because there wasn't enough time to guarantee labour certainty for 2020 to ensure that the NHL and PA could go ahead with that joint venture called the World Cup. That said the negotiations, CBA related, have been generally positive between the NHL and NHLPA. Before everybody gets doom-and-gloom scenarios, but a lockout, a potential lockout in 2020, there's every reason to believe the next seven months are absolutely critical. That's when the re-openers kick in - Sept. 1 for the National Hockey League, Sept. 15 for the Players' Association, that's when one side or the other can terminate the CBA effect of the Fall of 2020. Right now there's reason to believe that there might be enough common ground that they might be able to get a deal done in the next seven months. Even if they don't, they still got another year before the CBA would expire."