Jack, Anderson lead Nets over Raptors
The Toronto Raptors lost their second straight game and first divisional game of the season, falling to the Brooklyn Nets 109-93 Wednesday night at the Air Canada Centre. Two former Raptors, Jarrett Jack and Alan Anderson, led the attack on Toronto and finished with 24 and 22 points.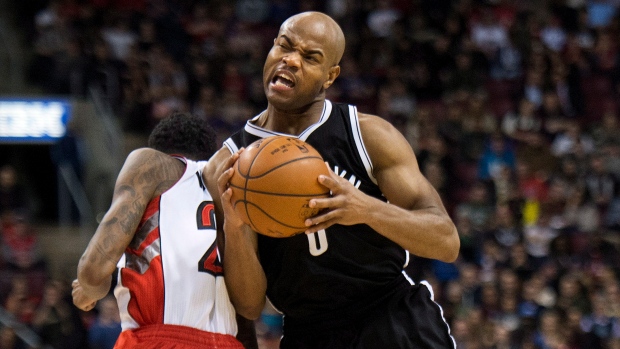 TORONTO - With a minute to go in Wednesday night's game, DeMar DeRozan threw his body into Bojan Bogdanovic, sending the big Brooklyn Nets forward sprawling to the court.
The moment spoke volumes about the Toronto Raptors' level of frustration.
DeRozan was ejected for the dangerous foul and made a bee-line for the locker-room, barely looking back as the Raptors dropped a lopsided 109-93 decision to Brooklyn.
"It was just a hard foul," DeRozan said afterward. "(The Nets) had got it going and they were rumbling like they were the No. 1 team in the East. I just wasn't going to let them get anything easy."
Terrence Ross scored a team-high 23 points in the lone bright spot for the Raptors (33-17), in their second ugly performance in as many games. The loss was Toronto's first in 10 games against Atlantic opponents.
"Tonight was just frustrating," DeRozan said. "The last two games we're not playing like ourselves. We showed we can do it, we did it in four games in five nights last week, (we showed) the type of team we are. We just have to be consistent with it and it's just frustrating when little things might not go our way and we let that trickle down to other things."
Kyle Lowry added 13 points and 10 assists, DeRozan had 13 points, Patrick Patterson came off the bench to score 11, while Jonas Valanciunas had 10 rebounds to go with nine points.
The Raptors were playing two nights after a lacklustre loss to the Milwaukee Bucks that coach Dwane Casey called "a stinker." He was similarly surly after Wednesday night's loss that saw the Raptors get off to a promising start, shooting 60 per cent in the opening quarter. But they never led by more than eight points, and trailed by as many as 10 before falling apart in the fourth quarter.
"We have to get back to the drawing board and be that team we were the last two weeks, that just didn't happen by osmosis, that's who we are and we've got to get back to that," Casey said. "For whatever reason, we've lost that work ethic, that fight, that grit, that grime and we've got to get that back."
The Raptors went into the fourth quarter down 76-72, and looked spent over the final 12 minutes. And when Bogdanovic drained a wide open three-pointer with 5:41 to go, it snuffed out virtually any hope of a Raptors comeback, to the dismay of the capacity crowd of 19,800 that included rapper and Raptors' global ambassador Drake.
Adding to the ugliness, Bogdanovic would sink another three on the Nets' next possession sending many of the fans to the exits.
"There is a sense of frustration because we are losing games that we know we are capable of winning," Lowry said. "We know what we want to be and where we can be and when we lose games like this its always difficult to swallow."
Former Raptors Jarrett Jack, with 24 points, and Alan Anderson, with 22, led the Nets (20-28).
The Raptors had beaten the Nets — the team that knocked Toronto out in the opening round of last season's playoffs — twice already this season, including last week's 127-122 overtime win at Brooklyn that was part of the Raptors six-game winning streak.
The Raptors had been the only NBA team that was unbeaten in their division.
Amir Johnson led the way with nine points in a first quarter that included a Raptors 13-0 run. Toronto took a 28-22 lead into the second.
The Nets battled back in the second, and an alley-oop dunk from Mason Plumlee put Brooklyn up by one. The Raptors took a 51-49 lead into halftime.
Brooklyn dominated the third and a jumper from Anderson gave the Nets a 10-point lead with just under three minutes left in the quarter.
The Raptors host the Los Angeles Clippers on Friday in Game 3 of their five-game homestand.