Jagr surprised by lack of NHL interest
Over five weeks into free agency, veteran forward Jaromir Jagr remains without a contract for the upcoming NHL season. Jagr told NHL.com he's been contacted by some teams, but no deal appears close at this time. "I didn't expect it would be so hard to get a job in the NHL this year," Jagr told NHL.com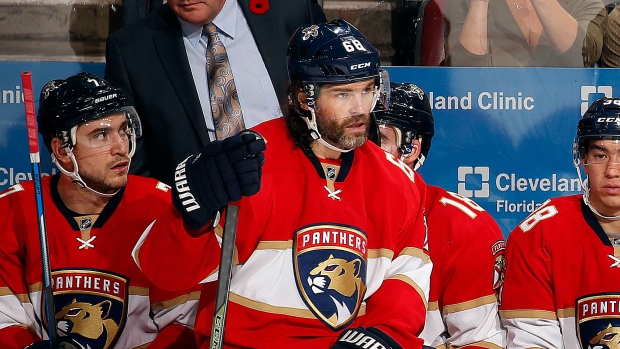 Over five weeks into free agency, veteran forward Jaromir Jagr remains without a contract for the upcoming NHL season.
The 45-year-old is coming of a 16-goal and 46-point season with the Florida Panthers, in which he recorded his 1,900th NHL point.
Jagr told NHL.com he's been contacted by some teams, but no deal appears close at this time.
"The most serious negotiations I have are with Kladno. Because Kladno has a smart owner who knows what he wants," Jagr joked as part owner owner of Czech team. "No, really, I don't have a clue. I leave it all on my agent (Petr Svoboda). There is a couple of teams that showed interest, but nothing specific yet."
Another NHL season would push Jagr past Gordie Howe for the most NHL games ever played in a career, he's currently 56 games back.
"I'm not thinking about the total number of NHL games," Jagr told the league's website. "It's true that when I got back to the NHL (in 2011), I told myself I would very much want to get to 2,000 (career) points. But it's still far away.
"I didn't expect it would be so hard to get a job in the NHL this year."
Larry Brooks of the New York Post reported last month Jagr was promised a deal from the Panthers after the Vegas expansion draft, before the Panthers went back on their word. Jagr said if he can't land an NHL contract to start the season, he'll play with Kladno, a second-tier team, and leave for the NHL if an offer comes.
The veteran forward, who scored 27 goals during the 2015-16 season, believes he could benefit from sliding down a team's lineup this season, he ranked sixth among Panthers forwards in average ice time last season.
"I know very well I'm not the same player like 10 or 15 years ago when I was able to win games by myself," Jagr said. "It's up to the coach what position he wants to use me. Maybe it would be even better for me if I played on a second or third line because I would play against worse players and worse defensemen. I didn't have as much luck in my entire career, I always had to face the top defensemen. Even in Florida, I always played against the best, which was always very tough."
Jagr, with 765 career goals, is 36 behind Gordie Howe for second all-time and said he believes he would need at least two more seasons in the league to catch him.
He was one of five Panthers to play all 82 games last season.