Jagr willing to wait for right NHL offer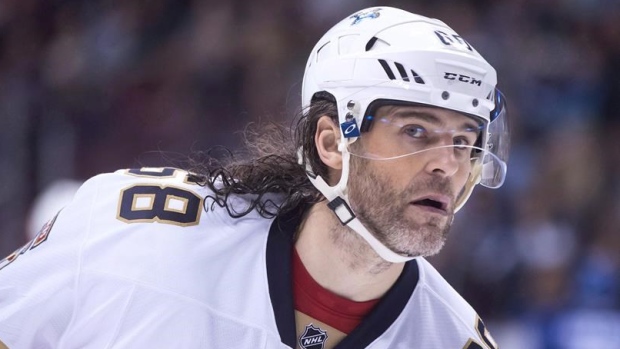 Jaromir Jagr might be 45, but he's in no rush.
The Czech icon told Česká televise in his native country that he still wants to win another Stanley Cup.
"I love NHL hockey. That's the reason I'm able to wait," Jagr told the network as translated by NHL.com. "So many people would love to play at least one game in the NHL. And me, if I didn't go to Russia, I would have the most games played of all players, so I was extremely lucky. I like the conveniences, environment and all the things around [the NHL] so much that still I want to extend my career there."
Playing in 2017-18 would be Jagr's 24th season in the NHL. Now an unrestricted free agent, Jagr spent last season as a member of the Florida Panthers where he appeared in all 82 games, scoring 16 goals and adding 30 assists. He became the league's second-leading scorer all-time last season with 1,914 points, now trailing only Wayne Gretzky.
Jagr confirmed there was interest from the Calgary Flames, but he says he's unsure how legitimate it is.
"The interest has been there from the [July 1,]" Jagr said. "But it's tough to consider how big that interest really was, especially when it's changing from one day to another."
Jagr says he hopes to play for a contender.
"It's about going to a team where they have, let's say, fewer wings; going to the team that has a chance to win the Stanley Cup; and going to the team that plays similar kind of hockey as I do," Jagr said. "And to the team where I know there [are] a couple of players that I could click with playing together."
He also admits that salary is something that factors into the equation.
"Money is a factor, too," Jagr said. "But not because of the money itself, but because if you took an offer with a minimal salary, it could easily happen that after the first half of the season they tell you, 'Bye,' and you don't have a spot on the roster anymore. Myself, I'm curious to see how it's [going to] turn out."
If Jagr appears in 57 more NHL games, he'll overtake Gordie Howe for most games played in league history at 1,768.
Still, the 13-time All-Star won't rule out a return to Europe.
"It wouldn't necessarily have to be the [Kontinental Hockey League,] but it has to be a top league," he said.
Jagr played parts of four seasons for KHL side Omsk Avangard earlier in his career.