Jays aren't hitting well enough to make anyone's boots shake
Dirk Hayhurst, TSN Baseball Analyst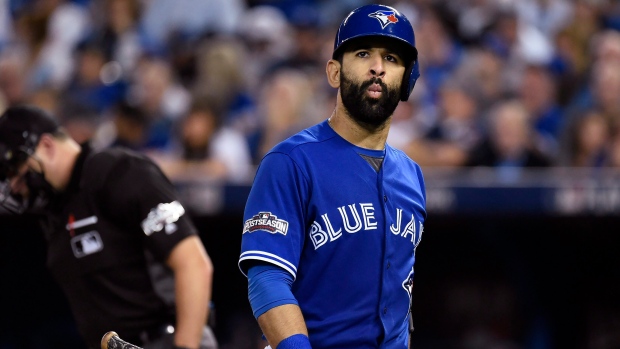 Sometimes you really wish that Jose Bautista would just stop talking.
Bautista's comment about how Cleveland rookie Ryan Merritt should be shaking in his boots at the prospect of facing the Blue Jays feels a bit like the latest Axe advertising campaign: Know when to shhhhh.
The Indians' starter for Game 5 has not thrown since Sept. 30 and only has 11 innings to his name in the big leagues. He will be nervous as all hell this afternoon, but it won't be because he's facing the Jays. It will be because he's about to start the biggest game of his career with no guarantee he comes back to the majors after this season.
If you don't know much about Merritt, that's okay. No one does. He's thrown 142 innings in the minors this year, striking out 92. His ERA in Triple-A is 3.70. He doesn't walk a lot of guys — only 23 at Triple-A and none in the bigs. He's a soft-tossing, contact-oriented, command-skewed lefty who is very hittable. Summation: the Blue Jays will, if they keep hitting like they have been, make him look like Randy Johnson.
That's where my beef with Bautista's comments about making a pitcher's boots shake comes in. The Jays won Game 4 of the American League Championship Series, but they did it by way of a homer and a bloop, followed by a series of errors and miscues by the Indians. There was reliever Bryan Shaw's error, a passed ball and Brandon Guyer's misplay of a gapper.
Even Edwin Encarnacion's RBI double in the seventh inning came thanks to a lucky bounce off the mound after Cleveland second baseman Jason Kipnis has shifted up the middle. It could have very easily have been the tenth double play the Jays grounded into this postseason, and their 169th (number one in baseball!) this season.
The Blue Jays still aren't hitting well enough to make anyone's boots shake. And, despite Merritt's rookie nerves, he could sneak a clean turn of the order past the Jays' offence, which would be more than enough to allow a fully rested Indian's bullpen to take over. The Cleveland game plan would then look something like this: three innings from Andrew Miller, five outs from Shaw, five outs from Cody Allen and one out from anyone else. That's the ball game. If Cleveland loses they get an off day to rest, reset and then run the bulls at home in Game 6.
My colleague Steve Phillips dropped the scorching hot take Tuesday that if the Jays win Game 5, they'll win the series. For that prophecy to come true, the Blue Jays bats still need to heat up. They should get at least a little warmer simply by virtue of seeing Cleveland's starters for a second round.
But what about Cleveland's bats? They've not exactly been hot, hitting just .164 this ALCS. And yet, the Indians have been winning. Don't you think that if it the second time around theory works for the Jays, it will also apply to the Indians? They may not have the explosive slugging potential the Jays do, but they certainly don't lack for offensive options.
Don't think of Merritt as today's starter. Instead, think of him as the first guy out the Indians' bullpen, who happens to throw the first pitch for the club. If he gets into trouble, he'll be replaced by the other more experienced arms. They Jays will have to strike quickly and frequently if they want to take advantage of this the opportunity.
If anything, the Jays should be shaking at the grim reality that, while they may get hot, the Indians have plenty of rally ice in their bullpen. If the Indians get hot, however, the Jays may not have the tools to cool them off.