Jays' Donaldson to have MRI on hip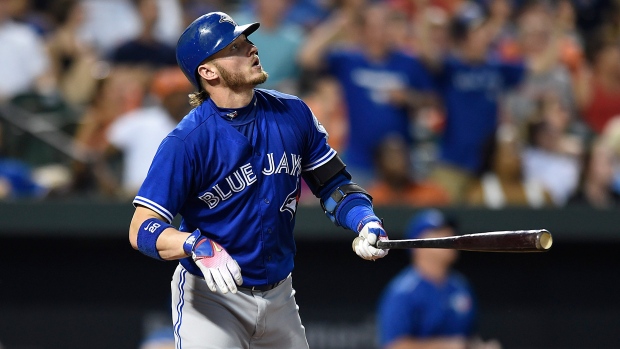 As if a 3-8 start to this crucial month of September wasn't enough for Blue Jays' fans to worry about, another dose of hard-hitting reality got pumped into the bloodstream late Wednesday morning with word Josh Donaldson requires an MRI on his ailing hip.
The defending American League MVP missed the entire series against Tampa Bay and a date for his return to the lineup remains uncertain. As of less than an hour before Wednesday afternoon's first pitch, general manager Ross Atkins expected Donaldson to be on the team's flight to Anaheim this evening.
"He's obviously a special player. He's integral to this team," said Atkins. "You can't prepare to lose a player of that calibre and level. However, it does take 40 players, it takes 25 players, it takes a team to win. We do have depth in that area and feel good about our options, but this guy is the reigning MVP."
For as long as Donaldson is unavailable, the Blue Jays will have either Darwin Barney or Ryan Goins playing third base. It was Goins, a left-handed hitter, in the starting lineup against Rays' right-hander Alex Cobb on Wednesday.
Donaldson was in the conversation to defend his AL MVP at the time of his injury, although he was in the midst of a 0-for-23 skid at the plate. Still, Donaldson is slashing .284/.400/.552 with 34 home runs and a league-leading 112 runs scored for the season. Barney and Goins won't replace his production. Cross your fingers and hope one of them gets hot if Donaldson isn't back soon.
This, as you can imagine, isn't a happy time.
"He's more miserable than any player that exists that we're in this hunt and he can't contribute. There's no doubt about that," said Atkins.
The timing of the injury couldn't be worse. The team's record this month reflects an all-around dip in performance. The pitching staff is giving up almost six earned runs per game in September (5.94 ERA), while the club is struggling to score runs unless it hits home runs. The defence, at times, has been suspect.
"The concerns are obvious but they're also short-term," said Atkins. "This is a well-balanced team that's done a lot of things well over the course of the year and right now we're obviously not clicking on all cylinders. When we do pitch well there's not quite enough offence. When we have scored we haven't pitched as well as we could have. I would never make any excuses by any means, we need to be better than we are today, but you can't point to any one aspect of our team or one person."