Jays' Hernandez (back) out tonight vs. A's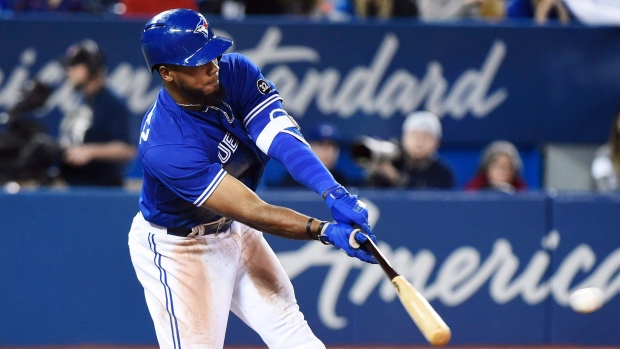 According to manager John Gibbons, Toronto Blue Jays outfielder Teoscar Hernandez's back tightened up on him yesterday in the team's game against the New York Mets and he will not play tonight against the Oakland Athletics. However, Gibbons doesn't expect the 25-year-old to miss much time.
Gibbons says right-handed pitchers Joe Biagini and Sam Gaviglio could both be used in relief. Biagini is not yet confirmed for Saturday's start.
In other roster notes, Gibbons isn't sure when second baseman Devon Travis will return to the major-league roster. "I wasn't really looking at any timeline. The important thing is to get him going." The 27-year-old got off to a slow start offensively this season, batting .148/.212/.246 with 18 strikeouts in 66 plate appearances and was optioned to triple-A Buffalo on April 29 to replenish a overly taxed bullpen.
Meanwhile, infielder Aledmys Diaz (left ankle) is progressing in rehab but still has no timeline for a return.