Jazz roll over Nuggets after sluggish start
Rudy Gobert scored a career-high 20 points, grabbed 12 rebounds and had two blocks as the Utah Jazz cruised past the Denver Nuggets 98-84 on Wednesday night. Gobert was coming off his 22nd double-double of the season Monday.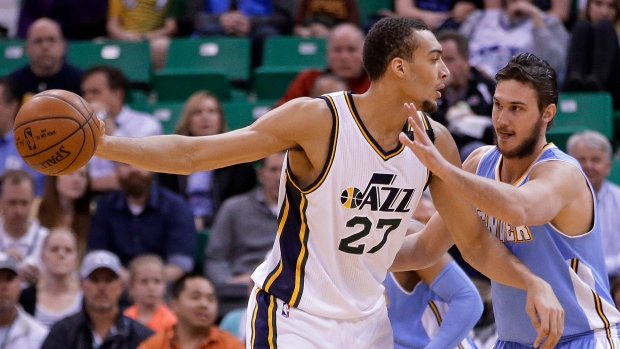 SALT LAKE CITY - The rapid development of Rudy Gobert continued as the Utah Jazz centre displayed another facet of his game against the Denver Nuggets.
The 7-foot-1 Frenchman has made a name for himself with his defensive prowess and highlight-reel blocked shots, but Gobert showed off an array of offensive moves that helped the Jazz roll over the Denver Nuggets 98-84 on Wednesday night.
Gobert scored a career-high 20 points, grabbed 12 rebounds and had two blocks while recording his 22nd double-double of the season.
"You see those things every game and tonight there were more of them," Jazz coach Quin Snyder said. "He's working at it. ... People are captivated by him because we talk about him a lot. And deservedly so.
"I think he's a little further along offensively than people realize."
There were the normal put-backs and tip-ins, but Gobert broke out a spin and other moves from the block against the Nuggets. He finished 7 for 7 from the field and was 6 for 11 from the free-throw line.
"I'm getting more confident," Gobert said. "My legs are getting stronger. I'm getting lower and closer to the rim. I've got a good touch, so it's pretty easy to finish when I'm low on my legs.
"I feel like I've just got to stop thinking sometimes. I've just got to be aggressive and most of the time they just foul me."
Derrick Favours scored 19, had seven rebounds and three blocks as the Jazz frontcourt dominated. Rookie Dante Exum, arguably, played his best game of the year and had a career-high 12 assists.
Kenneth Faried scored 19 points and added 10 rebounds for the Nuggets (28-47), while Ty Lawson finished with 15.
The Nuggets were hot offensively out of the gate, scoring 29 first-quarter points on a Jazz defence that allowed 29 points in the first quarter just once in March. That all changed in the second quarter as Trey Burke came off the bench aggressive and helped the Jazz start a 30-9 run with an array of jumpers and dribble-drive floaters.
Snyder said Utah (34-41) cut down the defensive breakdowns and the Nuggets went cold, shooting 5 for 23 in the quarter and 34.7 per cent for the game.
The third quarter was much of the same as the Jazz moved the ball quickly on offence and pushed the lead to 81-59.
The Nuggets are 8-8 since Melvin Hunt took over as coach March 3. He said it's "not important at all" to finish the season with a winning record.
"I haven't even thought of it," Hunt said. "Every now and then I'll see the record that we've had since I've taken over, 'Oh really, we're 8-7.' Because I'm focusing on today. Trying to win the jump ball tonight. Not worried about the next step."
TIP-INS
Nuggets: The Jazz waived guard Ian Clark on March 26 and the Nuggets claimed him off waivers on March 30. Hunt said before the game: "Hopefully he's a Jazz killer." ... The Nuggets were outrebounded 49-39. ... Denver won the turnover battle 15-6.
Jazz: Favours returned after missing the last two games with back spasms. ... Rodney Hood missed the game after suffering a concussion against the Timberwolves on Monday. ... Elijah Millsap had a career-high nine rebounds.
SLUMPING?
Lawson averaged between 16.1 points and 17.2 each month between November and February. Those numbers dropped to 11.9 in 16 games in March. The organization fired coach Brian Shaw on March 3 and replaced him with Hunt, who said Lawson's role hasn't changed.
"I love the fact that he looks like a point guard," Hunt said. "They're kind of the glue that pulls everything together. He's kind of the guy that does that for us. Some nights, it might be scoring. ... Then, it may not even translate in points or assists. ... He and Jameer Nelson have saved my tail already in my 15 games. They know what I want and they've gone out in court and orchestrated — put guys in positon.
"I heard people talking about a slump. The dude's been great. He's playing some of the best basketball I've seen him play in my five years here."
UP NEXT
Nuggets: At San Antonio Spurs on Friday.
Jazz: At Phoenix Suns on Saturday.