Jones looking to keep world women's title in Canada after tough Olympics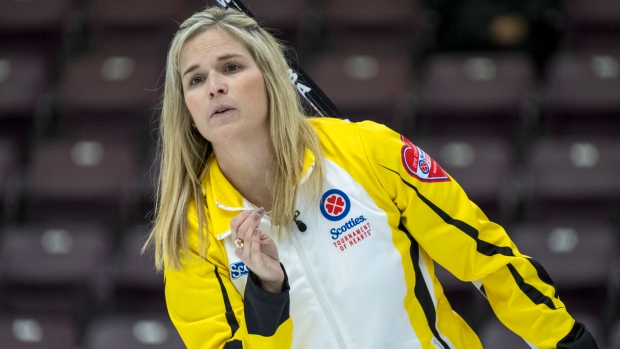 Canada could use a "pick me up" on the international curling stage.
For the first time in Olympic history, both the Canadian men's and women's teams failed to take home a medal at the Winter Games, held last month in Pyeongchang, South Korea.
The result may be surprising, but it's hard to call it shocking as the competition level in curling around the world is the highest it's ever been.
Now, it will be up to Jennifer Jones and her Winnipeg crew to take back some of that curling pride as they prepare to defend Canada's title at the world women's curling championship in North Bay, Ont., March 17-25.
You can watch all of Canada's games throughout the week at the North Bay Memorial Gardens on TSN.
Ottawa's Team Rachel Homan went 13-0 at last year's world championship in Switzerland, marking just the second win for Canada in the prestigious event in the last decade since Jones did it in 2008.
Team Jones will represent Canada on home soil after the 43-year-old skip won her sixth career Scotties Tournament of Hearts in February in Penticton, B.C. Shannon Birchard was Jones' third at this year's Canadian championship as Kaitlyn Lawes was in Pyeongchang winning Olympic mixed doubles gold with partner John Morris. Lawes will be back with the team in North Bay while Birchard will serve as an alternate.
Their Scotties' triumph was a good bounce back for Jones after a disappointing result in December at the Roar of the Rings Olympic trials. The defending champs started 5-0 but then dropped four straight, including a 6-3 semi-final loss to Team Homan. Overall, Team Jones owns a 65-20 record this season with victories at the Masters of Curling and National on the Grand Slam circuit.
This will be the last major competition for the foreseeable future for super second Jill Officer, who is stepping away from the game at the end of the season. Officer has curled with Jones for over two decades, winning six Canadian championships, one world title and one Olympic gold medal in the process.
Officer will be replaced by former Team Chelsea Carey second Jocelyn Peterman for the 2018-19 season.
The field in North Bay may not be as strong as the one in South Korea, but Team Jones still has a lot of hard work ahead of them if they want to keep the championship in Canada.
Game 1 – Czech Republic (Anna Kubeskova)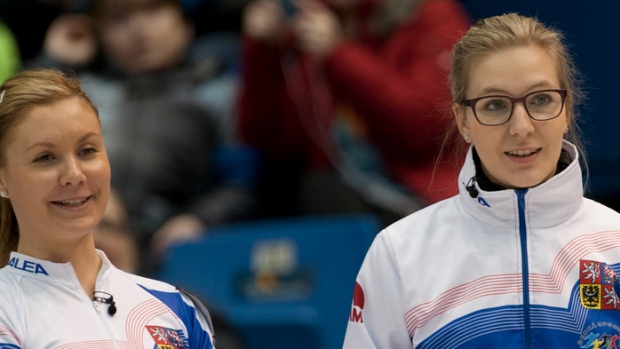 Saturday, March 17 at 2 pm ET on TSN 1/3
Season Record: 23-23
The Czechs are led by 28-year-old skip Anna Kubeskova who will be making her third – and second straight – appearance at the world women's curling championship.
Kubeskova and company were one of four rinks that finished with a 5-6 record at last year's worlds in Beijing, China.
The native of Prague represented her country at an Olympic qualifier in December, but finished with a 3-3 record as Czech Republic has yet to qualify for the Olympics in women's curling.
Team Kubeskova beat Russia's Team Anna Sidorova to win the International ZO Women's Tournament in November.
Canada will be the big-time favourites to take this one, but as we saw with Homan against Denmark at the Olympics, upsets can happen.
Game 2 – Switzerland (Binia Feltscher)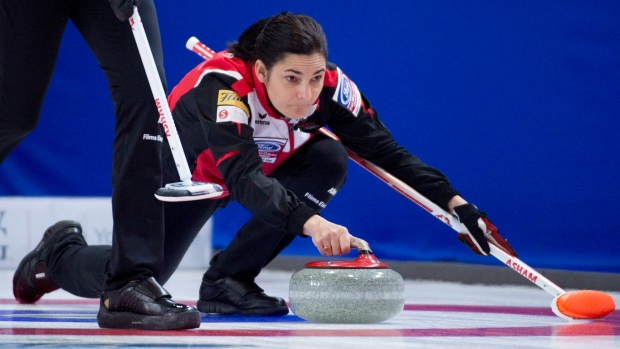 Saturday, March 17 at 7pm ET on TSN1
Season Record: 47-24
Canada will get an early test from Binia Feltscher and her crew from Flims, Switzerland.
The 39-year-old has an impressive curling resume to say the very least.
Feltscher won Olympic silver in 2006 as a vice for Mirjam Ott before winning two world championships as a skip of her own team in 2014 and 2016. She beat Homan in the 2014 final and Satsuki Fujisawa of Japan in 2016.
Feltscher's two world titles are part of a five-year stretch from 2012 to 2016 in which the Swiss women won the world championship four times.
Team Feltscher had to turn things around quickly at their national championship as they dropped their first two games before rattling off 10 in a row, including three straight against 2015 world champion Alina Patz. On tour, Feltscher has made the playoffs in eight of nine events and captured the Glynhill Ladies International in Scotland.
However, just like Jones, Feltscher had a disappointing performance at her country's Olympic trials, posting a 1-4 record.
Winning a third world title should put Feltscher in the conversation for one of the best skips in history and Team Jones will have their hands full in this round-robin matchup.
Expect the Swiss to be in the playoffs in North Bay.
Game 3 – Germany (Daniela Jentsch)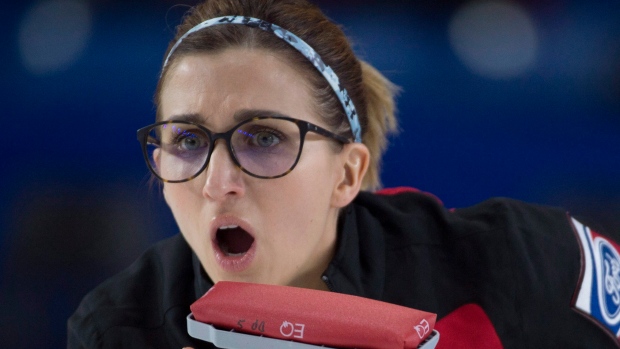 Sunday, March 18 at 7 pm ET on TSN1
Season Record: 29-34
This will be the fourth consecutive year Daniela Jentsch will represent Germany at the world women's curling championship.
The 36-year-old skip will look to get to a .500 record for the first time in North Bay.
Team Jentsch won the Latvia International Challenge in October, but struggled at the European Championships (3-6) and the Olympic qualification event (2-4).
Jones will be the favourites once again as Jentsch will probably be on the outside looking in come playoff time.
Game 4 – China (Yilun Jiang)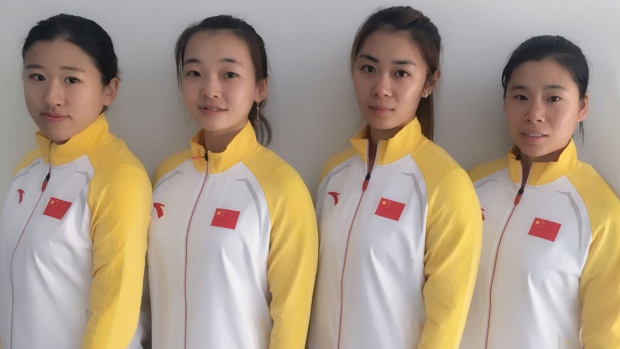 Monday, March 19 at 2 pm ET on the TSN Network
Season Record: 25-17
Yilun Jiang, 25, and her rink from Harbin, China, will compete in their first world women's championship in North Bay.
Team Jiang struggled to start the 2017-18 season, but have made the semi-finals in their last three events.
Jiang served as Bingyu Wang's alternate at the 2014 Olympics in Sochi. Wang would usually represent China at the world championship, but is coming off an appearance at the Olympics.
This should be a great experience for Team Jiang even if they finish near the bottom of the standings.
Game 5 – Denmark (Angelina Jensen)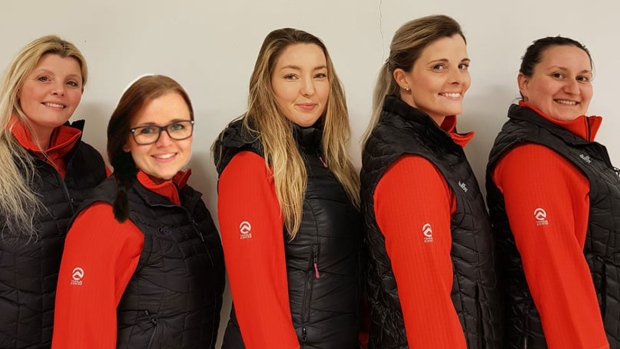 Tuesday, March 20 at 9 am ET on the TSN Network
Season Record: 5-7
It's been a long wait but Angelina Jensen is making her return to the international curling stage.
For the first time since 2009 in Gangneung, South Korea, the 44-year-old will skip the Danes at the women's worlds. She put up a 9-2 record in the round robin that year before losing in the semi-final to Sweden's Anette Norberg. However, she did come away with some hardware thanks to 7-6 victory over Jones in the bronze-medal contest.
Two years earlier at the worlds in Japan, Jensen made it all the way to the final where she lost to Canada's Kelly Scott.
At the 2010 Olympics in Vancouver, the Dane finished with a 4-5 record and was two wins out of the playoffs.
So Jensen has had some success in the past, but her crew will be in tough to reach similar heights in North Bay as they've only played in two events this season on the World Curling Tour.
At the Olympics last month in Pyeongchang, Denmark's Madeleine Dupont upset Homan in the round robin, so Jones will try to even the score on behalf of her fellow Canadian skipper.
Game 6 – Scotland (Hannah Fleming)
Tuesday, March 20 at 7 pm ET on TSN1
Season Record: 36-23
Another rookie squad at this year's worlds will be Team Hannah Fleming of Scotland who shocked eight-time national champion Eve Muirhead in their qualifier.
Muirhead, who has represented the Scots at the past three world championships, was just coming off a tough Olympic schedule in Pyeongchang, losing to Team Satsuki Fujisawa of Japan in the bronze-medal game.
Fleming's rink took full advantage of a Muirhead team who may have not been at their best.
Aside from their Scotties championship, 27-year-old Fleming and her Lockerbie team won the consolation round at the International Bernese Ladies Cup in January and have made the playoffs in six of nine WCT events in 2018-19.
Team Fleming are on high and it will be interesting to see if they can keep the good times rolling in North Bay.
Game 7 – South Korea (Eunjung Kim)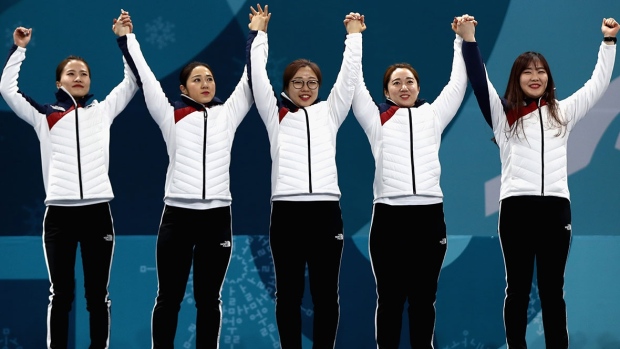 Wednesday, March 21 at 2 pm ET on the TSN Network
Season Record: 50-19
Team Eunjung Kim became their country's heroes at the Winter Olympics last month.
The South Koreans started the week off with an impressive victory over the gold-medal favourites from Canada and they never looked back.
Kim's squad finished first after round-robin play with an 8-1 record and was on the front page of every newspaper and the highlight of many newscasts in their home country.
It ended with a silver medal after falling to Sweden's Anna Hasselborg but the effect they had on South Korea can't be measured by the colour of their medal.
The rink from Uiseong are 31 games above .500 this season with a victory at the Paf Masters and the Pacific-Asia curling championships in their back pockets as well as a semi-final appearance at the Canadian Open on the Grand Slam circuit.
Kim, 27, appeared in her first world championship last year in Beijing and finished with a 5-6 record.
Expect an improvement this year, with Team Kim having a real shot to be a top contender internationally for years to come.
Game 8 – Sweden (Anna Hasselborg)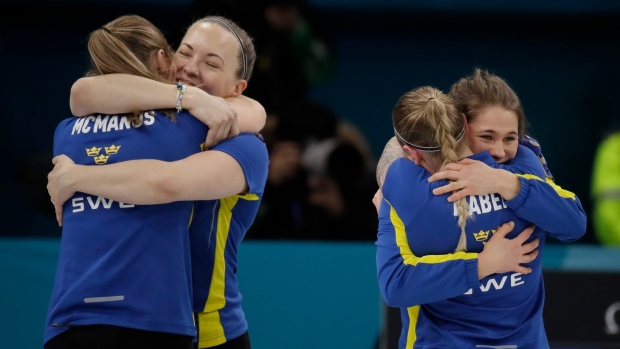 Wednesday, March 21 at 7 pm ET on the TSN Network
Season Record: 59-17
Anna Hasselborg and the Swedes are on top of the curling world.
They are the Olympic champions, after all, since standing atop the podium in Pyeongchang last month.
Hasselborg, 28, and company will appear in their second career world women's championship. The 2010 world junior champ finished with an 8-3 record last year, eventually falling to Team Muirhead in the bronze-medal contest.
Aside from their Olympic glory, Team Hasselborg has appeared in four finals in 2017-18, losing each time.
Sweden will arrive in North Bay having just reached the pinnacle of sport, so it wouldn't be shocking to see them suffer from an "Olympic hangover" to start the week.
Game 9 – Russia (Victoria Moiseeva)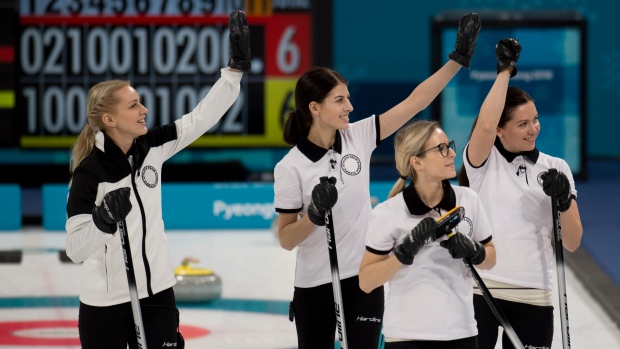 Thursday, March 22 at 9 am ET on the TSN Network
Season Record: 59-29
The Russians will be the third and final Olympic rink Jones will face in the round robin.
Victoria Moiseeva, representing the Olympic Athletes from Russia, didn't have a stellar performance in South Korea as they finished second last with a 2-7 record.
And this will be the first worlds appearance for the rink from St. Petersburg after Anna Sidorova represented the country at the event for the past eight years. Sidorova will serve as an alternate for Team Moiseeva in North Bay.
Team Moiseeva, the 2016 European champions, have competed in a ton of curling events in 2017-18 and have picked up two victories.
They won't be the favourites, but expect an improvement from Pyeongchang.
Game 10 – Italy (Diana Gaspari)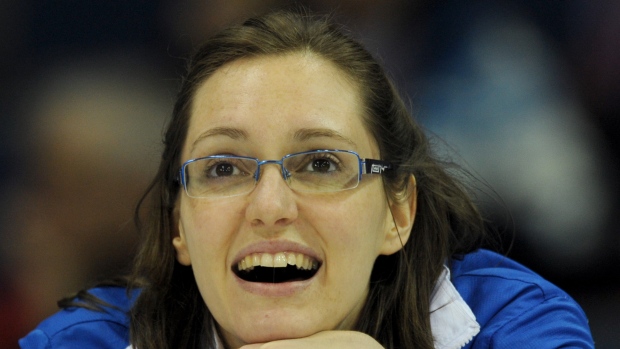 Thursday, March 22 at 7 pm ET on TSN 1/3
Season Record: 19-22
Italy's Team Diana Gaspari might be Canada's easiest matchup at the worlds.
Gaspari, 33, has plenty of experience at the world women's championship, but little success. The Italian has appeared at the event 10 times in her career and has posted a record of 26-80, never coming close to the playoffs. They went 3-8 last year in Beijing.
Team Gaspari have played in seven events this season, mostly notably an Olympic qualifier where they fell to Denmark in the final. They also lost to Team Kim in the quarters of the Paf Masters Tour.
Jones should take this one handily, with Gaspari likely destined for two to three wins once again.
Game 11 – Japan (Tori Koana)
Friday, March 23 at 9 am ET on the TSN Network
Season Record: 5-14
With Japan's regular rink, Team Fujisawa, fresh off winning Olympic bronze, the Asian nation will send Tori Koana and her Yamanashi crew to North Bay.
This foursome has a sub .500 record this season against less than stellar competition so they might find it tough to compete at their very first world women's championship.
Team Jones should have a playoff spot locked down by this point of the tournament and will just try to stay sharp against the Japanese.
Game 12 – USA (Jamie Sinclair)
Friday, March 23, at 7 pm ET on TSN1
Season Record: 54-28
After losing a heartbreaking best-of-three series to Nina Roth at the United States Olympic curling trials, St. Paul's Jamie Sinclair made up for it by beating Cory Christensen in the national championship game.
As a result, Sinclair, 26, and her Minnesota crew are headed to their first world women's championship.
Team Sinclair have played very well this season with victories coming at the AMJ Shorty Jenkins Classic (beating Krista McCarville in the final) in September and the U.S. Open of Curling (beat Roth in the final) in early January. They made it to the final of the International Bernese Ladies Cup, falling to Team Wang of China.
Sinclair and company also appeared in three Grand Slam events, most notably the Masters of Curling where they were edged by Team Jones, 5-4, in the quarter-final. Jones also beat Sinclair, 7-1, at the Canad Inns Women's Classic.
Sinclair leads a good, young rink who has been battled tested this season against very experienced teams. They won't be top contenders in North Bay, but could squeak into the final four as an under the radar squad.