Jonquel Jones will be back
On what's next for the Connecticut Sun's Jonquel Jones after her MVP season.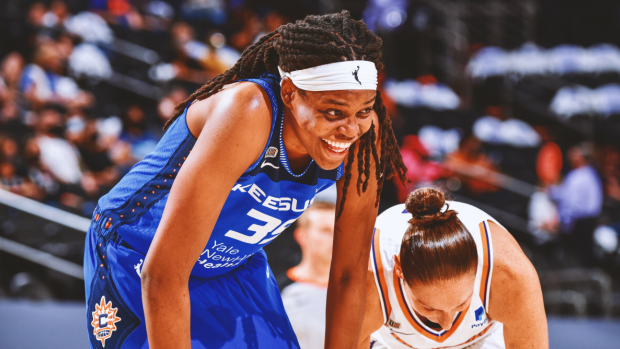 Earlier in the summer, Kevin Durant said that watching Jonquel Jones reminds him of his own game. One of the tallest players in the WNBA, Jones shares Durant's size, skill and aesthetic slipperiness as a scorer. Her bag runs deep, with elite three-point shooting touch and the height to shoot over defenders made even more dangerous by the ability to put the ball on the floor and bust Euro-steps, step-backs and Dirk Nowitzki fades.
The comparison is a well-meaning one, for sure, but it still doesn't do justice by Jones. She's a true big, with all of the roles and responsibilities that comes with. The things that you could say about her are wild, especially when taken together. She's one of the WNBA's best rim protectors, rebounders, all-around defenders, low-post finishers, and all that in addition to everything that remind Durant of himself. She's sort of like Durant and sort of like Rudy Gobert and sort of like Dirk Nowitzki and sort of like Serge Ibaka and sort of like a Beyoncé rap verse. Her game is an absurd combination, something that feels unreal and unfair even — or especially — while you watch.
Her season is over now. After entering the playoffs on a 14-game winning streak and as the No. 1 seed with a double-bye for the first two rounds, the Connecticut Sun lost three of four to the Chicago Sky in the WNBA semi-finals and were unceremoniously bounced. It was an abrupt ending to a season where everything else went right. Jones won this season's MVP award and led the Sun in points (19.4 per game), rebounds (11.2), blocks (1.3) and threes (1.6). Last year, she was one of multiple players to opt out of playing in the WNBA's bubble season, citing pandemic concerns. The Sun made a miracle run and were just a game short of the Finals last season without Jones, and the idea was that they would get her back and go all the way this time.
Against Chicago, Jones failed to have her usual impact. She ran into a buzzkill by the name of Candace Parker — 35 years old and still one of the best defensive bigs in the game — as well as persistent Sky double-teams. It was still a competitive series, for the most part. Game 1 was a double-overtime marathon and the Sun lost Game 3 by just three points, but Jones scored just four points in Game 2 (ironically, Connecticut's lone win in the series) and ten in Game 3. A bounce-back Game 4 wasn't enough to put off elimination.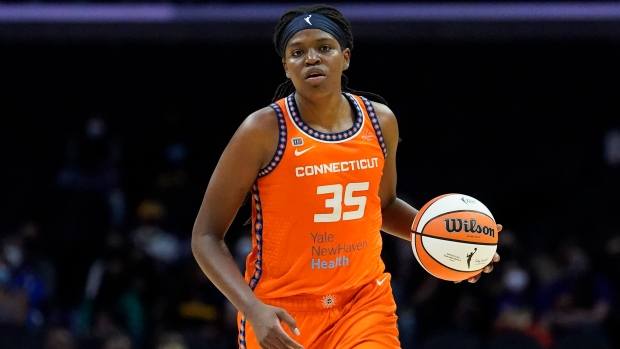 The Sun also reached the Finals in 2019. They lost that series to the Washington Mystics, a historically great shooting team in Elena Delle Donne's 50-40-90 year, but that season was Jones' true superstar turn after she won the league's Sixth Woman of the Year award in 2018 and Most Improved Player the year before. Success this year, on top of the MVP award, would've been a perfect narrative arc.
It's good, then, that the narratives don't really matter. Jones is just 27 years old. She'll be back for more, especially considering how fast she's become great. It was nice to see her finally get her flowers this season, since it felt like she wasn't getting her proper love before. The WNBA is led by all kinds of skilled bigs, from the throwback post play of A'ja Wilson and Brittney Griner to the inside-out games of Breanna Stewart, Elena Delle Donne and Candace Parker. Especially since the mid-2010s or so, basketball has been fixated with the idea of unicorns, or players with the size to play inside as well as the skill to play on the perimeter. Jones qualifies, but you just wouldn't hear her name as often as Stewart's. Maybe it's something that comes with playing in Connecticut, a minor market that lacks mainstream support, but marketing could never have anything to do with the game. Jones was the best player in the WNBA this season, and this year was a reminder that basketball is better with her in it.
Now, Jones is going to be a free agent in the offseason. She'll be eligible for the WNBA's super-max contract, which starts with a $228,094 base salary in 2022, and the Sun can also use the "core player" designation to re-sign her. If she returns to Connecticut, the Sun will get most of their core back, including DeWanna Bonner, Alyssa Thomas and Brionna Jones. Thomas, out of the lineup for most of the season after Achilles surgery, made a surprise return for the playoffs and gave the Sun new energy with her game — all grit, floaters, basketball IQ and elbows in your chest. In her absence, Brionna Jones emerged as an All-Star and the league's Most Improved Player herself. We still haven't seen this Connecticut Sun team in a full-squad capacity. Jonquel sat for Bonner's first season in 2020, and then Thomas was injured this year. They could be scary at full potential.
After their Game 4 loss, Sun head coach Curt Miller told reporters that Jones is still growing as a player. She's going to work out with Durant in the offseason; maybe she comes back more aggressive in the offense or a better passer against pressure defenses like Chicago. She was already one of the top scorers in the league this year and nearly doubled her assists average too, so what we're really talking about is Jones becoming even more absurd. That's sort of her whole appeal. She would be hard to believe if she wasn't real.