Kajan Johnson thinks the UFC ranking system needs tweaking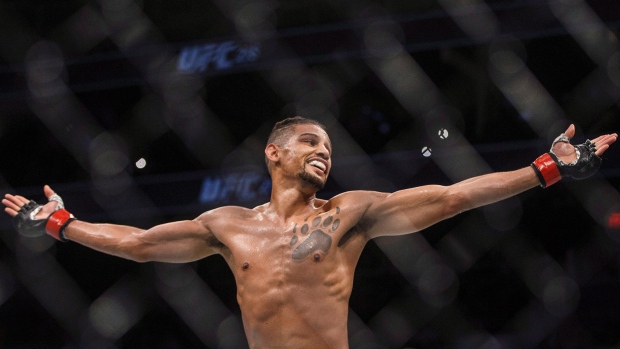 On top of being an advocate for fighter rights and a potential fighters' union, Canadian lightweight Kajan Johnson has some ideas for how to alter the current UFC rankings system.
Johnson, who faces Stevie Ray this Saturday at the UFC's Fight Night card in London, England, has noticed that several ranked fighters have started to be selective of their opponents based on the inability to advance their rankings position with a win.
"I just talked to one of my buddies, Ryan Hall, and that's what the UFC is telling him is they can't get him a fight because nobody wants to fight him. Well, too bad," Johnson told The TSN MMA Show.
"At this stage in the game you shouldn't get all that much of a choice. If their rank makes sense and they're comparable to you, you can't just not fight them because, 'That's not a good fight for me.' Everybody should be a good fight for you. Don't you think you're the best in a world? If you're not, you probably shouldn't be in the UFC."
Many have been critical of the UFC's rankings system in the past and Johnson has some ideas on how to correct the issue.
"I know that it should be an outside, independent body. I like [the website] Fightmatrix a lot, I like the way that their rankings system works because it's all just mathematical. It's just this giant formula that they just punch people's stats in and it shoots out, 'Okay, this person is 264th in the world,'" said Johnson.
"I think that if we all just took Fightmatrix, the world would be a better place because they control the rankings, it's all mathematical. It removes human error from it and removes human bias and prejudice because there are giant conflicts of interest if you have any vested interest in anybody that's ranked."
Johnson also believes that fighters should be mindful of the method in which they defeat their opponent in order to move up the rankings without having to face higher-ranked opponents.
"Me fighting a guy that's ranked just behind me is going to do just about as much for my career as me fighting a guy that's ranked just above me," he said. "As long as when I fight him, I make sure that I come out the clear winner. It's better for me, even if the guy's ranked behind me, it's better for me to go knock him out in one round, then it is for me to go out and win a split decision against a guy that's barely ranked ahead of me. The way you do it has much more to do with if you're moving up or not than the person you're beating."
However, Johnson does take issue with the idea that a UFC newcomer can be ranked after a single victory over a ranked opponent.
"It's really annoying actually. That's the thing, you can't just rank the top-15 and then if you fight anybody outside that top-15 then it doesn't really affect your ranking. That's the problem," said Johnson. "The whole division should be ranked and not by the UFC, not by the people who stand to make the most money by ranking the most marketable people and keeping out the people that may not be as marketable, but have much more skill merit."
Johnson, who has won three straight fights, is currently unranked and fights Ray, also unranked, who recently re-signed with the UFC after some turbulent negotiations.
UFC Fight Night: Werdum vs. Volkov is available on Fight Pass in its entirety and the main card is available on The Fight Network in Canada.