Kane wins Art Ross, Ovechkin claims Richard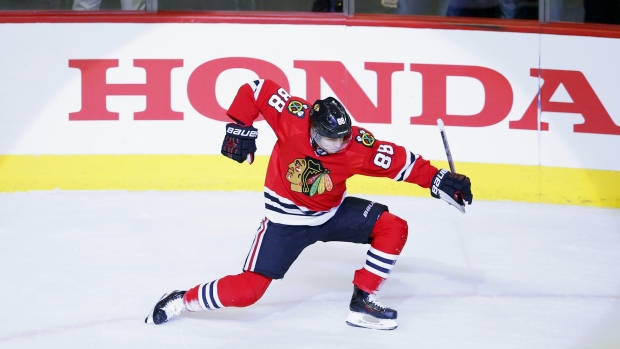 NEW YORK, N.Y. - Chicago Blackhawks forward Patrick Kane captured his first career Art Ross Trophy and Washington Capitals forward Alex Ovechkin claimed his sixth career Maurice "Rocket" Richard Trophy at the conclusion of the regular season on Sunday night.
Anaheim Ducks tandem of Frederik Andersen and John Gibson won the William M. Jennings Trophy as the goaltenders who play at least 25 games for the club allowing the fewest goals.
Kane won the Art Ross as the league's scoring champion after finishing the season with a career-high 46 goals, 60 assists and 106 points. Dallas Stars forward Jamie Benn was second (41-48-89) and Pittsburgh Penguins forward Sidney Crosby was third (36-49-85).
The Buffalo, N.Y., native is the first American-born player to capture the Art Ross.
Ovechkin scored 50 goals to earn his fourth consecutive and sixth overall Maurice "Rocket" Richard Trophy as the league's goal-scoring leader. He became the third player in NHL history to total seven or more 50-goal seasons, following Mike Bossy and Wayne Gretzky, who each had nine.
Andersen and Gibson clinched their first career Jennings Trophy when the Ducks, behind Andersen's 24 saves, blanked the Capitals 2-0 on Sunday night, keeping Anaheim's goals-against total at 192.
Andersen and Gibson are the first Ducks goaltenders to claim the Jennings.