Kansas City on NHL expansion radar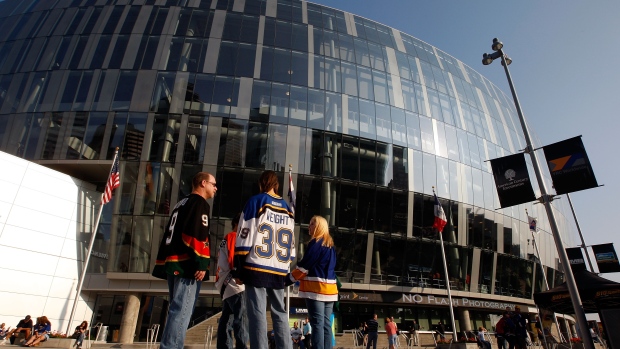 The St. Louis Blues and Minnesota Wild are set to play a preseason game at the Sprint Center in Kansas City this September, marking the sixth time the NHL has visited the city in the past 10 years.
The Sept. 28 game will be held once again at the Sprint Center, which holds a capacity of 17,500. The building is 10 years old with a seating capacity slightly above that of the newly-built T-Mobile Arena.
In an email to ESPN, NHL deputy commissioner Bill Daly said has the league has always considered Kansas City as a landing spot, but the city missed out on an expansion opportunity two years ago.
"Kansas City has never been entirely 'off our radar screen,'" Daly wrote. "We have talked to potentially interested stakeholders in the past, and it's certainly a market that in the right circumstances (including a desire by our board to entertain further expansion) our league would fairly evaluate and consider.
"In evaluating potential locations for NHL teams, we typically look at three things: One, whether the market has or is building a suitable arena facility; two, the demographics of the market and whether they suggest an ability to support an NHL franchise; and, three, whether there is qualified and interested ownership to own and operate the franchise.
"While the Sprint Center certainly checks off the first of those boxes, the other two issues remain a work in progress.
"We opened a formal expansion process in June of 2015 and we did not receive an application for a Kansas City franchise. Further, we have never studied whether the market demographics of Kansas City are likely to be suitable for an NHL franchise long-term because there has not yet been a need to do so."
Kansas City was home to an NHL team for two years for 1974-76 - the Kansas City Scouts. The team was relocated to Colorado and renamed the Rockies after the team posted only 27 wins in their first 160 games.
As ESPN points out, Kansas City could eventually serve as home to a 16th team in the Western Conference, with the Vegas Golden Knights creating an uneven number in the conference. During the expansion bid period in 2015, Quebec City was the only city other than Las Vegas to bid for a team.
Kansas City Chiefs owner Lamar Hunt Jr. told ESPN he would love to see an NHL team in the city.