Ducks to retire Kariya, Niedermayer's Nos.
The Anaheim Ducks will retire the numbers of Paul Kariya and Scott Niedermayer during the upcoming season. The Ducks announced the honours for their Hall of Famers on Monday.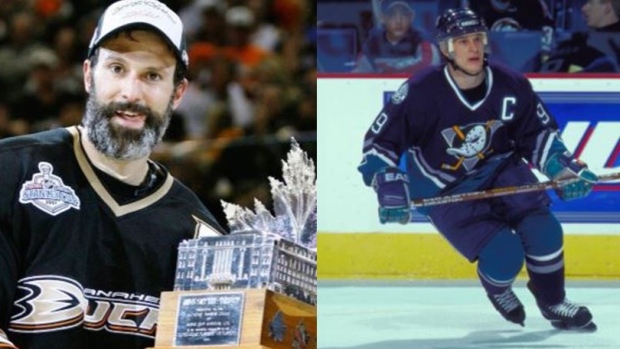 ANAHEIM, Calif. — The Anaheim Ducks will retire the numbers of Paul Kariya and Scott Niedermayer during the upcoming season.
Ducks owners Henry and Susan Samueli announced the honours for the two Hockey Hall of Famers on Monday. Teemu Selanne's No. 8 is the only number previously retired by the Ducks, who are heading into their 25th NHL season.
Kariya's No. 9 will go into the Honda Center rafters on Oct. 21, and Niedermayer's No. 27 will be raised Feb. 17.
Kariya spent his first nine NHL seasons with the then-Mighty Ducks, including seven seasons as Anaheim's captain and six seasons alongside Selanne in a prolific scoring duo. Kariya, the first draft pick in franchise history, also helped the Ducks to their first Stanley Cup Final in 2003.
Kariya is still Anaheim's fourth-leading career scorer with 669 points. Although he left the Ducks in a contract dispute shortly after that Western Conference championship run in 2003, Anaheim's fans have long since re-embraced him.
"I am extremely honoured and very thankful to Henry and Susan Samueli and the entire Ducks organization for this incredible recognition," Kariya said in a statement. "This is not something I ever dreamed would happen. I am very grateful to the community for their support."
Kariya still lives and surfs in Orange County, but he rarely made public appearances associated with hockey or the Ducks for several years after he played his last NHL game in 2010. He began to reconnect publicly with the game and the franchise recently, lending his public support to the Ducks' playoff appearances.
After Kariya and Selanne were inducted into the Hockey Hall of Fame together last year, Henry Samueli broadly hinted the Ducks would retire Kariya's number soon.
Niedermayer spent his final five NHL seasons with the Ducks, scoring 264 points while providing sturdy defence and leadership during a stellar stretch of franchise history. He was the Ducks' captain for four years, and he set the single-season franchise scoring record for defencemen while leading Anaheim to its only Stanley Cup title in 2007.
Niedermayer's number was retired in 2011 by the New Jersey Devils, where he spent his first 13 seasons and won three Stanley Cup championships. He remained with the Ducks as an executive and coach after his retirement as a player with Anaheim in 2010.
"What an incredible honour," Niedermayer said in a statement. "I'm very grateful to have played for such an incredible organization in front of amazing Ducks fans. I'm also grateful for the amazing teammates, coaches and training staff I was able to work with in Anaheim. Together we achieved great things."