Keon headlines Canada's Sports HOF class
Damon Allen and Dave Keon are two of the headliners as Canada's Sports Hall of Fame introduces its Class of 2018. Allen, a four-time Grey Cup champion, was one of the top quarterbacks in CFL history. Keon won the Stanley Cup four times with the Toronto Maple Leafs.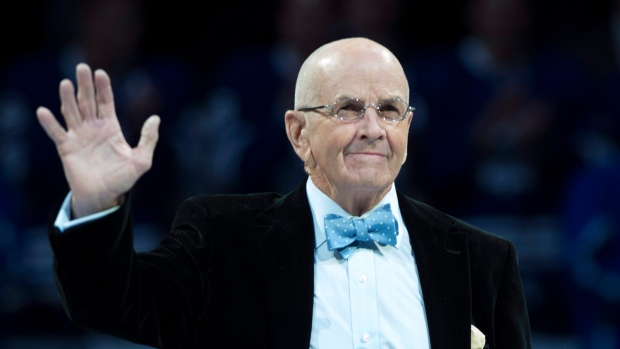 TORONTO — Alexandre Despatie was five years old when he first started diving in his backyard pool. He loved it immediately and started dreaming big.
Despatie's skills grew exponentially and it wasn't long before he made his mark on the sport. He was only 15 when he made his Olympic debut at the 2000 Sydney Games and his first world title followed three years later in Barcelona.
The two-time Olympic silver medallist, who was named to Canada's Sports Hall of Fame's Class of 2018 on Thursday, reached his career zenith in 2005 when he won two world titles in his hometown of Montreal.
"It wasn't about the medals, it was about knowing on that day that I was the best diver in the world," he said. "I think it's incredible to be able to say that I've accomplished that. It's a big world out there you know."
Also named in the athlete category were four-time Grey Cup champion Damon Allen, four-time Stanley Cup champion Dave Keon, six-time world champion wheelchair racer Jeff Adams, Olympic cross-country skiing champion Chandra Crawford and the late Mary (Bonnie) Baker, the first Canadian to sign with the All-American Girls Professional Baseball League.
Dr. Sandra Kirby, a sport administrator, activist and coach, will enter in the builder category along with indigenous sport organizer and advocate Wilton (Willie) Littlechild.
The official induction ceremony will be held Oct. 18 at the Metro Toronto Convention Centre.
Despatie became the first athlete to be crowned world champion in all three individual diving categories. He took the 10-metre title in 2003 and earned gold in the one-metre and three-metre events in 2005.
"When I was a young boy diving, I had one dream," Despatie said. "It was to be the best in the world and I managed to achieve that. So to be a part of Canada's Sports Hall of Fame, the biggest honour obviously, it's more than I could ever have dreamed of."
Allen, a resident of Mississauga, Ont., played for six different CFL teams and won the league's outstanding player award in 2005 with the Toronto Argonauts. He won the Grey Cup in 1987, 1993, 2000 and 2004, retiring in 2008 as pro football's all-time passing leader with 72,381 yards.
"I had great coaches, great players around me, a supportive country," Allen said. "That's what makes it really special."
Keon, from Rouyn-Noranda, Que., led the Toronto Maple Leafs to three straight Stanley Cup victories from 1962-64 before adding another title in 1967. He is third on the franchise's all-time list with 858 career points.
"I tried to play at a high level," Keon said. "I did sometimes and I didn't other times, but it wasn't for lack of trying."
Adams, a native of Brampton, Ont., captured 13 Paralympic medals over his career. He won five of those medals at the 2000 Paralympics in Sydney, taking gold in the 1,500- and 800-metre races to go with two bronzes and a silver at other distances.
Baker, from Regina, made her AAGPBL debut in 1943 as a catcher with the South Bend Blue Sox. The two-time all-star went on to appear in 930 regular-season games.
She also helped the Regina Legion Club reach the women's world softball championship in Toronto in 1953 and later served as a radio broadcaster for CKRM in 1964-65. Baker died in 2003.
Crawford, from Canmore, Alta., won Olympic gold in the 1.1-kilometre sprint event at the 2006 Turin Games. She also reached the podium at seven World Cup events before retiring in 2014.
"I'm thrilled to be inducted into Canada's Sports Hall of Fame," Crawford said. "I'm very proud to be from a country that values inclusion, diversity, fairness and is welcoming to all. It's a huge honour."
Kirby, a Calgary native, competed as a rower at the 1976 Montreal Olympics. A founding board member of Safe Sport International, she is an accomplished educator, sport administrator, coach and activist.
Littlechild, from the Ermineskin Cree reservation at Maskwacis, Alta., founded and coached the first all-indigenous junior hockey team in Alberta.
The longtime advocate for indigenous sport in Canada helped create the North American Indigenous Games in 1990 and the World Indigenous Nations Games in 2015.
———
Follow @GregoryStrongCP on Twitter.